July 10, 2010 -
Dave Miller
Stacking up the Big East: Running Backs
While NFP director of college scouting Wes Bunting provides you with everything you need to know about future NFL prospects, we can't forget about the productive players who help their schools on the field every Saturday but may not be made for the pro game. With that in mind, let's take a look at the feature running backs in the Big East entering the 2010 season.
Dion Lewis, Pittsburgh: Raise your hand if you thought that Pittsburgh would sorely miss LeSean McCoy last season. Every college football fan should have his or her arm in the air right now. No one thought that Lewis would have such an incredible freshman season with the Panthers. Dismissed by most major programs in his recruitment because of his 5-8, 195-pound frame, Lewis rushed for 1,799 yards and 17 touchdowns on 325 carries in '09 en route to being named the Big East offensive player of the year. He was a threat out of the backfield catching the ball, as well, grabbing 25 passes for 189 yards and another score. He's tough, durable and shifty, and he has the vision and cutback ability to sustain success during his sophomore campaign.
Note: Lewis' backup, Ray Graham, averaged 5.7 yards per carry last season as a freshman and could start for just about any other team in the country.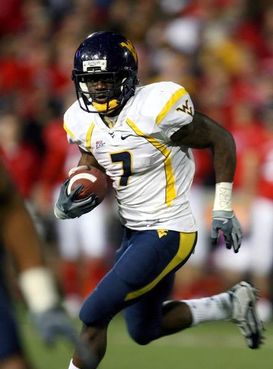 ICONWest Virginia's Noel Devine
Noel Devine, West Virginia: I didn't think there was any chance that Devine would return to West Virginia for his senior season, but he indeed passed on the NFL Draft and helps keep the Mountaineers as a serious Big East contender. Like Lewis, his size has been questioned often, but the 5-8, 180-pounder has proven that he is a workhorse, rushing for 1,465 yards and 13 touchdowns on 241 carries in '09 and catching 22 passes for 177 yards and a score. The All-America candidate can consistently make the best of defenders miss, and his 6.5 yards per carry average for his career is flat-out ridiculous. Devine leads a loaded backfield — including fullback/tailback Ryan Clarke and Shawne Alston — that will serve as the ultimate protection for a young quarterback like Geno Smith.
Jordan Todman, Connecticut: With Andre Dixon gone, Todman will get the chance to see his productivity increase — as if 1,188 yards and 14 touchdowns wasn't enough to please Huskies fans. Although the junior running back stands at just 5-9 and 190 pounds, he's a tough kid with good vision and the ability to hit the hole quickly. Todman won't shy away from lowering his shoulder, either, as he thrives on picking up the extra yard. Head coach Randy Edsall will have yet another strong running game to lean on in 2010.
Joe Martinek, Rutgers: "Jersey Joe" emerged from a crowded backfield to become the top rusher for the Scarlet Knights last season. The 6-foot, 215-pound junior was a workhorse throughout '09, gaining 967 yards on 206 carries and nine scores. Martinek is a no-nonsense, north-south runner who is difficult to bring down — the perfect fourth-quarter, milk-the-clock type of player. He won't break off many long runs, but he spent this offseason getting quicker, so it will be interesting to see if he's able to hit the hole more quickly this season — which is a scary thought for Big East defenses. Martinek is the perfect back to help ease sophomore quarterback Tom Savage's progression in his second season as a starter.
Note: Keep an eye on sophomore De'Antwan Williams, a 5-8, 195-pound sophomore who rushed for 235 yards and a score on 44 carries — mostly in garbage time. His explosiveness both in between the tackles and on the outside will serve as a nice complement to Martinek.
Victor Anderson, Louisville: Anderson's shoulder injury last season crippled the Cardinals' offense, as the junior was limited to just four starts. Still, the 2008 All-Big East performer managed to rush for a team-high 473 yards and five touchdowns on 89 carries. He will be leaned upon by new head coach Charlie Strong to be the team's playmaker, and he should be more than up to the task. The 5-10, 190-pounder runs hard and is adept at breaking through tackles. Louisville is still finding its identity, but a healthy Anderson will make the offense at least respectable.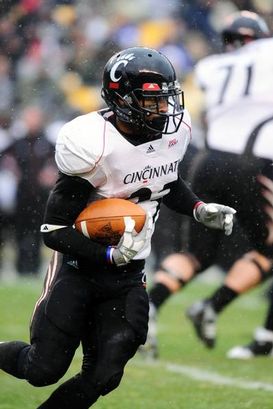 ICONCincinnati's Isaiah Pead
Isaiah Pead, Cincinnati: Pead is an intriguing back because he has the ability to break off big plays both carrying the ball and in the passing game. The junior led the Bearcats in rushing in '09, gaining 806 yards on the ground and scoring nine touchdowns on 121 carries. In addition, he caught 20 passes for 201 yards and two more scores. The 5-11, 194-pound former high school track star can quickly get into the secondary and should be a bigger part of new head coach Butch Jones' offense. Despite not being the biggest back, he can carry the load.
Antwon Bailey, Syracuse: Bailey asserted himself as the top back at Syracuse coming out of spring practice. The 5-8, 192-pound junior carried the rock 67 times for 312 yards and a touchdown in a reserve role last season, adding 27 receptions for 200 yards. Based on his size he would ideally be a change-of-pace back, but he exudes some surprising toughness. His ability to change directions will be essential to an Orange offense that hopes it won't struggle scoring points in the fall.
Note: The status of Delone Carter is uncertain, as he has been suspended at least until the fall. The 1,000-yard back from '09 is a workhorse who could make the Orange backfield exceptional with his return.
Mo Plancher, South Florida: With Mike Ford dismissed from the team in February, the 5-9, 204-pound senior Plancher will once again be the main back for the Bulls. The starter last season, Plancher was granted an additional season of eligibility by the NCAA and will look to eclipse his 581 yards and five touchdowns. New head coach Skip Holtz plans to run the ball a little bit more this season, and Plancher should take advantage of Ford's absence. He's not a flashy runner, but he's steady and is adept at picking up the blitz on passing downs.
Follow me on Twitter at Miller_Dave
Ready for fantasy football? Click here to purchase the 2010 Total Access Pass/Draft Guide from the NFP.