August 02, 2010 -
Dave Miller
Stacking up the Big East: Wide receivers
While NFP director of college scouting Wes Bunting provides you with everything you need to know about future NFL prospects, we can't forget about the productive players who help their schools on the field every Saturday but may not be made for the pro game. With that in mind, let's take a look at the wide receiver units — plus feature tight ends — in the Big East entering the 2010 season.
Cincinnati: How often can a program sustain success on a unit that loses a big-play threat like Mardy Gilyard? For Cincinnati, the trio of Armon Binns, Vidal Hazelton and D.J. Woods will make it much easier for the Bearcats to continue to score points under new head coach Butch Jones. Binns and Woods combined for 112 catches, 1,528 yards and 15 scores in '09, while Hazelton is a former top recruit who transferred from USC. It's a starting unit that is as strong as any receiving corps in the country. Kenbrell Thompkins, Marcus Barnett and Jamar Howard provide talent and depth should an injury arise.
TE: Senior Ben Guidugli caught a career-high 27 passes for 364 yards and three touchdowns in '09. The 6-1, 240-pounder is more of an H-back whose athleticism helps him make tough catches down the seams.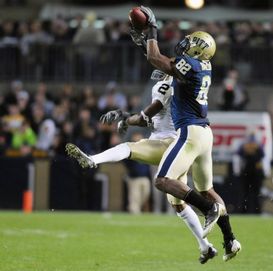 ICONPittsburgh's Jonathan Baldwin is a stud WR who gives opposing defenses fits on Saturdays.
Pittsburgh: Of course, Jonathan Baldwin is the headliner of this group after his 57-catch, 1,111-yard and 8 TD campaign. But if 6-5, 220-pound Mike Shanahan can play like he did in the bowl win over North Carolina for an entire year, the Panthers may have the best duo in all of college football. Devin Street, Cam Saddler and Greg Cross could put this unit on par with Cincy's wideouts.
TE: The Panthers lost Dorin Dickerson and Nate Byham to the NFL, so it's up to 6-5, 270-pound sophomore Mike Cruz to take over. But Cruz isn't going to be a big-time receiving threat. Rather, he will excel in the Panthers' "jumbo set" in short-yardage situations as essentially an extra guard.
West Virginia: The Mountaineers may not have great depth at wide receiver, but they have very good starting talent with Jock Sanders, Bradley Starks and now Tavon Austin, the former star running back recruit who will try to make the switch to wideout. Sanders led the team with 72 catches in '09. Stedman Bailey showed a lot of potential throughout the spring, so it will be interesting to see if he can carry that over to the fall. Can incoming freshman Ivan McCartney contribute immediately?
TE: Junior Tyler Urban should see more footballs thrown his way, as the coaching staff plans to get him more involved offensively. The 6-5, 249-pounder caught just 10 passes for 117 yards and a touchdown in '09. Senior Will Johnson is more of a hybrid fullback/H-back, and the 6-2, 238-pounder should also help out new quarterback Geno Smith.
Connecticut: Despite the Huskies not returning anyone who had more than 24 catches in '09, Kashif Moore, Isiah Moore and Michael Smith give quarterback Zach Frazer solid weapons in the passing game — all capable of making a big play. Gerrard Sheppard, Malik Generett and Dwayne Difton are young wideouts who will vie for time in the rotation.
TE: With UConn's reliance on the tight end in the passing game, sophomore Ryan Griffin could see his '09 numbers increase. The 6-6, 240-pounder had 23 receptions for 272 yards and continued to improve week-to-week throughout last season. Sophomore John Delahunt will also see plenty of time on the field. The 6-3, 243-pounder stepped in when Griffin was injured last year.
Rutgers: The Scarlet Knights have an interesting corps of wideouts this season. While Mohamed Sanu is the lone known commodity after catching 51 balls for 639 yards and three scores last season, Mark Harrison, Tim Wright and Quron Pratt had a great spring practice season. Can this translate to the field on Saturdays in the fall? If it does, this unit has a chance to move up the conference rankings.
TE: Sophomore D.C. Jefferson is a 6-6, 245-pound former quarterback who moved to tight end because Tom Savage stood in the way under center. He caught just five passes for 108 yards in his first season at the position but will continue to improve every day.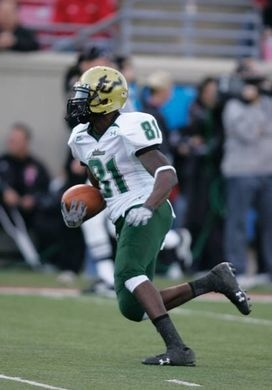 ICONSouth Florida will count on WR Dontavia Bogan even more after A.J. Love's injury.
South Florida: New head coach Skip Holtz and the Bulls suffered a tough blow in the spring game when A.J. Love suffered an ACL injury. As if that wasn't bad enough, Sterling Griffin suffered a serious ankle injury during voluntary workouts in late June and may not be ready for the start of the season. The one piece of good news is that Dontavia Bogan had a huge performance in the spring game and looks ready to become the go-to guy in Love's absence. Lindsey Lamar will add speed to the corps, while Evan Landi is trying to make the switch from quarterback.
TE: Sophomore Jeff Hawkins, a 6-4, 251-pounder, will likely be the Bulls' starting tight end this fall. While his in-line blocking needs work, his soft hands should help him become a nice target for quarterback B.J. Daniels.
Louisville: The Cardinals have 5-9 Doug Beaumont, who had 38 catches in '09 but failed to find the end zone, and 6-2 Troy Pascley, who was a nonfactor last season. Josh Chichester is a 6-8 monster who should be targeted more this fall. Andrell Smith is an intriguing wideout, but the 'Ville may have to rely on incoming freshman Michaelee Harris and junior-college transfer Josh Bellamy for help in the vertical passing game.
TE: If the Cardinals struggle to find consistent pass-catchers at wideout, they don't have to worry about senior Cameron Graham being a factor at tight end. The 6-4, 253-pounder possesses nifty moves and nice quickness, posing problems for even the best of linebackers. He had 27 catches for 323 yards and two touchdowns in '09.
Syracuse: The Orange became used to life without Mike Williams last season when he left the program, but his absence may be felt even more for an entire season in 2010. Marcus Sales, Alec Lemon and Van Chew will continue to get better, but the team will need Hofstra transfer Aaron Weaver to help right away as I don't think this group will scare a lot of Big East defenses.
TE: Junior Nick Provo will really help the 'Cuse offense this fall as it gets used to an unproven quarterback and questionable wideouts. The 6-4, 241-pounder is an athletic target who should be completely recovered from the knee injury he suffered last year.
Follow me on Twitter at Miller_Dave or send your college football questions to dave.miller@nationalfootballpost.com
Ready for fantasy football? Click here to purchase the 2010 Total Access Pass/Draft Guide from the NFP.