August 13, 2010 -
Dave Miller
Stacking up the Big Ten: Wide receivers
While NFP director of college scouting Wes Bunting provides you with everything you need to know about future NFL prospects, we can't forget about the productive players who help their schools on the field every Saturday but may not be made for the pro game. With that in mind, let's take a look at the wide receiver units — plus feature tight ends — in the Big Ten entering the 2010 season.
Click here to see Stacking up the Big East: Wide receivers
Click here to see Stacking up the ACC: Wide receivers
Click here to see Stacking up the Big 12: Wide receivers
Click here to see Stacking up the Pac-10: Wide receivers
Ohio State: With DeVier Posey and Dane Sanzenbacher, the Buckeyes have the top duo in the Big Ten and give the conference its best overall receiving corps. Posey had a huge sophomore campaign, hauling in 60 passes for 828 yards and eight TDs, emerging as quarterback Terrelle Pryor's go-to guy. If Pryor continues to develop as a passer, a 1,000-yard season should be in Posey's future. While undersized, Sanzenbacher brings toughness and grit to the Buckeyes. He isn't afraid to make the tough catch across the middle, and his numbers should also increase with an evolving offense. The unit did take a bit of a hit, however, with the departure of No. 3 receiver Duron Carter, who withdrew from OSU to enroll at a junior college to work on his grades. Senior Taurian Washington will now get the chance to be the third wideout, with Chris Fields competing for reps, as well, after a very nice spring season. Freshmen Corey Brown, James Louis and Tyrone Williams represent a bright future for the Buckeyes at the position.
TE: Sophomore Jake Stoneburner should find himself more involved in the passing game after having a minor role in '09. The 6-5, 245-pounder was one of the talks of spring camp, showing that he will be a matchup nightmare — too fast for linebackers and too big for defensive backs.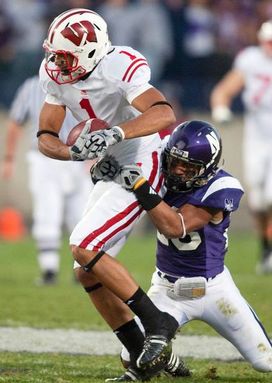 ICONNick Toon hauled in 54 catches for 805 yards and four scores in '09.
Wisconsin: The Badgers not only have very good starting talent, but they are deep at receiver, as well. Nick Toon has the goods to be the best receiver in the league this fall as he comes off of a 54-catch, 805-yard and four TD campaign. If quarterback Scott Tolzien continues to make strides, those numbers will grow. Isaac Anderson will complement Toon after a solid '09 that saw him catch 30 passes for 480 yards and two scores. He likely would be a No. 1 wideout on many teams across the country. David Gilreath is one of my favorite players in the country because he gives you a little bit of everything — production on reverses, screens and quick slants. Kyle Jefferson looks to finally cash in on his potential.
TE: With Garrett Graham moving onto the NFL, Lance Kendricks will pick up the slack and easily surpass his 29 catches for 356 yards and three scores from '09. There always seems to be a youngster that steps up at tight end for the Badgers, as well, so keep an eye on freshman Warren Herring.
Iowa: Quarterback Ricky Stanzi has some nice weapons at receiver, all of whom seemed to play better and better week in and week out for the Hawkeyes last season. Derrell Johnson-Koulianos, Marvin McNutt, Colin Sandeman and Kennan Davis give Stanzi some very good weapons to complement an always tough Hawkeyes rushing attack. Johnson-Koulianos and McNutt combined for 69 catches, 1,424 yards and 10 touchdowns last year, while Sandeman and Davis showed glimpses that they could handle an increased role in the offense in 2010. Paul Chaney also will be competing for reps. But I really like DJK and McNutt.
TE: Although Tony Moeaki has moved on, Allen Reisner and incoming freshman C.J. Fiedorowicz should give the Hawkeyes stability at tight end for years to come. Reisner caught 14 passes last season and scored a touchdown, and he'll be an option for Stanzi in the passing game. But Fiedorowicz is all the rave in Iowa City. He was the nation's best high school tight end last year and chose the Hawks because he knows he'll be used in their offense.
Indiana: The Hoosiers this high? Absolutely. Juniors Tandon Doss and Damarlo Belcher combined for 138 receptions, 1,732 yards and 10 touchdowns in '09, bringing some hope to the IU faithful that the team can be really fun to watch this fall. Throw in Terrance Turner, who caught 46 passes, and Mitchell Evans, who caught 33 footballs, and you have a very formidable top-4 wideout corps for senior quarterback Ben Chappell. Keep an eye on true freshman Duwyce Wilson, as well. He's been impressive and is fighting for reps.
TE: Max Dedmond returns after an 18-catch, 141-yard and one TD campaign. He's versatile enough to often line up in the slot.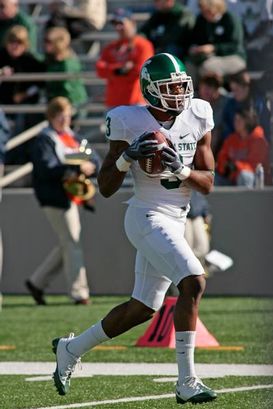 ICONB.J. Cunningham caught 48 passes for 641 yards and four touchdowns last season.
Michigan State: The Spartans are led by the reinstated B.J. Cunningham, who hauled in 48 catches for 641 yards and four touchdowns in '09. Mark Dell also returns following reinstatement after racking up 449 yards and a score on 26 catches. However, I'm really interested to see the development of former quarterback Keith Nichol, who made the switch to receiver before last year's Alamo Bowl when suspensions rocked the receiving corps. After adding five to seven pounds of muscle and reducing his body fat, Nichol is a chiseled 6-2 and 220 pounds — well-prepared to be a standout Big Ten receiver. Along with Keshawn Martin, the Spartans will boast their depth at receiver on Saturdays. Who was Blair White again?
TE: If you want to see a team loaded with talent at tight end, watch the Spartans. Charlie Gantt and Brian Linthicum both caught at least 20 passes and had two scores apiece, while Dion Sims also saw meaningful snaps last season.
Penn State: With the Nittany Lions breaking in a new quarterback, Derek Moye and Graham Zugg may struggle to find the end zone as often as they did in '09. Moye grabbed 48 balls for 785 yards and six touchdowns while Zugg hauled in 46 catches for 600 yards and found the end zone seven times. I expect Kevin Newsome to ultimately line up under center, but can he deliver a solid enough passing attack to complement the run game led by Evan Royster? The Lions can't afford to have defenses stack the line. The loss of Curtis Drake for possibly six-to-eight weeks to a broken leg doesn't help in the offense's search for an identity. However, sophomores Justin Brown and Devon Smith, along with early enrollee Shawney Kersey, are talented and may be ready to emerge as solid options. At the end of the day, it all comes down to whether or not the PSU signal-caller can deliver the ball consistently through the air.
TE: Andrew Quarless and Mickey Shuler depart, giving the inexperienced Gary Gilliam, Andrew Szczerba, Mark Wedderburn and freshman Kevin Haplea the opportunity to win the starting job. Haplea could be the most talented out of the bunch.
Michigan: I'm interested to see just how good Roy Roundtree can be with a quarterback consistently looking for him down the field. He finished with 434 yards and three scores on 32 catches in '09, and he looks to be the class of the Wolverines receiving corps. I think he could deliver a big season even if the ball is also spread around to Junior Hemingway, Martavious Odoms and Darryl Stonum. Moving the ball, either with Tate Forcier or Denard Robinson, shouldn't be a problem for the Wolverines. Keep an eye on the incoming group of freshmen wideouts, as well, to see if any are able to steal some reps this fall.
TE: Returning at tight end is Kevin Koger, who caught 16 passes for 220 yards and two scores last season.
Minnesota: The Golden Gophers lost perhaps the heart and soul of the offense in their best receiver Eric Decker. But they are used to playing without him after he went down midway through last season. So bringing back six receivers who saw action in '09 — highlighted by Da'Jon McKnight — should serve them well this fall under new wide receivers coach Steve Watson. Although he only had 17 receptions last season, the coaching staff has high hopes for McKnight, who averaged 18.3 yards per catch. Troy Stoudermire and Brandon Green also will benefit from getting experience last season and should give offensive coordinator Jeff Horton — the third new OC in as many seasons — and quarterback Adam Weber some weapons in the air.
TE: Nick Tow-Arnett caught 37 passes for 505 yards and three touchdowns last season, and I expect him to improve on those already stellar numbers.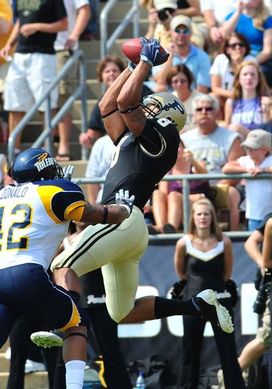 ICONKeith Smith was the class of the Big Ten last season.
Purdue: I hated to place Purdue this low in the rankings because Keith Smith, the conference's leading receiver, is coming off of such a dominant season. The 6-2, 226-pounder caught 91 passes for 1,100 yards and six scores in '09. But after Smith, there is serious dropoff on this unit. Keith Carlos and Cortez Smith combined for 38 catches, 419 yards and three scores last year, and the duo will try to make up for the loss of Aaron Valentin. Keep an eye on the reinstated Justin Siller, as well. With the depth in the backfield a concern, I think the former quarterback may get more of an opportunity as a running back. But the Boilers will find a way to get the ball in his hands in a variety of ways under new quarterback Robert Marve.
TE: The Boilers have nice depth at tight end. Kyle Adams returns after hauling in 29 catches for 249 yards and Jeff Lindsay is also back after a 16-reception, 162-yard '09 campaign.
Illinois: Usually losing a talent like Arrelious Benn would really hurt an offense. But the Illini failed to maximize the talent of Benn last season during the disastrous '09 campaign, so it's all about fresh starts in Champaign — at least head coach Ron Zook hopes that is the case. Former Florida transfer Jarred Fayson will get his chance to be the go-to guy on offense for new quarterback Nathan Scheelhaase. Fayson only caught 16 passes for 218 yards and one score last season — missing three games due to injury — but those numbers should triple at the very least. If they don't, the Illini could be in for another very long season. A.J. Jenkins also returns after catching just 10 passes, as well as Chris James, who only had four receptions while playing in only five games. Jack Ramsey and former quarterback Eddie McGee round out a corps that is hungry to succeed this fall.
TE: The Illini lose their top two tight ends in Michael Hoomanawanui and Jeff Cumberland. So London Davis likely will assume starting duties with Justin Lattimore and freshmen Anthony Williams and Evan Wilson backing him up.
Northwestern: The Wildcats' receivers will always have decent numbers at the end of the year because of the pass-happy spread attack that they run. That's not to dismiss them because of their scheme. Rather, the offense maximizes every ounce of talent on the offensive side of the ball. Losing Andrew Brewer and Zeke Markshausen and their 148 receptions, 1,783 yards and six touchdowns from '09 will hurt, especially as the team welcomes new quarterback Dan Persa as the starter. But I expect the group of Sidney Stewart, Jeremy Ebert and Demetrius Fields to take advantage of more footballs coming their way this season. Stewart hauled in 42 catches for 470 yards and two scores, while Ebert and Fields both had at least 21 catches for 225 yards in '09.
TE: Dranke Dunsmore provides as much production from this position as almost anyone in the country. He caught 47 passes for 523 yards and three scores last season.
Follow me on Twitter at Miller_Dave or send your college football questions to dave.miller@nationalfootballpost.com
Click here to purchase the Total Access Pass / Fantasy Draft Guide from the NFP and receive a free Deuce Brand watch while supplies last.