August 25, 2010 -
Dave Miller
Stacking up the Pac-10: Quarterbacks
While NFP director of college scouting Wes Bunting provides you with everything you need to know about future NFL prospects, we can't forget about the productive players who help their schools on the field every Saturday but may not be made for the pro game. With that in mind, let's take a look at the starting quarterbacks in the Pac-10 entering the 2010 season.
Click here to see Stacking up the Big East: Quarterbacks
Click here to see Stacking up the ACC: Quarterbacks
Click here to see Stacking up the Big 12: Quarterbacks
Jake Locker, Washington: Washington's offense can be even more prolific this fall with Locker under center. It was fun watching the 6-3, 230-pounder mature and improve under the direction of head coach Steve Sarkisian and quarterbacks coach Doug Nussmeier in '09. He tied for the Pac-10 lead with 21 touchdown passes and should improve by leaps and bounds in his senior season. He has a running back in Chris Polk who is coming off a season in which he ran for over 1,100 yards, and receivers Jermaine Kearse, Devin Aguilar and James Johnson are back after combining for 131 catches, 1,881 yards and 16 touchdowns in '09. Expect his completion percentage to move above the 60 percent mark, and expect the dual-threat signal-caller to be a top-five pick in the 2011 NFL Draft.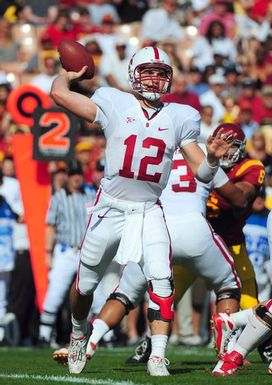 ICONAndrew Luck led the Pac-10 in passing efficiency as a redshirt freshman.
Andrew Luck, Stanford: I'm sure Stanford head coach Jim Harbaugh disagrees with ranking Locker ahead of Luck, but I want to see how the sophomore fares in a full season without running back Toby Gerhart. But the NFL talent is there — just like Locker. And he should be one of the top picks when he leaves Palo Alto. He led the Pac-10 in passing efficiency as a redshirt freshman, and he'll have a chance to increase his touchdown total (13 in '09) as the Cardinal will rely on his arm more this season. Again, I just want to see him adjust to life without Gerhart.
Matt Barkley, USC: No matter what happens to the Trojans on and off the field, Barkley is poised for a big year in Los Angeles. The talented sophomore is coming off of a dominant spring practice season, and he'll have all the weapons he needs to score points this fall. While he did toss a league-leading 14 interceptions in '09, chalk that up to inexperience. A very nice NFL future awaits. But for now, Barkley will enjoy being a leader on a team that desperately needs one.
Nick Foles, Arizona: Look for a much-improved season from Foles this fall — which is saying something considering he managed to toss 19 touchdowns last season. But he has improved his footwork and mechanics this offseason, and he played his best in big games in '09 — against Oregon State, Stanford and Oregon. He struggled mightily in the bowl game, but he was missing tight end Rob Gronkowski and running back Nic Grigsby. Offensive coordinator Sonny Dykes is gone, but this is a hungry Arizona team. And I think Foles is surrounded by the goods to put up big numbers in Tucson.
Kevin Prince, UCLA: Prince tossed just eight touchdowns and ranked eighth in the league in efficiency and passing yards per game. But the third-year sophomore knows it's up to him to bring a veteran presence to the huddle, and I think he's ready to lead a team that knows youth will no longer be an excuse for its shortcomings on offense. He believes his 56.2 percent completion percentage last year was a product of lingering pain in his shoulder — an injury that's no longer an issue. Fixing his delivery was one of his primary focuses this offseason, and he believes his play will be elevated because of it. I still have questions about the effectiveness of the new "Pistol" offense, but there are too many players surrounding Prince for him not to be solid this fall.
Kevin Riley, California: You're not the only one who is surprised that Riley is still in Berkeley. The senior has 22 career starts under his belt and has shown flashes of being a high-quality Pac-10 signal caller, but too many times his disastrous outings have killed the Golden Bears. Riley fended off the competition for the starting nod, however, and will look to improve on a 54.2 career completion percentage. The conference's active career leader in touchdown passes (37) has one final season to assert himself among the league's best.
Nate Costa, Oregon: Costa only has one career start — a 9-of-17, 82-yard effort at UCLA in '09 — but keep in mind that he was once considered the heir-apparent to Dennis Dixon. His three knee operations remain a concern, but he looked good during spring practice. I'm optimistic that Costa could successfully run head coach Chip Kelly's spread-option offense. Sophomore signal-caller Darron Thomas has a bright future, but I believe Costa will stabilize the uncertainty under center this fall in a post-Jeremiah Masoli season.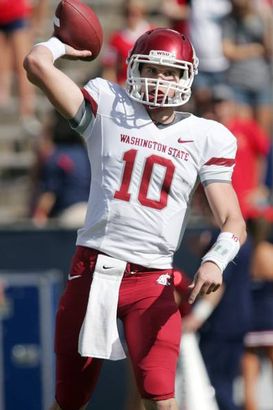 ICONJeff Tuel amassed the second-highest yardage total by a true freshman in Washington State history against Cal in '09.
Jeff Tuel, Washington State: Tuel started five games in '09 as a true freshman before suffering a season-ending knee injury. If you take into account how little talent the Cougars had on the offensive side of the ball and the poor pass protection, the kid held his own quite admirably. He completed 58.7 percent of his passes on the season, with a standout 28-of-42, 354-yard and two touchdown effort at California — the second-highest yardage total by a true freshman in school history. Can Washington State be exciting once again with Tuel under center?
Ryan Katz, Oregon State: Katz seems to have the arm strength and mobility to become one of the better Pac-10 signal-callers. But we need to see him in extended action first. The redshirt sophomore will have all-conference playmakers at running back and wideout, so his job instantly is made easier. But he will surely see the blitz early and often this fall — starting with the season opener against TCU on Sept. 4. The Horned Frogs sacked quarterbacks 32 times last season.
Steven Threet/Brock Osweiler, Arizona State: Sun Devils head coach Dennis Erickson will announce his starting quarterback next Monday — either the junior Threet or the sophomore Osweiler. Threet may have moved ahead in the competition after Saturday's scrimmage, but expect both quarterbacks to see action this fall. Osweiler made one start and saw sporadic action last season, completing just 43.6 percent of his passes for 249 yards with two touchdowns and two picks. The 6-8, 242-pounder has a live arm and is deceptively athletic.
Follow me on Twitter at Miller_Dave or send your college football questions to dave.miller@nationalfootballpost.com
Click here to purchase the Total Access Pass / Fantasy Draft Guide from the NFP.