August 16, 2010 -
Dave Miller
Stacking up the SEC: Wide receivers
While NFP director of college scouting Wes Bunting provides you with everything you need to know about future NFL prospects, we can't forget about the productive players who help their schools on the field every Saturday but may not be made for the pro game. With that in mind, let's take a look at the wide receiver units — plus feature tight ends — in the SEC entering the 2010 season.
Click here to see Stacking up the Big East: Wide receivers
Click here to see Stacking up the ACC: Wide receivers
Click here to see Stacking up the Big 12: Wide receivers
Click here to see Stacking up the Pac-10: Wide receivers
Click here to see Stacking up the Big Ten: Wide receivers
Arkansas: You want a big-time, crunch-time performer? Junior Greg Childs led the country last season with 402 yards against top 25 opponents and led the SEC with 13 receptions of 25-plus yards and 16 receptions in the fourth quarter. That's stepping up when it matters most. He also led all wideouts in SEC play with six receiving touchdowns, 737 yards, 92.1 yards per game and 23.0 yards per catch. The 6-3, 217-pounder finished with 48 receptions for 897 yards and seven touchdowns overall. The next four productive pass-catchers from '09 — Jarius Wright, D.J. Williams, Joe Adams and Cobi Hamilton — all return to make the Razorbacks' wide-open offense even more dangerous this fall. Undoubtedly this is the strongest receiving corps in the league and an overlooked group in the discussion of best in the nation.
TE: As if quarterback Ryan Mallett didn't have enough weapons on offense, All-American candidate D.J. Williams returns at tight end. He caught 32 passes for 411 yards and three scores in '09. Chris Gragg will also get a chance to become a valuable weapon in the Hogs' offense. The 6-3 sophomore can create mismatches as a tight end and H-back and should have been a factor in '09 if not for a broken ankle that shelved him for the season.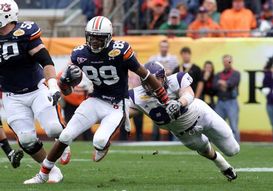 ICONDarvin Adams had 10 touchdowns in '09 and finished three yards shy of 1,000.
Auburn: Darvin Adams became one of the SEC's breakout players of '09, and he leads the Tigers' receiving corps heading into 2010. The 6-3, 185-pounder averaged 16.6 yards per catch and caught 10 touchdowns while racking up 997 yards, and he has productive Terrell Zachery taking pressure off him on the other side. Zachery racked up 477 yards on only 26 catches and scored five touchdowns last season. Keep an eye on 6-foot, 181-pound freshman Trovon Reed, who wide receivers coach Trooper Taylor has been gushing about since his arrival. Can sophomores DeAngelo Benton and Emory Blake step up in their second year in the Tigers program? Auburn will continue to thrive in offensive coordinator Gus Malzahn's spread offense, especially with new quarterback Cam Newton under center.
TE: Athletic sophomore Philip Lutzenkirchen likely will take over for Tommy Trott at tight end. He caught only five passes last season but had two touchdowns and gained valuable playing time in preparation for a likely starting role.
South Carolina: Gamecocks quarterback Stephen Garcia has no excuses if his 2010 season isn't a success. With Alshon Jeffery and Tori Gurley on the field at the same time, this offense should take off — if the running game can be solid at the very least. The tall wideouts combined for 77 receptions, 1,203 yards and eight touchdowns as freshmen in '09. It's just fun to watch Jeffery consistently overpower the opposing cornerbacks. Keep an eye on freshman Ace Sanders, who has had a good start to fall practice and has the hands and speed to contribute immediately. Steve Spurrier may finally be able to have that elusive explosive offense in Columbia.
TE: Putting aside the off-the-field drama, Weslye Saunders is one of the best tight ends in the nation. The 6-5, 280-pounder caught 32 passes for 353 yards and three scores in '09, and he should be a consistent target for Garcia — if he's eligible for the season.
Florida: Much of the offseason talk surrounding the Gators was the uncertainty of the offense's identity. But Florida seems to be finding itself under new signal-caller John Brantley, and Deonte Thompson is ready to emerge as a top target after being handcuffed a bit by the offense last season. Thompson has cited the arrival of new receivers coach Zach Azzanni as a factor in getting him more prepared for the season. Carl Moore, who only has 14 career receptions in Gainesville, should also find many footballs coming his way. Meanwhile, former running back Chris Rainey will transition to slot receiver, while redshirt freshman Andre Debose could be special if he stays healthy. Brantley also mentioned during spring drills that he had developed chemistry with wideout Frankie Hammond, but a DUI arrest in June put the sophomore in the dog house and forced him to lose his scholarship. He has been working hard early in camp, however.
TE: Can the Gators survive the loss of Aaron Hernandez at tight end? Freshman Gerald Christian is talented, but Hernandez did so much for the offense last season as essentially a tight end/running back/wideout complete package. One player who is going unnoticed is Omarius Hines, a wideout who has bulked up and is being looked at as a hybrid tight end. He saw a little time at the position in the spring and may have a chance to create matchup problems the same way Hernandez did with his speed.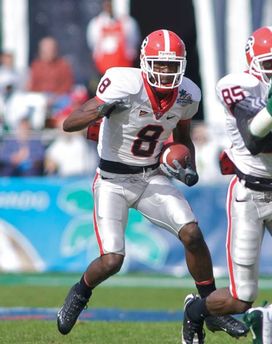 ICONA.J. Green is the class of the SEC.
Georgia: Despite the Bulldogs breaking in another new signal-caller, A.J. Green's production will remain consistent all season long. The 6-5 stud picked up where he left off from last season by hauling in five balls for 141 yards and two scores in the Dawgs' first scrimmage of camp. He may indeed be the first receiver taken in the 2011 draft if he comes out early. Meanwhile, Tavarres King was the projected starter at split end, but he was suspended for the opener after an alcohol-related arrest in July. The redshirt sophomore caught 18 passes for 377 yards last season. Keep an eye on true freshman Michael Bennett, whose height may get him on the field early. Other candidates to emerge as threats for new quarterback Aaron Murray include 6-5 Kris Durham, sophomore Rantavious Wooten and 6-5 sophomore Marlon Brown.
TE: The Bulldogs are so deep at tight end that they likely will employ more two-TE sets this season. Sophomore Orson Charles sits atop the depth chart currently, followed by last year's starter, j unior Aron White, and fellow junior Bruce Figgins. In addition, sophomore Arthur Lynch is coming off of an impressive spring practice. Look for Murray to use his tight ends early and often.
Tennessee: The Volunteers have talent at the receiver position. But will the unit be handcuffed by uncertainty at quarterback? Seniors Gerald Jones and Denarius Moore combined for 86 catches, 1,220 yards and 11 scores in '09 while hauling in passes from an improved Jonathan Crompton. Matt Simms likely will emerge as the starter, so it will be interesting to see how he adjusts to life in the SEC. Freshman Justin Hunter caught five passes for 128 yards in one of the Vols' recent scrimmages — including a 64-yard touchdown thrown by Simms. Meanwhile, fellow freshman Da'Rick Rogers should see plenty of time on the field.
TE: If Simms isn't able to connect on a consistent basis with either Jones or Moore, perhaps he'll find comfort in maybe the best pass-catcher on the team — tight end Luke Stocker. Of his 29 catches in '09, five were touchdowns.
Alabama: Julio Jones is definitely very good, but can his production take a jump this fall? He hauled in 43 passes for 596 yards and four scores in '09, but his numbers were down from his freshman campaign. Perhaps the continued development of Marquis Maze, who had 523 yards on just 31 catches, will force teams to double Jones less. Keep an eye on sophomore Michael Bowman, who bulked up to 225 pounds. He may even play some H-Back this fall — which could pose as a major matchup problem for linebackers.
TE: Despite the multiple formations the Crimson Tide may employ, the offense fundamentally remains a two-TE scheme. Preston Dial, known more as a blocker, does a lot of the dirty work that goes unnoticed. Brad Smelley is both a physical presence and a guy who can catch passes.
LSU: Terrance Toliver, who caught 53 passes last season for 735 yards and three touchdowns, takes over as the No. 1 receiver in Baton Rouge with the departure of Brandon LaFell. The Russell Shepard experience at quarterback is over, as the sophomore will work primarily at receiver and a little in the backfield this fall. It's obvious that he's one of the more explosive players on the Tigers roster, so he'll find the ball coming his way plenty during his second season. The top receiver from the class of '09, Rueben Randle, looks to improve on a campaign that saw him only make 11 catches — including a two-touchdown effort against Ole Miss.
TE: The candidates to replace Richard Dickson include Deangelo Peterson, Mitch Joseph and Chase Clement. Peterson is a solid receiving threat, while Joseph is the better blocker. Clement moved to offense in the spring after playing defensive end.
Ole Miss: Head coach Houston Nutt feels good about senior Markeith Summers being the team's starting split end. But who else is prepared to catch passes from Nathan Stanley or Jeremiah Masoli? Senior Lionel Breaux, sophomore Jesse Grandy, redshirt freshman Ja-Mes Logan and sophomore Melvin Harris will be working hard to earn regular playing time in the rotation this fall — especially with the recent dismissal of Pat Patterson. Nutt also wants to get the ball to Randall Mackey in a variety of ways on offense. The Rebels will get a boost if signees Vincent Sanders and Quadarias Mireles are cleared by the NCAA Clearinghouse (academics).
TE: Sophomore Ferbia Allen will be the go-to guy at tight end after splitting time with Gerald Harris last season. The 6-4, 245-pounder just has to find a way to become a better blocker.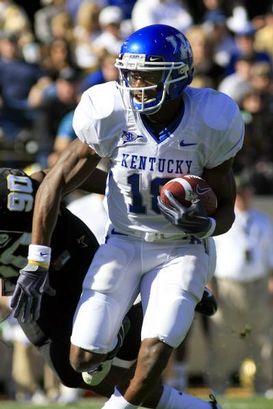 ICONRandall Cobb is productive wherever he lines up.
Kentucky: How can you not like Randall Cobb? He seemingly can do it all, which means he'll continue to be used in a variety of ways on offense. Junior-college transfer Chris Matthews could emerge as a major threat on the outside. The Wildcats suffered a blow when head coach Joker Phillips announced on Sunday that Gene McCaskill will miss the upcoming season with a torn ACL in his left knee. The junior, who was hurt during Saturday's scrimmage, has 32 career receptions.
TE: The tight end job in Lexington is wide open, with redshirt freshmen Anthony Kendrick and Jordan Aumiller battling with returning letterman Nick Melillo for the starting gig.
Mississippi State: The Bulldogs liked to run the ball last season, and even without star Anthony Dixon, MSU will win and lose with the ground game. They scored only nine times through the air in '09, and the top returning receiver is Chad Bumphis, who had 32 catches as a freshman. The team's second-best receiver, O'Neal Wilder, quit the team to focus on track. Keep an eye on Jameon Lewis, who is fast, has nice moves, and could be dangerous from the slot.
TE: Marcus Green has the athleticism, speed and hands of a receiver. He was second on the team in receiving last year and creates problems for defenses.
Vanderbilt: Vandy didn't have a single receiver catch more than one touchdown in '09. John Cole and Udom Udoh return, but can the passing game be effective? Freshman Chris Boyd was impressive in the team's recent scrimmage, displaying his ability to create after the catch.
TE: The Commodores just can't catch a break. Austin Monahan is out for the season after tearing the ACL in his right knee last Thursday in practice, marking the third straight year that the tight end has seen his season end early because of injury. Brandon Barden is now the lone tight end on the roster with any game experience. However, Barden caught 29 passes for 357 yards and a score in '09 and will continue to produce.
Follow me on Twitter at Miller_Dave or send your college football questions to dave.miller@nationalfootballpost.com
Click here to purchase the Total Access Pass / Fantasy Draft Guide from the NFP and receive a free Deuce Brand watch while supplies last.