February 26, 2013 -
Dave Miller
Staff changes at 'SC still may not solve team's woes
Lane Kiffin completed his overhaul of the coaching staff at USC over the weekend, announcing the final three hires of the offseason this past Saturday following the program's very disappointing 2012 campaign.
The Trojans head coach added offensive line coach Mike Summers, running backs coach Tommie Robinson and linebackers coach Mike Ekeler to the staff, completing a multi-month shakeup that featured the departure of defensive coordinator Monte Kiffin, the firing of offensive coordinator Kennedy Polamalu and the releasing of defensive backs coach Marvin Sanders. In addition, linebackers coach Scottie Hazelton was hired as the defensive coordinator at Nevada.
While the arrival of new DC Clancy Pendergast should enthuse Trojan fans, there are still questions on the offensive side of the football for 'SC.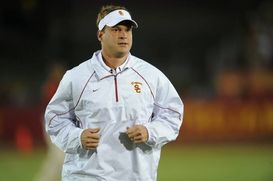 US PRESSWIRELane Kiffin is likely to remain USC's offensive play-caller in 2013.
Despite an offense that featured the country's best receiver tandem of Marqise Lee and Robert Woods, a veteran starting quarterback in Matt Barkley and a pair of running backs that had recorded 1,000-yard seasons previously in Silas Redd and Curtis McNeal, USC ranked only sixth in the Pac-12 in scoring and fifth in total offense. The Trojans also ranked No. 102 nationally in third-down conversions last fall. More alarming, though, were the numerous clock-management issues that the Trojans faced in 2012.
And that's a problem when you consider that all of the offensive changes still point to Kiffin being the sole play-caller heading into 2013.
Summers, who will serve as offensive line coach and running game coordinator, worked for many years wirh new Western Kentucky head coach Bobby Petrino. He will join forces with James Cregg as the Trojans look to get better play from their offensive line in front of their new starting QB, which will likely be young Max Wittek.
Robinson, meanwhile, has been the running backs coach for the NFL's Arizona Cardinals and has coached the position at several stops in the college ranks, including at Miami (FL) and Oklahoma State. He also coached wide receivers in the NFL and college and will serve as both running backs coach and passing game coordinator at 'SC.
While Kiffin's moves clearly show that he is prioritizing strengthening a staff that oversaw a disappointing offense in 2012, is more necessarily better for 'SC?
The offensive staff includes an offensive coordinator, a passing game coordinator, a run game coordinator and two offensive line coaches. Special teams coordinator/associate head coach John Baxter will also now coach tight ends, while quarterbacks coach Clay Helton will be given OC duties. Yet, still, Kiffin will be calling the plays.
And while his background has always been of the offensive nature, there's an overwhelming sense both in Los Angeles and nationally that the former Oakland Raiders and Tennessee Vols head coach would be better served being more of an executive and overseer of the program rather than focusing moreso on one side of the ball. And that sentiment is growing for people around the program.
Detaching himself from play-calling duties and bringing in a veteran such as former Cal head coach Jeff Tedford to run the show could have alleviated some of the gameday responsibilities that Kiffin has to shoulder on Saturdays, which would have allowed him to focus on managing other prevalent head-coaching duties.
We'll see if the larger offensive staff will pay dividends in the fall. But there are still growing concerns about whether the move not made by Kiffin -- relinquishing play-calling duties -- will ultimately be the one that leads to his demise at 'SC.