January 03, 2011 -
Dave Miller
Stanford Band banned from halftime of Orange Bowl
For those of you who were planning to tune into the halftime show of the Orange Bowl to see the Stanford Band up to its usual crazy tricks, I have bad news for you: the musical talents of the school's finest will not be on display.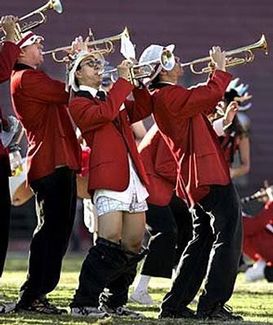 The Stanford Band is quite a group of characters.
Perhaps in a move designed to protect the most popular athlete in South Beach, LeBron James, from ridicule, bowl administrators have decided to keep the Stanford Band from performing at the half.
The Stanford Marching Unit Team has been giving the NCAA ulcers for over 40 years, whether it was the white van covered in bloody handprints during the O.J. saga or mocking the USC alum who started Girls Gone Wild. There have been many other instances, as well, including an incident involving a crucifix that poked fun at Notre Dame. The Fighting Irish have kicked them off the South Bend campus permanently.
The entire state of Oregon has also banned the unit.
But perhaps the most notable incident came in 1970 when its members dropped trousers at halftime.
It'll be interesting to see how the ratings are for the halftime show after this announcement. I, for one, will be making a sandwich in protest.
UPDATE: Okay, I just ran into this on YouTube. This is footage taken by an onlooker of the Stanford Band at an Orange Bowl pre-game rally in South Beach on Sunday.
Email dave.miller@nationalfootballpost.com or follow me on Twitter at Miller_Dave