March 11, 2011 -
Dave Miller
Subway offering free footlongs to all labor negotiators
Nobody wants an NFL lockout — especially one of the biggest chain restaurants in the nation.
Subway Restaurants is offering free footlong sandwiches to all NFL labor negotiators at a local Washington, D.C. store on Friday. The shop's location just happens to be across the street from the federal mediator's office. Clearly, the chain is doing anything it can to fuel discussions between the owners and players association to prevent an interrupted 2011 season.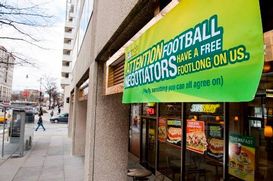 If they'd like, NFL labor negotiators can eat fresh all day for free.
As crazy as this idea sounds, keep in mind that when the league and players agreed to an extension in talks in early March, the Subway restaurant was a big hit with reporters covering the event. According to CSN Baltimore, the store "resembled an NFL press box" because of the amount of reporters flocking to the scene.
Will NFL labor negotiators be swayed by the Chicken Teriyaki on wheat with the works?
Email dave.miller@nationalfootballpost.com or follow me on Twitter at Miller_Dave