July 01, 2012 -
Dave Miller
Sunday Morning Percolator: Paterno's tarnished legacy
The Jerry Sandusky sex abuse scandal at Penn State took yet another ugly turn Friday night when an alleged cover-up by university officials came into sharper focus.
A CNN report from Susan Candiotti revealed that the cable news channel had obtained emails that show former school officials agreeing not to report allegations against Sandusky to authorities. The string of emails began in February 2001 after then-graduate assistant Mike McQueary told then-head coach Joe Paterno that he had seen Sandusky with a boy in the locker room shower. The emails show that former athletic director Tim Curley and former vice president Gary Shultz were planning to report the allegations to child services but ultimately chose not to do so.
Perhaps the most alarming aspect of the email exchanges center on Paterno's possible role. The following passage was sent from Curley to then-president Graham Spanier: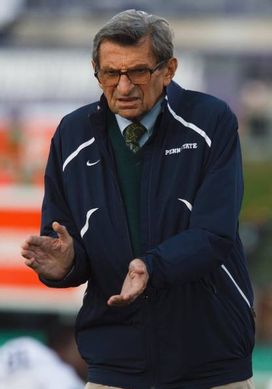 ICONDid Joe Paterno persuade school officials to not inform outside authorities about allegations against Jerry Sandusky?
"After giving it more thought and talking it over with Joe yesterday, I am uncomfortable with what we agreed were the next steps," Curley wrote to Spanier. "I am having trouble with going to everyone but the person involved. I would be more comfortable meeting with the person and tell them about the information we received and tell them we are aware of the first situation."
Spanier agreed, saying it was "humane and a reasonable way to proceed." However, the potential consequences of such actions worried Spanier.
"The only downside for us is if message isn't 'heard' and acted upon and we then become vulnerable for not having reported it, but that can be assessed down the road," the email read.
The report is certainly very disturbing and very troubling for those who maintain that Paterno's legacy was unfairly tainted by this scandal. The email from Curley implies that Paterno possibly persuaded school officials to not inform external authorities.
The question everyone is asking is how much did Paterno really know about the allegations against Sandusky? Perhaps we will find out more later this summer when the Freeh report is released. The emails obtained by CNN were uncovered during Penn State's independent investigation by former FBI director Louis Freeh.
For now, there's no doubt that these emails are potentially very damaging to Curley and Schultz, who already face perjury charges. It also paints Spanier in a bad light as well. Spanier's lobby to exempt Penn State from open records laws in 2007 may indeed have been to assure that these Sandusky emails could only surface via a subpoena. At the time those emails were written, Penn State was still subject to FOIA laws. And that could very well be the reason why Spanier, Schultz and Curley don't actually reference Sandusky by name in the exchanges. They refer to him as "subject."
For Paterno, his complicated legacy has potentially taken yet another hit as the ugliest story in the history of college sports continues to reveal the sad truth about an institution that placed football above morals. And of a head coach who preferred to maintain the pristine image of a program at the expense of those abused by Sandusky.
NFP On Campus
• Keep an eye on the status of Miami senior safety Ray-Ray Armstrong and junior offensive tackle Seantrel Henderson. They seem to be in head coach Al Golden's doghouse, and that's bad news for a team that lost a lot of talent from an average 2011 squad. Armstrong was suspended for the first four games of the 2011 season for taking benefits from rogue booster Nevin Shapiro, and he was suspended for the contest against Florida State for an incident involving Twitter and a possible impermissible benefit. While nothing is official, there are a few reports that Armstrong may have been suspended for a similar Twitter incident recently, this one having to do with interaction with a booster. Meanwhile, Henderson is reportedly serving a punishment but is expected to return to the team soon. At this point, details are still murky.
Golden did incredibly well on the recruiting trail this past cycle and is bringing in a strong 2012 class, but the Hurricanes could struggle this season because of their youth. Having Armstrong and Henderson in the good graces of the coaching staff would go a long way toward having a successful season, because both starters are expected to play key roles this fall.
• The reinstatement of Shayne Skov is huge for a Stanford defense that will be relied upon a little more heavily in the team's first season without Andrew Luck. While the linebacker will be forced to sit out the season opener against San Jose State on Aug. 31, he will be back for the team's huge home game against USC on Sept. 15. Skov, who had been suspended indefinitely following an arrest for DUI, led Stanford with 84 tackles and had 7.5 sacks as a sophomore. He suffered a season-ending knee injury in the third game last fall, however, and should be near 100 percent in 2012.
• Steve Sarkisian and his staff are certainly making quite the splash on the recruiting trail, as the Huskies reeled in seven Class of 2013 prospects — and they committed all at once following the school's Rising Stars camp. Wide receiver Damore'ea Stringfellow (Moreno Valley, Calif.), defensive lineman Elijah Qualls (Petaluma, Calif.), offensive tackle Poasi Moala (Moreno Valley, Calif.), running back LaVon Coleman (Lompoc, Calif.), offensive tackle Andrew Basham (Lynwood, Wash.), linebacker Caleb Tucker (Monroe, La.) and defensive end Daeshon Hall (Lancaster, Tex.) all gave their verbals late last week. The 6-3, 203-pound Stringfellow is the gem of the group because he could see immediate playing time and was recruited by many of the Pac-12's top programs. With so many high-quality coaches now in the Pac-12, Sarkisian continues to carve his nice in Seattle as the Huskies are trending in the right direction under his leadership.
Email dave.miller@nationalfootballpost.com or follow me on Twitter at Miller_Dave