March 22, 2013 -
Dave Miller
Swoopes turning heads at Texas this spring
David Ash remains the No. 1 quarterback at Texas, but another QB not named Case McCoy is creating quite a buzz in Austin this spring.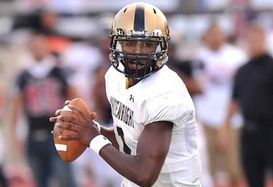 Will Tyrone Swoopes make it hard for Texas to redshirt him in the fall?
Tyrone Swoopes, the Class of 2013 product from Whitewright High School (Whitewright, Texas), is an early enrollee who has made a strong impression during spring practice after arriving as more of a developmental project.
While his best attribute is still his athleticism, Swoopes is making better decisions as camp has progressed, and he has been putting his strong arm on display as well.
The 6-5, 229-pound dual-threat, who drew comparisons to Vince Young during the recruiting process, went slightly overlooked as National Signing Day neared because he didn't have outstanding performances at recruiting showcases such as The Opening and Elite 11. And while the Longhorns were expected to redshirt the true freshman next fall, Mack Brown and Co. may have too talented of a player on hand to not utilize him in special packages. He has been getting a good amount of reps both in drills and team activities, and he has been elevated to the No. 3 QB behind Ash and McCoy.
One of the biggest things to watch in the Orange-White scrimmage on March 30 is how the team's new hurry-up, no-huddle offense has developed. Under former offensive coordinator Bryan Harsin, the 'Horns used a lot of substitutions because of their wide array of packages. But with a more up-tempo scheme, look for a lot less changing of personnel when the 'Horns control the football. Which means Texas will focus more on fielding its best 11 offensive players and run several different formations with the same personnel. Could there be specific packages designed for Swoopes if he continues to impress?
Texas already plans for Ash to use his legs more often on designed runs. Could Swoopes' greatest strength be maximized in this offense as well next fall?