November 07, 2010 -
Dave Miller
TCU rises, Boise State falls in new AP Top 25
After its 47-7 thrashing at fellow undefeated Utah on Saturday, TCU moved up to No. 3 in the new Associated Press Top 25 poll released Sunday.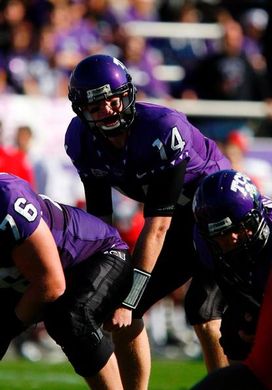 ICONAndy Dalton and the Horned Frogs are moving on up.
Meanwhile, Oregon remained the nation's top-ranked team after its win over Washington and Auburn moved up to No. 2 following its win over Chattanooga.
Despite its lopsided home victory over Hawaii, Boise State fell two spots to No. 4 as the Broncos are becoming more and more likely to get shut out of the BCS title game — unless Oregon and Auburn falter. TCU's dominant performance on the road seemed to swing momentum in their favor in the cause for non-AQ teams.
Oregon received 49 first-place votes and 1,484 points, while Auburn received two first-place votes. TCU also received two first-place votes and jumped 41 points to 1,391. Boise State kept its seven first-place votes but dropped 37 points to 1,366.
Here is a look at the complete poll.
And don't forget that the new NFP Top 25 will be posted late Monday afternoon.
AP Top 25 Poll
1. Oregon (9-0)
2. Auburn (10-0)
3. TCU (10-0)
4. Boise State (8-0)
5. LSU (8-1)
6. Wisconsin (8-1)
7. Stanford (8-1)
8. Ohio State (8-1)
9. Nebraska (8-1)
10. Michigan State (9-1)
11. Alabama (7-2)
12. Oklahoma State (8-1)
13. Iowa (7-2)
14. Arkansas (7-2)
15. Utah (8-1)
16. Virginia Tech (7-2)
17. Mississippi State (7-2)
18. Arizona (7-2)
19. Oklahoma (7-2)
20. Missouri (7-2)
21. Nevada (8-1)
22. South Carolina (6-3)
23. Texas A&M (6-3)
24. Florida (6-3)
25. Central Florida (7-2)
Email dave.miller@nationalfootballpost.com or follow me on Twitter at Miller_Dave