December 29, 2012 -
Dave Miller
Teams that desperately need a bowl win
With the 2012-13 college football postseason in full swing, let's take a look at some programs that can use a victory in their postseason matchup in order to finish the year strong and use the win as a possible momentum-builder moving forward.
Northwestern: We know all about the Wildcats' struggles to make the NCAA tournament in men's basketball, but the football team's inability to win a bowl game is an equally pressing issue. NU will play Mississippi State in the Gator Bowl, and Pat Fitzgerald will be looking to bring the program its first bowl win since the 1948 Rose Bowl. The Wildcats have lost nine straight since reaching the Rose Bowl after the 1995 season. While the 'Cats have been outmatched in some cases, such as against Eric Crouch's Nebraska squad and a Peyton Manning-led Tennessee team, NU has also lost to Bowling Green. This season, NU gets a Mississippi State team that is not an SEC power. Fitzgerald has a chance to finish with a win in a season that featured terrible losses late to Michigan and Nebraska. Another postseason loss would leave a bad taste in the mouths of many 'Cat fans.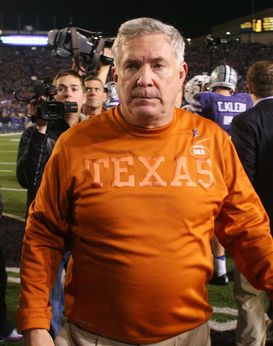 US PRESSWIREEmbattled Texas head coach Mack Brown can use a win to close out 2012.
Texas: The Longhorns endured yet another disappointing season, which included yet another blowout loss to rival Oklahoma. Mack Brown will enter 2013 squarely on the hot seat despite still having powerful people around the program squarely behind him, and the Longhorns now potentially have a serious off-the-field issue on their hands. Texas, which will play Oregon State in the Alamo Bowl, has won six of its past seven bowl games, so history is on the Longhorns' side. But Brown's squad looked dreadful in a Thanksgiving night loss to TCU, and the 'Horns were unable to bounce back in the regular-season finale to Kansas State. Brown cannot afford a loss to Mike Riley's Beavers, because it would be an even longer offseason for him than he should anticipate. A loss in the Lone Star State would lead to a long eight months in Austin.
Michigan State: The Spartans will try to end the season on a positive note when they match up with TCU in the Buffalo Wild Wings Bowl. Because of the defense, many expected Mark Dantonio's squad to once again compete for a Big Ten title despite key losses on offense. The team dealt with a lot of issues, but the most important loss from last season was unquestionably quarterback Kirk Cousins, whose steady hand and leadership was sorely missed. Throughout the summer, word out of East Lansing was that Andrew Maxwell was ready to take over under center. But he completed just 52.9 percent of his passes, and he'll be facing a Horned Frogs defense that has a passing defense efficiency rating that ranks 29th in the country. Dantonio scored a huge win over Georgia last season in the Outback Bowl, but losing to TCU would give the Spartans a losing record this year. And that would make an already disappointing season that much worse.
Oklahoma: The Sooners will battle Heisman Trophy winner Johnny Manziel and Texas A&M in the Cotton Bowl, and it's a chance for Bob Stoops to actually net a win in a showcase game this season. "Big Game Bob" hasn't exactly been prevalent in Norman as of late, and OU fell to both Kansas State and Notre Dame at home this season. In A&M, Stoops and Co. get one of the most talked about teams in the country led by the Heisman Trophy winner, and it will give Stoops a chance to regain his moniker.
Clemson: Dabo Swinney's Tigers will face LSU in the Chick-fil-A Bowl with a chance to erase the memories of last year's Orange Bowl disaster against West Virginia. They also have a chance to actually beat a standout opponent in 2012 after falling to Florida State and South Carolina. Clemson is one of the most talented and athletic teams in the nation, but the Tigers have still been unable to deliver Swinney a standout victory. A game against an SEC power that was BCS worthy presents such an opportunity.
USC: The Trojan players don't need a victory so much as head coach Lane Kiffin needs it. 'SC will battle Georgia Tech in the Sun Bowl, and exactly no one would have predicted that the preseason No. 1 team in the nation would end up playing in El Paso on New Years Eve. But that's exactly what happened to the Trojans, whose defense was so soft that it ultimately forced coordinator Monte Kiffin to resign. Paul Johnson's Yellow Jackets present a tough challenge with the triple-option attack, and the Trojans have struggled against the run this fall, especially against Notre Dame and Oregon. Of course, Matt Barkley will be on the sideline, and motivation will be a real question mark for 'SC. But with questions about Kiffin's coaching credentials, it would help if he can show that he can keep a team motivated and get it prepared for a bowl game after the program sat out the last two postseasons. Certainly, the Trojans don't want to finish the season with five losses in their last six contests.