November 04, 2013 -
Dave Miller
Ten takeaways from Week 10
Let's take a look at my ten biggest takeaways from college football's Week 10 slate.
Michigan State's pummeling defense: The Spartans have not given up a touchdown to Michigan in the last two games played between the two teams, as Mark Dantonio's squad notched its fifth win in its last six games against the Wolverines. MSU's dominant 29-6 win Saturday was highlighted by its suffocating defense, as the Spartans held the Wolverines to -48 rushing yards and battered Devin Gardner on the way to seven sacks. Even with the sack yardage making the rushing total look so bad, Michigan was unable to move the ball on the ground, finishing with just one yard on 22 carries. And Brady Hoke's team was able to record just 168 total yards and convert on just 2-of-14 third downs against coordinator Pat Narduzzi's defense, which stifled the Wolverines' passing attack because of the constant pressure the group applied to Gardner. The Spartans look poised to earn a trip to Indy to take on Ohio State in the Big Ten title game, and this defense led by Shilique Calhoun and Denicos Allen should give Urban Meyer's offense some trouble despite it being a much different offensive attack than that of Michigan.
Miami (FL) is not back — yet: The Hurricanes never really looked like a Top 10 team throughout this season despite being able to beat Florida in Week 2, but there's no need for fans of The U to be too disappointed. With the NCAA's verdict finally handed down, head coach Al Golden knows that the future in Coral Gables is very bright. Despite scholarship limitations, he has been able to bring in very good talent on the recruiting trail the last few years and will continue to do so. He has a few nice, young pieces on defense already. The key is to continue to bring in and develop defensive talent so that the team has depth on that side of the ball. I don't think quarterback Stephen Morris has really been healthy all season, and it was a brutal blow to lose Phillip Dorsett and Duke Johnson. But looking at the big picture, offense should not be a problem moving forward for this program. The 'Canes are in great hands with Golden, and in time The U will officially be back.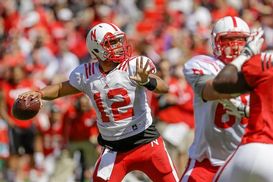 US PRESSWIRERon Kellogg III delivered in a stunning victory for Nebraska this past Saturday.
Bo Pelini buys another week: The Cornhuskers enjoyed one of the best finishes you'll see, as third-string quarterback Ron Kellogg III stunned Northwestern with a Hail Mary touchdown pass to avoid what would have been two brutal losses in a row (the Huskers lost to Minnesota the previous week). Nebraska is still alive in the Big Ten Legends division, although it is clear that Michigan State is the best team in that group. However, Pelini could ill afford a loss this past weekend. His team still has to navigate a tough November slate, but at least his coaching seat isn't sizzling as it would be if the Huskers could not pull out the win. We'll see if Pelini will need another Hail Mary to return to Lincoln in 2014. Meanwhile, the Scott Frost talk will only continue to percolate.
The Pokes we thought we'd see: This is the Oklahoma State squad that was projected to win the Big 12 in the preseason media poll. The Pokes have not looked great all year, and their lone loss was a head-scratcher to West Virginia in Morgantown. While Texas Tech is also facing a difficult closing slate, the Cowboys were able to begin their tough finishing schedule with a 52-34 win in Lubbock. Mike Gundy's squad let the Red Raiders back in the game after opening up a big lead, but it's clear that the Pokes are a legit conference champion contender. Quarterback Clint Chelf worked through two interceptions to rush for 88 yards and two touchdowns, and there's no question this offense has been sparked by his insertion as the starter. We'll see if the Pokes can live up to expectations when they face future foes Texas, Baylor and Oklahoma.
Missouri turns the page: I was very interested in seeing how Gary Pinkel's squad would bounce back one week after blowing a 17-point fourth-quarter lead at home to South Carolina. Well, the Tigers were able to avoid a potential trap game by taking care of Tennessee right from the beginning of the contest. And that's big as Mizzou looks to wrap up the SEC East. The Tigers recorded an impressive 31-3 win behind quarterback Maty Mauk's three passing touchdowns and 277 total yards (114 rushing). Star cornerback E.J. Gaines returned from injury and notched an interception, so the Tigers are back to looking like a Top 10 team. The question now is whether they can take care of business in late-season games against Ole Miss and Texas A&M. Because Mizzou could be a challenge for Alabama in a potential SEC title game.
If only Todd Gurley could stay healthy: Georgia blew a 23-3 halftime lead over Florida in the World's Largest Outdoor Cocktail Party, but the Bulldogs still held on for a 23-20 win despite being held scoreless in the second half of action. The injury-riddled 'Dawgs were boosted by the return of Gurley, their star running back who missed three games with a bum ankle. He had 17 carries for 100 yards and a touchdown on the ground as well as 87 receiving yards, including a 73-yard score. However, he missed a portion of the game because he was worn down. Because of his style of play, he does tend to get banged-up and miss portions of games even when deemed healthy. But he consistently shows that he is the best running back in the country when he is on the field.
Notre Dame doesn't look BCS-worthy: It is almost a given that if the Fighting Irish run the table and finish 10-2 that they will be a part of the BCS at-large mix. But Brian Kelly's squad looked anything but a BCS candidate in its too-close-for-comfort win over Navy in South Bend this past Saturday. There's no question that the Irish played a good Midshipmen team that was able to beat Pitt last week, but the talent difference on both sides of the field on Saturday was too great for the Irish to suffer such a scare at home. Navy did its thing on the ground, recording 331 rushing yards and controlling the clock. Notre Dame received a breakout performance from tailback Tarean Folston, who rushed for 140 yards. However, Tommy Rees threw two more interceptions in the 38-34 win. Looking ahead, is this ND team good enough to beat BYU let alone Stanford in the regular-season finale?
Overlooked Heisman Trophy contenders: Jordan Lynch and Derek Carr are gaining some serious steam in the Heisman Trophy race, at least in terms of being in the mix for invites to New York City for the ceremony. While Marcus Mariota, Jameis Winston and Johnny Manziel remain my three favorites, Lynch, Carr and Bryce Petty have a chance to remain in the mix throughout the rest of the season. While UMass certainly is an inferior opponent to Northern Illinois, Lynch had another standout performance in the 63-19 win over the Minutemen, throwing for 160 yards and a touchdown and running for 119 yards and four scores in not even a full game. And he has a few key MAC games coming up. Meanwhile, Fresno State's signal-caller led his team to a 41-23 win over Nevada by throwing for 487 yards and three touchdowns with no interceptions. And both the Huskies and the Bulldogs remain in the mix for a possible BCS at-large berth.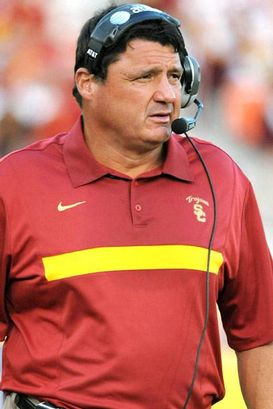 US PRESSWIREEd Orgeron is 3-1 since replacing Lane Kiffin as USC's head coach.
USC's resurgence: Ed Orgeron continues to do a marvelous job as interim head coach of the Trojans. The team is now 3-1 since Lane Kiffin was dismissed, and it looks like a completely different outfit under the longtime assistant. The team's latest victory, a 31-14 win at Oregon State on Friday night, saw Orgeron get hoisted onto his players' shoulders — a remarkable feat considering how toxic the situation had been under Kiffin. The Trojans are leaning on their defense, which hasn't allowed a second-half point in the last three games. And while the offense isn't sexy, it's relying on its ground game while still taking some shots down the field through the air.
The heat on Muschamp is unfair: I understand the frustration of Florida fans after the Gators fell to Georgia this past weekend in the World's Largest Outdoor Cocktail Party. UF is now 4-4 and is in danger of actually missing the postseason after losing three in a row and still having games left at South Carolina and against Florida State. Muschamp is 22-12 in his third season in Gainesville, and his mark is similar to that of Ron Zook, who was dismissed after being a first-time head coach at UF. We have to remember that the cupboard that Muschamp inherited was not exactly stocked and that he has done a very good job thus far on the recruiting trail. Injuries have derailed this team this season. And keep in mind that despite the lackluster loss to Louisville in last season's Sugar Bowl, Muschamp put together a fantastic 2012 campaign, one in which had the Gators in the BCS title race deep into the year. Next year is a big season for the Gators, and I would expect a new offensive coordinator to be in place to help solve a woeful unit.
Dave Miller, the college football editor and writer for the National Football Post, is on Twitter @Miller_Dave.