April 11, 2011 -
Dave Miller
Terrelle Pryor and the Supplemental Draft
Much of this offseason has centered on the numerous investigations and allegations across the college football landscape. Front and center has been the Ohio State program, which is dealing with transgressions surrounding Jim Tressel and the Buckeye Five. Of course, starting quarterback Terrelle Pryor is one of the five Buckeyes who will miss the first five games of the 2011 season. The players did appeal the five-game ban, but it was denied by the NCAA. So, Ohio State fans and alums are hopeful that the team can tread water until Pryor and the other suspended teammates are eligible to come back for the Buckeyes' road test against Nebraska in Lincoln.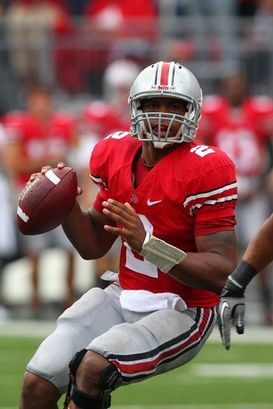 ICONCould Terrelle Pryor be done in Columbus?
But could Pryor actually be done in Columbus? The dual-threat signal caller has not dismissed the idea of going the NFL Supplemental Draft route. According to a source, the odds of Pryor staying for his senior season are about 60-40, but Notre Dame receiver Michael Floyd coming out and declaring for the supplemental draft would have a direct effect on his decision. Of course, Floyd dodged suspension by the school's Residence Life committee after being arrested for DUI. However, head coach Brian Kelly suspended his star receiver for the foreseeable future.
The Supplemental Draft would be held after the traditional NFL Draft and before the 2011 season begins. However, there will be no such draft unless a new CBA is agreed upon. Essentially after the last pick of April's draft is made, all football business would end until there is a new CBA. There would be no college free agency after the draft either.
UPDATE: On May 31, NFL spokesman Greg Aiello confirmed that there CAN be a Supplemental Draft even without a new collective bargaining agreement.
Pryor's situation is certainly something to keep an eye on in Columbus as the program continues to endure a very trying offseason.
Joe Bauserman likely will start the season opener for the Buckeyes in Pryor's place, but he is battling Kenny Guiton and recent top signee Braxton Miller for the starting gig until Pryor gets back on the field -- if that is indeed in Columbus.
Email dave.miller@nationalfootballpost.com or follow me on Twitter at Miller_Dave