October 16, 2012 -
Dave Miller
Texas' Brown isn't going anywhere
Texas fans may not be in favor of Mack Brown returning in 2013 following the team's second straight embarassing loss to Oklahoma in the Red River Shootout, but don't expect a change at the head-coaching position in Austin.
While there's no question that the Longhorns defense has fallen on hard times after a standout debut campaign under Manny Diaz in his first season as defensive coordinator last fall, this Texas team was always set up for bigger things in 2013.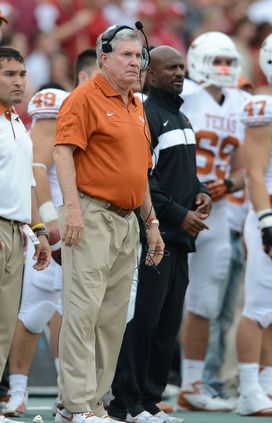 US PRESSWIREMack Brown is 17-14 overall since 2010.
The 'Horns just have to make sure they use next spring, summer and preseason to work on their tackling as well as their attitude on defense.
With David Ash making strides at quarterback, a renewed focus on the power-run game and enough playmakers at receiver, the offense is in good shape the rest of this season and beyond.
Defensively, Diaz's unit has been playing like a lower-tier non-AQ program at times, especially last week against the Sooners when they almost looked uninterested in playing at the Cotton Bowl.
Sure, the loss of linebacker Jordan Hicks has been a big blow. And things won't get any easier with Jackson Jeffcoat being gone. But there is enough young talent across all three levels of the defense to become much better by the time next season rolls around. Tackling better is just one way. Until then, though, Brown and Diaz have to find a way to stop the bleeding within Longhorn Nation.
Brown dismissed the notion of retirement on Monday, saying he remains energized and still has the backing of the school and its big boosters despite having just a 17-14 overall mark since 2010. But the 61-year-old made changes on his staff, bringing in Bryan Harsin to run the offense and Diaz to oversee the defense after the team's dismal 2010 season. And there's no question Harsin's hire is paying dividends. And while Diaz's unit looks shellshocked, the former Mississippi State DC has not forgotten how to coach. Moreover, this remains a talented defensive roster despite injuries. The key will be to determine what isn't working and why it was going so well last year.
Athletic director DeLoss Dodds understands how much Brown has meant to the program, and he also understands that this entire staff had Texas moving in the right direction up until its back-to-back losses to West Virginia and OU. This season can still be salvaged, and keep in mind that Brown is averaging 10 wins a season in Austin. Because of some youth in key positions, this team was always set up for a bigger run in 2013 anyway. However, finishing this season strong is important because there is now a buyout clause in his contract.
The key will be to right the ship this fall and remain a consistent force on both sides of the ball next year. And if the program is still ailing in 2013, then the status of Brown could be revisited. Until then, he remains the face of Longhorns football.
Email dave.miller@nationalfootballpost.com or follow me on Twitter at Miller_Dave