March 28, 2011 -
Dave Miller
Texas Tech spring game review
Texas Tech concluded its spring practice schedule with the team's spring game on Saturday afternoon at Jones AT&T Stadium. The game, which followed traditional scoring and rules while consisting of four quarters (with the clock running continuously in the final frame), featured the Red team vs. the Black team.
The Red Raiders became the first team in the Big 12 to conclude spring drills because the team began its run of 15 practice sessions in February due to head coach Tommy Tuberville's desire to have more consecutive weeks devoted to weight training and conditioning.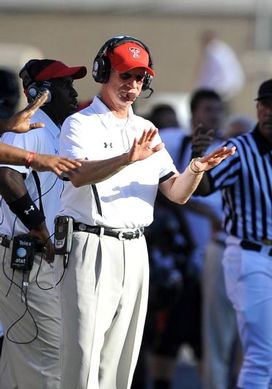 ICONTommy Tuberville and Texas Tech concluded spring practice on Saturday.
While most eyes were on the quarterback battle taking shape in camp, making steady progress and improving on defense was even more of a crucial aspect of this camp. How did the Red Raiders finish the spring? Let's take a look at some spring game notes.
The battle under center
While Tuberville isn't expected to name the team's starting quarterback until midway through fall camp, rising junior Seth Doege continued to maintain a nice lead over Jacob Karam. After taking most of the first-team snaps this spring, Doege threw for 317 yards and four touchdowns against one interception while completing 20 of 35 passes on Saturday. He had a pair of long passes, hitting Alex Torres for a 63-yard gain and connecting with Tramain Swindall for a 55-yard touchdown. Offensive coordinator Neal Brown told reporters after the game that Doege is making better decisions with the football, and it would seem to take a monumental collapse by Doege in the fall for him to lose the job.
New playmakers emerge
Junior college receiver Marcus Kennard, who enrolled early, caught a 29-yard touchdown pass from Doege and should make contributions immediately in the fall. True freshman running back Ronnie Daniels also enrolled early and continued to impress, hauling in a 20-yard touchdown pass from Scotty Young and finishing with 34 rushing yards on 11 carries. Ben McRoy led the team with 61 yards on seven carries. However, Eric Stephens will likely be the starting back after rushing for 668 yards and six scores while averaging 5.3 yards per carry in 2010. He had 48 yards on seven carries on Saturday.
How balanced will the offense be?
Upon arrival in Lubbock, Tuberville stated that he wanted to run the ball more effectively while keeping the passing attack just as potent. But the Red Raiders averaged 319 yards per game through the air while only logging 141 yards per game on the ground in 2010. Stephens should continue to be an effective back and the team has good backfield depth, especially after bringing in their best batch of backs perhaps in decades in the latest recruiting class. It's just a matter of how much Brown wants to run the ball. Do expect more sets with tight ends, but Tech has too many weapons for a consistent aerial attack, so don't expect the team to stray away from throwing the football.
Will the defense be any better?
The Red Raiders were atrocious defensively last season, particularly against the pass, as they gave up more points per game (30.3) than any other team in the Big 12 except Kansas. But the team played a lot of young players, so their experience will be valuable entering the fall. But there is work to do, as the secondary allowed five passing plays of 25 yards or longer on Saturday. New coordinator Chad Glasgow knows his unit needs to become faster, and Tuberville and Co. did a nice job of bringing in some fresh bodies with the recent recruiting class.
Glasgow, the former secondary coach at TCU, was a nice snag for the Red Raiders. Schematically, the team can improve upon last season's defensive numbers, especially if safety D.J. Johnson and linebacker Cqulin Hubert play as well as they did in the spring game. But it may take another recruiting class to bring in more speed and better playmakers to Lubbock on the defensive side of the ball.
However, sometimes the best pass defense is a strong pass rush. And if junior college transfers Dennell Wesley and Leon Mackey can contribute immediately along the line, Tech may have a solid enough unit to give the team balance on both sides of the ball and help the Red Raiders ascend up the Big 12 standings.
Email dave.miller@nationalfootballpost.com or follow me on Twitter at Miller_Dave