January 12, 2011 -
Dave Miller
The arranged marriage of Hoke and Michigan
It's too early to know if Brady Hoke will turn out to be the right hire at Michigan. But the former Wolverines assistant coach really wanted to be the new leader of the football program in Ann Arbor. And that alone made him the most qualified candidate.
Because if athletic director Dave Brandon's search told us anything, it's that being the head football coach at Michigan isn't a plum job anymore. That's the only conclusion one can come to when dissecting the journey to replace the ousted Rich Rodriguez.
Former Stanford head coach and Michigan alum Jim Harbaugh seemed intent on testing his coaching acumen at the pro level, so his homecoming in Ann Arbor never seemed likely. Instead, he will match wits once again with Pete Carroll as his San Francisco 49ers look to dethrone the Seattle Seahawks in the NFC West.
Pat Fitzgerald and Gary Pinkel decided that they were both comfortable at their current schools, Northwestern and Missouri, respectively. And it makes sense for both of them to stay, as they are in no danger of losing their current jobs.
But still, this is Michigan.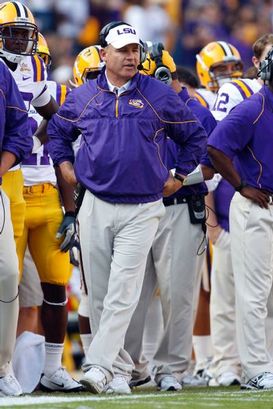 ICONLes Miles didn't end up at Michigan after all.
Which leads us to LSU's Les Miles, the favorite punching bag of both local and national media — and an increasing number of the Tigers' fan base. Surely he would don the Maize and Blue once again after passing up the opportunity once before, right? He's declared his love for his alma mater in the past, and the timing actually seemed right this time. If, of course, he wanted to trade in loaded recruiting classes year after year for what was still thought to be his dream job.
But, shockingly, he announced that he was staying in Baton Rouge.
Now it's difficult to believe that Miles would sit down with Michigan's brass on Monday night and discuss the coaching vacancy — risking his credibility with recruits — if he wasn't genuinely interested in the job, right?
Well, maybe he didn't like what Brandon had to say. Or maybe, as he stated on Wednesday morning, Brandon never offered him the job. But that sounds a lot like AD talk after settling for a backup candidate. Or, maybe Brandon was just trying to satisfy a section of Michigan's alumni and boosters by meeting with the Mad Hatter.
Either way, it was back to the one name that never went away: the other Michigan Man, 52-year-old Midwesterner Brady Hoke.
Whether the other candidates were scared off by the rare bare cupboard at one of college football's most storied programs or an athletic director that was a little too hands-on this past season, the marriage of Hoke and Michigan came together by necessity.
And it may, in fact, even end up working.
Rich Rod was a victim of less-than-stellar personnel on the defensive side of the ball, something that started to become a problem late in Lloyd Carr's tenure. Eventually, that won't be the case under Hoke, who played linebacker and has a defensive coaching background. And no matter what offense Hoke plans to run, he'd be foolish not to adapt to the personnel he has on that side of the ball — led by dual-threat quarterback Denard Robinson, who was once the leader in the Heisman Trophy race this past season.
Not too bad of a gig when you are inheriting an offense ready to score points. Of course, Hoke's biggest sales job is getting his Big Ten player of the year to stay.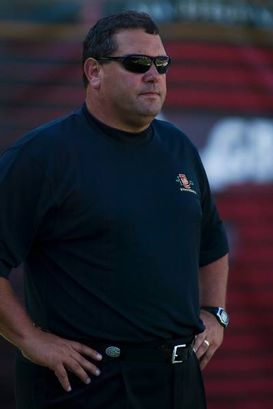 Brady Hoke must be able to convince Denard Robinson to stay in Ann Arbor.
The other big sales job is on the recruiting trail, where the Wolverines already lost top commitment Dee Hart, a dynamic running back, with National Signing Day just weeks away.
While there's no question that Hoke can coach up a football team — he won 12 games in his final year at Ball State in 2008 and recorded nine wins in just his second season at San Diego State in 2010 — his career mark of 47-50 does leave a lot to be desired.
Maybe Hoke won't make it on the big stage of the Big Ten. Maybe he does his best work at the non-AQ level. Personally, I would have liked to see him sustain some success at his two previous stops. Take away his two standout seasons, and there's not much to be excited about if you're a Wolverines fan.
But Hoke really wanted this job. And Michigan really needed a new leader.
If it was out of necessity for both, so be it. But last time I checked, no one else wanted the job. Brandon even said on Wednesday that Hoke accepted the gig even before a salary was even offered.
Hoke clearly has character. With many Wolverines fans wary of the hire since his name was first mentioned in the search, at least he has that going for him.
Email dave.miller@nationalfootballpost.com or follow me on Twitter at Miller_Dave
Want to work in the NFL? Click here to sign up for the NFP's "Chalk Talk at the Combine" Seminar February 25 in Indianapolis.