December 29, 2010 -
Dave Miller
The Big 12 is on display in Texas, Alamo Bowls
Enjoying the bowl season already? Good, because there are a lot more games on the 2010-11 schedule — including two more games tonight after the Maryland-East Carolina matchup in the Military Bowl.
Let's take a look at today's two remaining contests a little more closely…
Texas Bowl: Illinois (6-6, 4-4 Big Ten) vs. Baylor (7-5, 4-4 Big 12)
Illinois: Yes, the Illini really did win for the Zooker. While the loss in the regular-season finale left a bitter taste in their mouths, the fact is that the Illini returned to a bowl game for the first time since their magical run to the Rose Bowl following the 2007 season. And in the process, Zook will be returning to Champaign in 2011.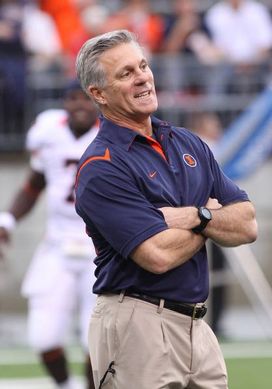 ICONWith two new coordinators, Ron Zook has the Illini back in a bowl game.
Much of the credit belongs to the two new coordinators brought in before the season to revamp both sides of the ball — Vic Koenning on defense and Paul Petrino on offense.
Koenning's unit is vastly improved, though it has been inconsistent. It played tough into the second half against Michigan State and Ohio State, and it held Penn State, Indiana and Purdue to 36 combined points. However, it also gave up 130 points combined to Michigan, Minnesota and Fresno State as the Illini lost three of their last four games.
Squaring off against Baylor dual-threat quarterback Robert Griffin III will be quite the challenge. Under his direction, the Bears are averaging 32.6 points and are ranked 12th nationally at 478.5 yards a game.
The Illini can also move the ball, as Petrino has worked wonders with redshirt freshman quarterback Nathan Scheelhaase, who has steadily improved throughout the season. After throwing three interceptions in the season-opening loss to Missouri, Scheelhaase was named Big Ten freshman of the week five times during the year and rushed for 815 yards on the season to break Juice Williams' school record for rushing yards by a quarterback.
In the second half of the year, Scheelhaase threw for 802 yards and 13 touchdowns against just one interception, and the Illini are now just six points away from breaking the total points record of 390 set by the 2001 squad.
But Scheelhaase's effectiveness is only heightened because of running back Mikel Leshoure's presence. Leshoure's 1,513 rushing yards led the Big Ten and his more than 126 rushing yards per game rank eighth in the nation. This game very well could be his last college game as the junior likely would be a high pick in April's draft. Certainly, defensive tackle Phil Taylor, linebacker Antonio Johnson and the Baylor defense will be tested.
Baylor: There's no question that Griffin III can throw the football. But the Bears are at their best when the dual-threat looks to run after the pocket collapses. If Griffin's rushing yards are held in check — as they were in blowout losses to TCU and Oklahoma State — then this offense loses some of its dynamic qualities. Griffin is an accurate and poised passer — his 3,195 passing yards, 3,795 yards of total offense, 144.23 pass efficiency rating, 66.3 completion percentage and 29 total touchdowns are all tops in Baylor history — but his efficiency is increased when defenses have to account for his legs.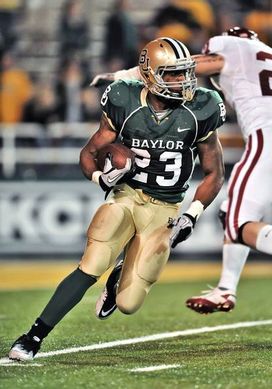 ICONRG III is great, but Jay Finley gives the Baylor offense balance.
Speaking of productivity on the ground, running back Jay Finley recorded 1,155 rushing yards this season and needs just 33 more to set Baylor's single-season rushing record. His presence brings balance to the offense and will keep Illinois' defense honest.
The Illini's top NFL prospect may be defensive tackle Corey Liuget, and his name is going to have to be called a lot if the Illini want to slow down the Bears offense. Liuget can be a disruptive force, as the junior has 10 tackles for loss, 10 quarterback hurries and 3.5 sacks on the year. But will he be able to wrap up Griffin if he gets into the backfield?
If these teams start trading field goals, Baylor could be in trouble. Freshman Aaron Jones was one of the better kickers in the Big 12 early in the season, but he went 1-for-4 with a missed extra point in a loss to Texas A&M, and we all know what can happen when a kicker loses confidence. Just ask Boise State.
The difference
With the game at Reliant Stadium — roughly 180 miles away from Baylor's campus — plenty of Bears fans will be in attendance, especially because they haven't seen a bowl game since 1994. While Baylor sold its allotment of 12,000 tickets, Illinois has sold about half of its tickets. Of the more than 60,000 fans expected to be in attendance, the majority will make the Illini feel like the visitors.
Even though Illinois has been inconsistent on defense, Koenning's unit still showed more flashes of brilliance than Baylor's defense. And with its deadly zone-read game with Scheelhaase and Leshoure, I'm not sure Baylor can make enough stops — home-field advantage notwithstanding.
Which coach will break through?
• As a player at Miami (OH), Zook was 3-0 in bowl games. As a head coach, he is winless in three tries. Baylor head coach Art Briles is also 0-3 as a head coach in bowl games. He lost all three contests when he was at Houston before leaving to take over at Baylor.
Alamo Bowl: Arizona (7-5, 4-5 Pac-10) vs. Oklahoma State (10-2, 6-2 Big 12)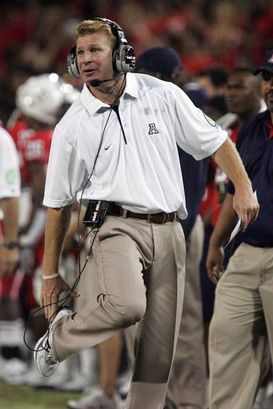 ICONMike Stoops and the Wildcats hope to end a four-game skid against Oklahoma State in the Alamo Bowl.
Arizona:
Quarterback Nick Foles leads the offensive attack, as the junior threw for 2,911 yards and 19 touchdowns against seven interceptions despite missing parts of three games with a knee injury. He is helped by a ground attack that features a trio of running backs — Nic Grigsby, Greg Nwoko and Keola Antolin. Grigsby and Antolin provide the speed, while Nwoko has great hands out of the backfield on screens and can get the tough yards.
But at the end of the day, the Wildcats love to throw the football. And why wouldn't you with Juron Criner on the roster? The receiver caught 73 passes for 1,186 yards and 10 touchdowns, and is the only receiver with deep-threat capabilities on the Wildcats. If Foles uses short routes to possession receivers and the run game proves effective, it could set up the Cowboys to be susceptible for deep balls thrown to Criner.
Oklahoma State: Head coach Mike Gundy has expressed concer n about the team's level of focus with the imminent departure of offensive coordinator Dana Holgorsen and questions about who may be leaning toward coming out in April's draft. So there's no question that the distraction factor is an issue in this game.
Remember the last time Oklahoma State was at the Alamo Bowl? The Cowboys were a mess in the 2004 edition of the game, losing 33-7 to Ohio State as then-coach Les Miles was negotiating for the LSU job behind the scenes.
Yet, in the 2007 Insight Bowl, OSU went into the game without its offensive coordinator, who had accepted a job with Southern Miss. Gundy called the plays in that game and the Cowboys rolled 49-33 over Indiana.
There has been a lot of speculation as to how much of the offense Holgorsen will control for this game, but expect him to have full power. People close to the program have stated that Holgorsen has been fully engaged in practices and that there's been no change in his approach and preparation.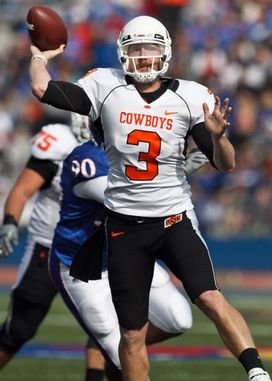 ICONBrandon Weeden directs the nation's top offense.
So expect quarterback Brandon Weeden to keep the nation's top offense at 537.6 yards of total offense per game clicking on all cylinders. The Cowboys have scored at least 33 points in all but one game, and receiver Justin Blackmon gives Weeden an elite option in the offensive attack. Blackmon is eight yards shy of surpassing former Pitt star Larry Fitzgerald and breaking the NCAA record for most receiving yards by a sophomore (1,672), and he is just one of a handful of Cowboys who could declare early for the draft.
While Weeden and Co. excel through the air, Holgorsen should really make this a Kendall Hunter game. Arizona allowed at least 200 yards rushing in three of its final four losses, and when the Cowboys' offense looked a little out of sync this season, Hunter was getting the ball the least. He's a dynamic college back, and he's the most overlooked of the OSU Big 3 on offense.
The skinny
Oklahoma State lost two games this year, but the Cowboys scored 41 points in those defeats. This offense is going to put up points even though the Wildcats do have the talent on defense to make some stops. Arizona shouldn't rely on Oklahoma State stopping itself, as it was plus-8 in turnover margin. But if a Cowboy does put it on the ground once or twice, it will be imperative that the Wildcats take advantage.
Keep an eye on Arizona's center in this one. After 48 starts, senior Colin Baxter will sit out due to knee surgery, letting sophomore Kyle Quinn make his first career start under center. Quinn is replacing the leader of the offensive line, so it will be interesting to see if the Cowboys try to test Quinn with some unique looks.
Odds and ends
• The Pac-10 is back in the Alamo Bowl for the first time since 1994. The league's four-year deal with the game replaces the Big Ten's contract, which ended after a 15-year run.
• Oklahoma State's fifth consecutive bowl game is a school record but the Cowboys have lost in their last two appearances.
• While Arizona and Oklahoma State will meet for the first time in 68 years, the schools begin a home-and-home series next season, starting in Stillwater in September.
• This will be Arizona's first game in Texas since 1999 when it played TCU.
Email dave.miller@nationalfootballpost.com or follow me on Twitter at Miller_Dave