August 19, 2014 -
Dave Miller
The Buckeyes' backup plan if Miller is shelved
While Ohio State fans await the results of star senior quarterback Braxton Miller's MRI on Tuesday morning to determine the severity of the injury he reportedly suffered to his right shoulder, the chances of their likely Heisman Trophy contender playing a full season have seemingly decreased.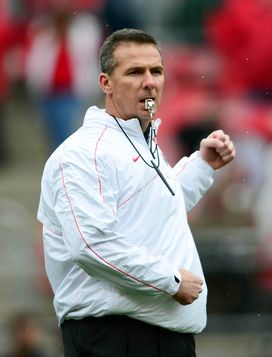 US PRESSWIREIs Urban Meyer facing a season with Braxton Miller on the sideline?
J.T. Barrett is ahead of sophomore Cardale Jones as the top backup in Columbus, so head coach Urban Meyer and offensive coordinator Tom Herman may have to rely on the redshirt freshman when the Buckeyes open the season against Navy on August 30 in Baltimore if Miller misses any time in 2014,
What exactly does Barrett give the Ohio State offense — besides a ton of inexperience — whether or not Miller's new/old injury is a minor setback or a huge blow?
Because Miller has been limited throughout the offseason, including missing spring practice, the Buckeyes have been able to give plenty of reps to the other signal-callers, including Barrett. Those live reps have been very valuable because they usually don't occur too much at this point in the offseason. Sure, the Buckeyes aren't playing actual games. But getting extra practice with more skilled players on the roster in practice can only help Barrett whether he has to play for a few plays, one game, one month or potentially an entire season. Keep in mind that Miller has been banged-up the last two seasons, so the Buckeyes have needed the backup before.
Ohio State doesn't exactly play the toughest schedule in the country, especially when you look at some of the teams expected to be contenders for the inaugural College Football Playoff (only one opponent is ranked in the AP's preseason Top 25). But if Barrett is under center in Week 2 at home, he'll face a Virginia Tech team that still has Bud Foster coordinating the defense, and Texas Tech quarterback transfer Michael Brewer has a chance to give that offense a much-needed bump in production. Throw in the fact that the Buckeyes don't have a cohesive offensive line yet, and it could be cause for concern.
Of course, we have to wait and see what happens with Miller's MRI. Shoulder injuries are very unpredictable. But Buckeye fans certainly wish that an experienced backup like Kenny Guiton was still on the roster.
The one thing working in the Buckeyes' favor is that Meyer knows his quarterbacks, and Barrett is a Meyer recruit. That position is vital to any offense but especially to Meyer's Power Spread scheme. Whether it was Brian Johnson at Utah, or Tim Tebow and Cam Newton at Florida, Meyer has a strong track record with his signal-callers (save for the John Brantley era at Florida).
Hopefully for college football fans in general, they get to see Miller at his best this fall. If not, don't discount the Buckeyes quite yet in the Big Ten and national races.
Dave Miller, the college football editor for the National Football Post, is on Twitter @Miller_Dave.