March 28, 2011 -
Dave Miller
The Coach's Corner with Arizona's Mike Stoops
Arizona kicked off spring practice last week as the team continues its early preparations for the 2011 season. The National Football Post was pleased to speak with Wildcats head coach Mike Stoops, who is entering his eighth season as head coach in Tucson, for the newest edition of The Coach's Corner podcast.
The Wildcats posted victories in seven of their first eight contests last season, including a nonconference home win over Iowa, before stumbling down the stretch with four consecutive losses and earning a berth to the Alamo Bowl. With a chance to finish the season on a positive note, the 'Cats fell 36-10 to the high-powered Cowboys of Oklahoma State to close the year on a five-game skid.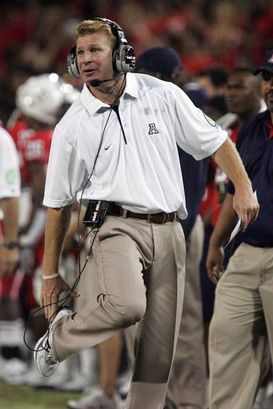 ICONMike Stoops is entering his eighth season as head coach in Tucson.
But this spring, it's all about a fresh start and putting a stamp on a new season. Stoops admitted that his team didn't do the necessary things to win against better opponents last year, including finishing drives on offense and preventing big plays on defense.
But rising senior Nick Foles has returned under center after bypassing the NFL Draft, and he'll have plenty of weapons to work with, including top receiver Juron Criner. But don't forget about Texas transfer Dan Buckner, who should complement Criner nicely in the passing game. Buckner is another big receiver who caught 44 passes for 445 yards and four touchdowns in '09 for the Longhorns.
But the Wildcats will need to get tougher on both the offensive and defensive lines — a tough task considering both units will be young and inexperienced entering the fall. The 'Cats will be breaking in five new offensive linemen while the defense will have to replace future NFL defensive ends Brooks Reed and Ricky Elmore.
On the podcast, Stoops also discusses possibly redshirting backup quarterback Matt Scott, the future of incoming transfer Tom Savage and how brothers Bob and Mark will fare when their teams — Oklahoma and Florida State — meet in a game that's being billed as perhaps the best nonconference game of the 2011 season.
Click here to listen to The Coach's Corner podcast with Mississippi State's Dan Mullen
Click here to listen to The Coach's Corner podcast with Northwestern's Pat Fitzgerald
Email dave.miller@nationalfootballpost.com or follow me on Twitter at Miller_Dave