May 01, 2012 -
Dave Miller
The death of the WAC
One of the more historic football conferences is near extinction.
As Brett McMurphy of CBSSports.com details, the Western Athletic Conference will have seven football-playing members this fall: Idaho, New Mexico State, Louisiana Tech, Utah State, San Jose State, Texas-San Antonio and Texas State. After 2012, Louisiana Tech and Texas-San Antonio will bolt for Conference USA, Utah State and San Jose State will join the Mountain West and Texas State will leave for the Sun Belt.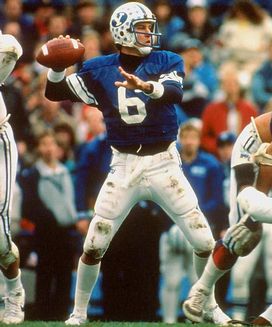 QB Robbie Bosco led BYU to a 13-0 record and the school's first and only national championship in 1984.
Amazingly, all three of those leagues have emerged as more stable alternatives to the WAC. Perhaps more amazing is the fact that Texas-San Antonio and Texas State are leaving the WAC before even starting play in the conference — after just making the move to the FBS.
So with only two football-playing members left after this fall — Idaho and New Mexico State, two of the weakest programs in FBS — a league that once had a record 16 teams (with squads spanning from the states of Hawaii to Oklahoma) in 1996 will be on its death bed. And a team like Idaho could be on its way back to FCS unless it is rescued by the Sun Belt, a league that may not want to expand so Westward.
We saw the end of the football league coming for months, as it continued to become crippled with Fresno State, Hawaii and Nevada deciding to move to the MWC last year. The previous season, Boise State — the conference's darling — announced its intention to depart.
And to think that when the league began in 1962, the six founding members were Arizona, Arizona State, Brigham Young, New Mexico, Utah and Wyoming. In fact, the sixth-oldest FBS conference was also the last non-AQ league to win a national championship — LaVell Edwards led BYU to the title in 1984.
But, of course, conference expansion and realignment sucked the life out of the league, with the prospect of more money and stability in other leagues being the main objective for schools. And one can argue that the creation of the Mountain West in 1999 really was the start of the WAC's slow death, as Utah and BYU were two of the bigger programs to make the move to the MWC.
In his piece, McMurphy points out perhaps the most amazing stat of all: In 2013, 125 schools will compete at the FBS level. And more than one-fifth of those schools (26) will have been a member of the WAC at one time.
I guess the WAC's legacy will be as a stepping stone. It sure was fun while it lasted.
Email dave.miller@nationalfootballpost.com or follow me on Twitter at Miller_Dave