November 16, 2010 -
Dave Miller
The demise of the Redskins
Here at the National Football Post's Daily Jolt offices, we prefer our coffee on the stove top and not from the electric drip machine. We're just old-school that way.
Here's what's happening this Tuesday in The Morning Percolator...
First the Cowboys, and now this?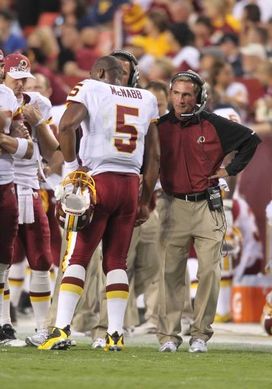 ICONDonovan McNabb and the Redskins were embarassed by the Eagles on national TV Monday night.
Donovan McNabb was benched by Mike Shanahan in favor of Rex Grossman when the Washington Redskins needed a game-winning score in the final minutes against the Detroit Lions.
The first-year Redskin promptly was given a five-year extension worth $78 million with $40 million guaranteed.
Monday night, the Redskins gave up 28 first-quarter points en route to 59 for the game against Michael Vick and the Philadelphia Eagles.
What does owner Dan Snyder have in his wallet for the other 52 players on an underachieving team?
On Monday Night Football, in what was supposed to be an exciting rivalry game, the Redskins embarrassed every player who has ever worn that football uniform, the entire organization and the D.C. area and its residents. I feel bad for any die-hard Redskins fan who has to continue to put up with a mess of a football team.
And I look forward to listening to Tony Kornheiser's show on ESPN 980 this morning. I really hope David Aldridge is sitting in, too, because his venting could be classic.
Despite their big win in the New Meadowlands on Sunday, the Dallas Cowboys now have company in the NFL gutter. And who would have thought before the season that two of the league's most storied franchises would have so little to offer their fans in 2010.
WWE goes old-school
It's been a long time since pro wrestling was really interesting. But last night on Monday Night Raw, WWE went old-school — complete with old ring, vintage set and various legends.
Referees wore their old attire, the original Raw theme music was used and we even saw the return — albeit it briefly — of good 'ol Jim Ross.
Legends in attendance included "Hacksaw" Jim Duggan, "Superfly" Jimmy Snuka, "The Million Dollar Man" Ted DiBiase, the Brooklyn Brawler and many more. My personal favorite? The return of Slick.
Even though it was for one night, big props to Vince McMahon for giving wrestling fans a night to remember.
But where was "Macho Man" Randy Savage…?
Congrats to the happy couple
This one is just great.
Former reality TV stars Heidi Montag and Spencer Pratt renewed their wedding vows Sunday at a beachfront house in Carpenteria, California. But wait. They were on the verge of divorce, right?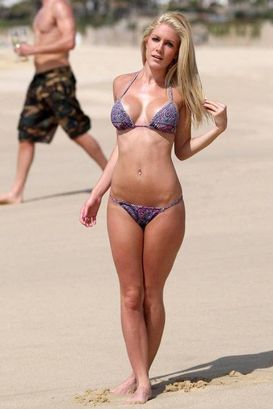 Heidi Montag and Spencer Pratt are a happy couple after all.
Nah. In case you missed it, the happy couple recently admitted to faking a separation earlier in the year in an attempt to boost Heidi's flailing career — an effort likely spurred by the fact that they are considering filing for bankruptcy after blowing their $10 million fortune.
Montag, who last year had 10 plastic surgery procedures in one day, labelled their first marriage in Mexico as an "elopement" and Pratt said their second ceremony in California in 2009 was a made-for-TV "nightmare."
While Pratt insists that he hates fame, he did admit that he likes cash — and lots of it.
"I love money," he said. "Being honest, I love money more than most people, so fame was the easiest way to get a lot of money fast."
Smart guy, no?
Follow the Daily Jolt on Twitter: Daily_Jolt
The Daily Jolt is a section of the National Football Post that serves as a one-stop shop for all things football, sports, pop culture and everyday life.
The section's editor, Dave Miller, also writes the Against the Grain college football column for the NFP. When he isn't putting coaches on the hot seat, he can often be found daydreaming of being the future Mr. Katy Perry. You can follow him on Twitter at Miller_Dave.