December 03, 2013 -
Dave Miller
The fallout from the Sarkisian hire at USC
Subscribe to the "Against the Grain with Dave Miller" podcast in iTunes
With Steve Sarkisian leaving Washington to become the new head coach at USC, prompting interim Trojans leader Ed Orgeron to leave Los Angeles, what is the trickle-down effect of both moves?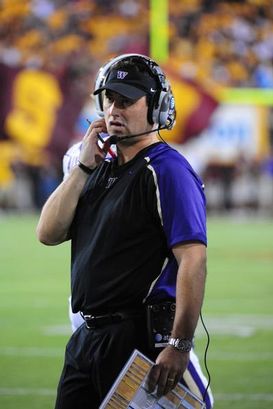 ICONSteve Sarkisian agreed to become the new head coach at USC.
Well, first and foremost, the Huskies need to find a new head coach. And they may be looking toward Westwood to fill that void, which would be a brutal blow to a UCLA program that has turned around quickly under Jim L. Mora after just two seasons.
Mora appears to be the top target of Huskies athletic director Scott Woodward, who will be looking for a head coach to bring UW to the top of the Pac-12 ranks after Sarkisian brought the program from Point A to Point B. Mora would arguably be the best hire because of his familiarity with the program, his track record in a short amount of time in the Pac-12 and the fact that UW is a sleeping giant.
The Bruins head coach has recorded a 12-6 mark in conference play (18-8 overall) in two seasons in Westwood, and he led the Bruins to a win over Sarkisian's Huskies this season. The former Seattle Seahawks head coach was a graduate assistant at Washington under the legendary Don James and understands that this would be a destination job for him. When he was the head coach of the Atlanta Falcons, he once said that he would drop everything to coach at Washington. While circumstances certainly could have changed over the years, he loves UW. But after making UCLA one of the "it" programs in the Pac-12 in such a short amount of time, would he bolt for the Huskies? If he does, his aggressive recruiting has already played well in the state of Washington.
If Mora elects to stay in Westwood, though, look for Woodward to consider Huskies defensive coordinator Justin Wilcox, who is held in high regard by the AD but would head to 'SC with Sarkisian if not offered the head gig in Seattle. Fresno State head coach Tim DeRuyter could also be under strong consideration, as well as Alabama offensive coordinator Doug Nussmeier, who is intriguing if UW can't land a bigger name. He has done a very good job of expanding the Crimson Tide offense the last two years after taking over for Jim McElwain.
The other name to watch is Boise State head coach Chris Petersen. It has been widely speculated that Petersen is open to finally exploring other options. But he took himself out of the running at USC, and I still maintain that the only job he'd leave Boise for is Oregon.
What is certain is that if Mora does indeed land in Seattle, Bruins AD Dan Guerrero will once again be in search of a head coach for a program that finally was getting stabilized.
As for Orgeron's future, Trojans AD Pat Haden said on Monday that he talked with the former interim head coach about remaining at USC but that Orgeron wants to be a head coach again. How great would it be to see Ed O in an obnoxiously colored Tommy Bahama Hawaiian shirt chatting up recruits in Boca Raton as the head coach at Florida Atlantic? He certainly has at least earned a look as a head man at a lower-tier program.
Dave Miller, the college football editor and writer for the National Football Post, is on Twitter @Miller_Dave.