December 16, 2010 -
Dave Miller
The Kardashians unveil the best Christmas card ever
Yes, this does have something to do with the NFL.
But better yet, it's just pretty amazingly awesome.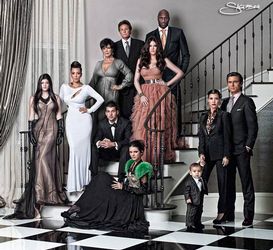 Nothing says Merry Christmas like a classy pose from K-Dash.
With holiday family portraits being sent out in Christmas cards across the nation, leave it to the Kardashian clan to have perhaps the best one of them all.
As you can see on the right of the page, the family's portrait looks fake. But, in fact, it's truly the Kardashian Christmas card — spiced up with all the gloss that money can buy.
The shot was taken by photographer Nick Saglimbeni, so all credit goes to him. For a larger-sized picture, click here.
A few notes:
- Kim, as always, looks great in her skin-tight, long-sleeved white dress. And that brings us to why this is NFL worthy: she formerly dated Reggie Bush and Miles Austin.
- Lakers star Lamar Odom either looks like he doesn't want to be there or he's just extremely focused on the camera.
- You have to appreciate Rob Kardashian's bow tie.
Follow the Daily Jolt on Twitter: Daily_Jolt
The Daily Jolt is a section of the National Football Post that serves as a one-stop shop for all things football, sports, pop culture and everyday life.
The section's editor, Dave Miller, also writes the Against the Grain college football column for the NFP. When he isn't putting coaches on the hot seat, he can often be found daydreaming of being the future Mr. Katy Perry. You can follow him on Twitter at Miller_Dave.