December 13, 2010 -
Dave Miller
The Morning Percolator
…Over cocktails at a holiday party this past weekend, I was surprised to learn that New England Patriots quarterback Tom Brady inked a multi-year deal with UGG Australia to endorse a line of its products. This news comes on the heels of Mr. Gisele Bundchen recently becoming a spokesmodel and part-owner of Under Armour.
"I have worn and loved the UGG brand for a long time," Brady said in a statement. "This collaboration gives me an opportunity to work with a leading global brand with a great history and a true vision for the future of its men's collection."
With winter now in full swing here in Chicago after a snowstorm passed through the city this weekend, I'm forced to deal with a dilemma that annually keeps me up night after night. How appropriate and socially acceptable is it for a dude to rock out UGG boots?
See, I'm a big fan of the lazy, Saturday morning look by college girls across the nation. I know there's a lot of girls who equally hate the look, as well. But the point is that these boots look comfortable, and former girlfriends have told me that they're a girl's best friend.
With Brady now giving them his stamp of approval, can I get away with sporting them when I pick up my morning coffee and paper on Sundays?
…New York Jets strength and conditioning coach Sal Alosi is a disgrace to the NFL.
With 2:58 remaining in the third quarter of its four-point win over the Jets, Miami punted the ball away to Jets receiver Santonio Holmes. Dolphins cornerback Nolan Carroll was then shown laying on the ground on the right sideline after covering the play. The replay then showed Alosi extending his knee just enough to trip Carroll up on the play. Carroll remained down for a minute but returned to play later in the game.
To his credit, Carroll took it in stride after the game. "I'm not angry," he said. "It's not my problem; it's the Jets' problem. We just move on."
Oh he's right about that — it is the Jets' problem. And it's a big problem.
Alosi released the following statement:
"I made a mistake that showed a total lapse in judgment. My conduct was inexcusable and unsportsmanlike and does not reflect what this organization stands for. I spoke to Coach Sparano and Nolan Carroll to apologize before they took off. I have also apologized to [Jets owner] Woody [Johnson], [Jets general manager] Mike [Tannebaum] and Rex [Ryan]. I accept responsibility for my actions as well as any punishment that follows."
There's no reason why Alosi should be allowed on the sideline for the rest of the 2010 season. And that should be the minimum punishment for such a disgraceful act. The league needs to take a firm stance on this one so that everyone realizes the serious nature of interfering with live action on the field — especially when it comes to unsuspecting players.
Babe of the Day: Julianne Hough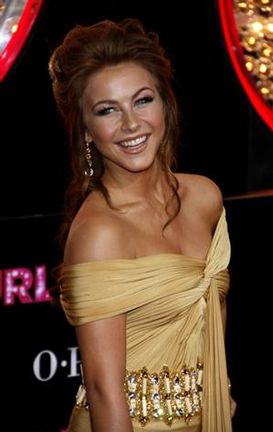 Julianne Hough is all kinds of sexy.
How wrong is it that Ryan Seacrest gets to enjoy the company of Julianne Hough? The DWTS starlet, who has successfully crossed over into country music and movies, is about to release her second album after having a part alongside Christina Aguilera in Burlesque. The 22-year-old is classy, sexy and just flat-out deserving of better than Seacrest.
…Back to Brady and the Pats. How great did they look Sunday afternoon at Solider Field against a Chicago Bears team that never looked like they wanted to play in the snow? That "prime" matchup was one of many horrible games on Sunday. Safe to say that this was the worst NFL weekend of 2010?
Other Week 14 lowlights
Detroit's 7-3 win over Green Bay — though incredibly satisfying as a Lions fan — featured Drew Stanton against Matt Flynn for much of the game.
We knew Bills-Browns would be awful, but how bad are those Jets looking these days? That's not a very good Dolphins team, and that's a tough home loss to swallow especially after the debacle on Monday night against the Pats.
The Matt Cassel-less Chiefs were shut out at San Diego, while the Broncos arguably could be the worst team in football.
Bad football in Week 14 folks. And we still have to sit through a Ravens-Texas snooze fest and more "Will he or won't he" regarding Vikings quarterback Brett Favre.
Follow the Daily Jolt on Twitter: Daily_Jolt
The Daily Jolt is a section of the National Football Post that serves as a one-stop shop for all things football, sports, pop culture and everyday life.
The section's editor, Dave Miller, also writes the Against the Grain college football column for the NFP. When he isn't putting coaches on the hot seat, he can often be found daydreaming of being the future Mr. Katy Perry. You can follow him on Twitter at Miller_Dave.