September 27, 2010 -
Dave Miller
The Morning Percolator
…Is the Tim Tebow era already over in Denver? Hardly, but it's interesting that the rookie from Florida has been demoted to the No. 3 quarterback after being Kyle Orton's backup the first two weeks of the year. Two things make this move noteworthy — besides the fact that any news involving Tebow makes headlines. First, new No. 2 Brady Quinn obviously must have a better grasp on Josh McDaniels' intricate offense — something that wasn't so clear throughout the preseason. Second, the Broncos seem to be (at least temporarily) giving up on using Tebow in specially designed packages. Perhaps Knowshon Moreno is ready to get healthy and contribute in his second pro season.
…You have to give props to New York Jets wide receiver Braylon Edwards for showing up Sunday night against the Dolphins in Miami. Despite dealing with his off-the-field drama, the former Brown came up big for Mark Sanchez to give the Jets a big division road win.
…LeBron James wearing a Florida Marlins cap at the Dolphins-Jets game? Get off of my television "King."
…USC head coach Lane Kiffin obviously thinks very highly of Washington quarterback Jake Locker. "He's the best player [we're going to face] this year," Kiffin said. "We're going to have our hands full." Well, he may technically be the best player the Trojans will see — until they play Stanford and Arizona, where Andrew Luck and Nick Foles are playing superbly under center. Locker has a lot of work to do to make up for his abysmal performance against Nebraska in order to keep from sliding further down draft boards.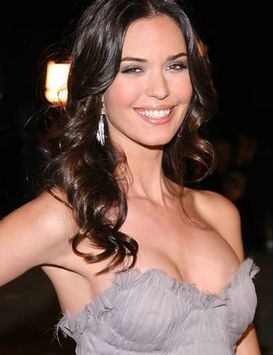 Our Monday babe of the week, Odette Yustman.
…Our Monday babe of the day? None other than Odette Yustman, the 25-year-old actress who stars with Kristen Bell in the comedy You Again (in theaters now).
…Is the end of Mariano Rivera finally near? Red Sox fans surely hope so. The Yankees closer has struggled in his last six outings — 5.2 IP, 9 H, 6 R, 6 ER, 2 BB, 1 K. There's nothing scarier than having a shaky closer during a pennant race. However, keep in mind that Rivera is like fine wine. Yankees fans, no need to worry — yet.
…After describing his plans for the team's clinching champagne celebration as having "goggles on, duct tape over the mouth and either a wetsuit or raincoat," Texas Rangers star outfielder Josh Hamilton ultimately stayed away from the clubhouse scene after the Rangers clinched the AL West division Saturday night in Oakland for the team's first playoff berth since 1999. The recovering alcoholic and drug addict instead remained in the trainer's room after celebrating with his teammates on the field.
Many of the Rangers players grabbed water bottles and tried to drench the slugger, but he was already dressed and preparing to speak to a group of fans about his faith.
Hamilton, who hopes to be healthy for the playoffs and is eyeing a return from his injured ribs next weekend, had said previously that he didn't want to send his fans the wrong message about his recovery.
The Daily Jolt sends its best to Hamilton and the Rangers in their quest for an AL pennant.
Dave Miller is the college football writer for the National Football Post. When he isn't putting coaches on the hot seat, he can often be found daydreaming of being the future Mr. Katy Perry. You can follow him on Twitter at Miller_Dave.