May 04, 2012 -
Dave Miller
The Morning Percolator: Is this the end for Rivera?
The Daily Jolt is a section of the National Football Post that serves as a one-stop shop for all things sports, pop culture and everyday life.
The section's editor, Dave Miller, also writes the College Football Report column for the NFP. When he isn't putting coaches on the hot seat, he can often be found reminiscing about the glory days of the National Wrestling Alliance (NWA). You can follow him on Twitter at Miller_Dave.
In stunning fashion, we may have seen the last of Mariano Rivera.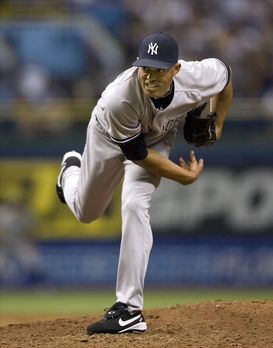 ICONYankees closer Mariano Rivera has posted a 0.70 ERA over 141 playoff innings.
The nearly invincible New York Yankees great tore the ACL in his right knee Thursday night while chasing a fly ball during batting practice before the Yanks lost to the Kansas City Royals, 4-3. His season is over, and his illustrious career may be done as well.
The reliable and previously durable 42-year-old veteran, who has been so steady for the Yanks the past two decades, had hinted before spring training that this would be his final season. He said that nothing could make him reverse his decision, which he said had already been made. Many speculated that his decision was to retire at the end of the year, but no one expected a serious injury to prematurely end his 2012 campaign.
Take a look at these ridiculous career numbers for the consummate professional, whose MLB-record streak of 15 straight seasons with 20-plus saves will come to an end.
- Rivera recorded 608 career regular season saves, a 2.21 ERA, a 1.00 WHIP, 1,119 strikeouts and 5 World Series rings
- Rivera notched 42 postseason saves, and his ERA was 0.70 over 141 playoff innings.
Just a terrible night for Major League Baseball and the entire sports world.
You may have hated his team. As a Chicago White Sox fan, I don't exactly love the Yankees. And I hated seeing Rivera in the ninth inning, because you knew that your team didn't have a chance to come back and win the game.
But never once did you not respect him. If this is it for Rivera, thank you for the Hall of Fame career. It was special to witness stone-cold greatness.
Follow the Daily Jolt on Twitter: Daily_Jolt