May 02, 2012 -
Dave Miller
The Morning Percolator: The Sarah Phillips saga
The Daily Jolt is a section of the National Football Post that serves as a one-stop shop for all things sports, pop culture and everyday life.
The section's editor, Dave Miller, also writes the College Football Report column for the NFP. When he isn't putting coaches on the hot seat, he can often be found reminiscing about the glory days of the National Wrestling Alliance (NWA). You can follow him on Twitter at Miller_Dave.
The Morning Percolator has been raised from the dead.
The former weekday morning feature at the National Football Post's Daily Jolt section has been revived, and we owe it all to The Artist Formerly Known As Sarah Phillips. More on that in a second.
But now that the 2012 NFL Draft is in the books, draftniks are already compiling their 2013 mocks despite us not having a clue what the first-round order will be next April. So as the National Football Post's college football writer, I decided to have some fun and compile my top 32 players in the nation in honor of there being 32 teams in the NFL. That post will be up on the NFP's main page at 1:30 p.m. ET today.
Okay, let's get back to the real reason TMP is back in the fold...
Chances are that you, like I, had never heard of Sarah Phillips until early Tuesday evening when Deadspin published a story that sent the world a-Twitter over the piece's contents. If you haven't seen the original story by John Koblin, you can check it out here. It is very well-reported and dives deep into whether Phillips essentially scammed the entire Internet community. And while we have all the reason to believe that this person was living a lie, there are still tons of unanswered questions.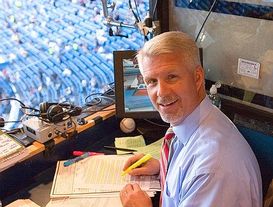 Steve Phillips was first to be let go by ESPN. Sarah Phillips (no relation) suffered the same fate.
Phillips — if that's even her last name and if she is actually a 'she' and not a 'he' — was an ESPN.com columnist who wrote for Page 2, which recently became ESPN's Playbook. Before that, however, she was a mere participant on message boards at the gambling website Covers.com. She eventually landed a columnist gig there before being given a huge opportunity at ESPN. However, once the aforementioned Deadspin piece came out — which details her purchases of Twitter accounts under peculiar circumstances as well as her threatening legal action against those who accuse her of wrongdoing — ESPN released a statement which read: "We've ended our freelance relationship" with Phillips.
If the Deadspin piece isn't convincing enough, turn your attention to a post later Tuesday evening by Aaron Nilsen, who runs the Nilsen Report website. The first-person account of a business relationship with Phillips gone wrong is fascinating and pretty much confirms that Phillips is a fraud.
My conclusion? Well, Phillips is accused of hustling several people, including ESPN executives. The moral of the story? If you're going to hire someone to write on an established, prestigious platform, you may want to actually meet the person face to face first. Just a thought World Wide Leader.
See you kids tomorrow morning.
Follow the Daily Jolt on Twitter: Daily_Jolt