October 27, 2011 -
Barry Dorey
The nation's 10 most disappointing teams
There have been some nice surprises this college football season.
Bill Snyder is working wonders once again at Kansas State. Dabo Swinney has received instant impact from some of his heralded freshmen at Clemson. And David Shaw has picked up where Jim Harbaugh left off at Stanford.
But there have been some duds in 2011 as well.
With that in mind, let's take a look at the 10 most disappointing teams this fall.
Florida State (4-3, 2-2 ACC): This list has to begin with the Seminoles, as Jimbo Fisher's squad received more offseason hype than perhaps any other team in the country. Losing to Oklahoma at home was deflating, especially considering the Sooners ultimately fell to Texas Tech in Norman last week. But the 'Noles had a very good showing in that loss, a game to build on. But who knew that defeat would start a three-game slide? Clemson has turned out to be the surprise of the league, so a road loss to the Tigers is one thing. But losing to Wake Forest in Winston-Salem? That's unacceptable. Injuries have played a part, including the loss of quarterback E.J. Manuel. But the lack of a rushing attack really hurt FSU in its losses. Back-to-back 41-16 wins have been a nice tonic, but can the 'Noles close out 2011 strong?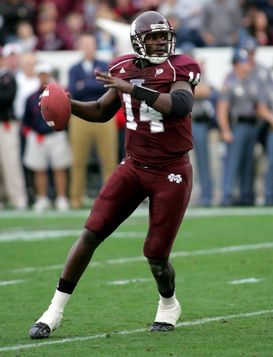 ICONChris Relf and the Mississippi State offense took a step back this season.
Mississippi State (3-4, 0-4 SEC): The Bulldogs may have benefitted from getting breaks in their schedule in 2010, but there's no question that Dan Mullen's squad should not be winless in league play as we enter the last weekend in October. Quarterback Chris Relf took a major step back in his senior year and was ultimately replaced, but the surprising thing about the Bulldogs is the fact that the defense without coordinator Manny Diaz hasn't been the major concerm -- it's been the offense. Needing overtime to beat Louisiana Tech is all you need to know about 2011 Mississippi State football.
Notre Dame (4-3): While Fighting Irish fans should still be content if their team earns a berth to the Champs Sports Bowl, Brian Kelly's squad has shot itself in the foot way too many times this season. Losses to South Florida, Michigan and USC were all avoidable if the Irish played turnover-free ball. Instead, a BCS berth is out of the equation unless ND catches a lot of breaks. Oh, and beating Stanford to close out the year is a must.
Northwestern (2-5, 0-4 Big Ten): This isn't a Dan Persa health issue. This is a case of having a woeful defense. And head coach Pat Fitzgerald needs to fix that if he wants to elevate this NU program up the Big Ten's food chain. The Wildcats constantly have given up leads and are incapable of closing out games. The road loss to lllinois was bad, but losing to Army is inexcusable. A veteran defense really let its head coach down this fall. Kain Colter has been a nice surprise, and Fitz may want to think about giving him increased reps at quarterback as NU looks ahead to 2012.
Arizona (2-5 1-4 Pac-12): Firing Mike Stoops wasn't supposed to happen until at least after this season. But the Wildcats endured a five-game skid after their opening win over Northern Arizona, wasting prolific efforts from quarterback Nick Foles because of a non-existent rushing attack and a porous defense. Interim head coach Tim Kish was able to coax a complete effort out of the squad last week, but a postseason berth is unlikely unless the team is able to make some stops on defense and run a balanced offense.
Missouri (3-4, 1-3 Big 12): Losing Blaine Gabbert was a big loss for the Tigers, but Gary Pinkel's squad has enough talent to have made a bigger splash this fall. The Tigers had many chances to steal their game in Tempe agains Arizona State before falling in overtime, and they also played hard in back-to-back losses to Oklahoma and Kansas State on the road. Last week, they were overwhelmed in the second half against Oklahoma State. Certainly Mizzou has not put together an SEC-worthy campaign in 2011 relative to the talent on that roster.</p>
Maryland (2-5, 1-3 ACC): Even going through a coaching change, the Terrapins have taken a step back after a 9-win season under Ralph Friedgen. What has happened to ACC freshman of the year Danny O'Brien? Is it the scheme change? Is it coaching? The loss of receivers Torrey Smith and Adrian Cannon? The Terps certainly miss offensive coordinator James Franklin, who took over the Vanderbilt program. Todd Bradford's defense has not played well, either. Edsall is too good of a coach to let this program slide, but certainly more was expected of the Terps even with a new staff.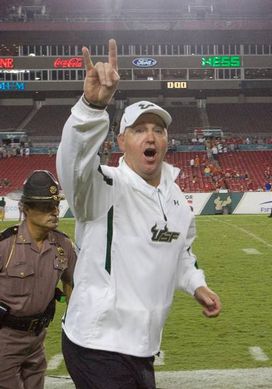 ICONCan Skip Holtz stop the bleeding at USF?
South Florida (4-3, 0-3 Big East): Are the Bulls really winless in Big East play? USF was cruising along at 4-0 with the win over Notre Dame under its belt, but the wheels fell off quickly starting with a Thursday night loss at Pittsburgh. Defeats to Connecticut and Cincinnati continued the bleeding, and the Bulls' young receiver corps is now being exposed. Whether it's a subpar game from B.J. Daniels, a lack of a ground attack or mistakes defensively, USF can't seem to win a conference game. Can Skip Holtz right the ship in a league that is always winnable?
Utah (3-4, 0-4 Pac-12): The Utes are finding that life in the Pac-12 is much different than residence in the Mountain West. Offensive coordinator Norm Chow has not been able to put together winning game plans, and the loss of quarterback Jordan Wynn to injury has really hurt this offense. The schedule is favorable, however, the rest of the way. Head coach Kyle Whittingham can still salvage this season with a nice run starting this weekend against Oregon State at home.
Central Florida (3-4 1-2 C-USA): The Knights just can't find a way to consistently score points. UCF has been able to move the ball with quarterback Jeff Godfrey, but the team has struggled to score inside the opponent's 30-yard line. Turnovers and poor special teams play has also plagued George O'Leary's squad this fall. Should UCF go back to running more option? It may be the Knights' only option if they want to win some games.
Email dave.miller@nationalfootballpost.com or follow me on Twitter at Miller_Dave