January 23, 2013 -
Dave Miller
The NCAA embarasses itself in the Miami case
Miami (FL) will not be getting its Notice of Allegations from the NCAA anytime soon after the governing body admitted on Wednesday that it uncovered issues of improper conduct during the investigation into the school.
NCAA president Mark Emmert said that a review of the governing body's enforcement program is necessary after former staff members worked with the criminal defense attorney for Nevin Shapiro, the disgraced former booster and convicted Ponzi schemer at the center of the Miami case, to improperly obtain information through a bankruptcy proceeding that did not involve the NCAA. Of course, the NCAA does not have any subpoena power.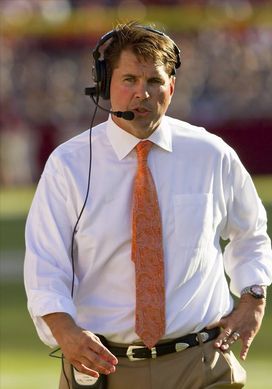 US PRESSWIREAl Golden and Miami may have dodged a bullet with Wednesday's NCAA news.
Thus, this case will continue to drag on for the Hurricanes, as Emmert has commissioned an external review of the enforcement program. And the NCAA won't move forward with a Notice of Allegations until all the facts regarding this investigation are known.
"To say the least, I am angered and saddened by this situation. Trust and credibility are essential to our regulatory tasks," Emmert said. "My intent is to ensure our investigatory functions operate with integrity and are fair and consistent with our member schools, athletics staff and most importantly our student-athletes," he added.
Incredibly, the NCAA actually had the Shapiro attorney on its payroll. More shocking is the fact that, according to Emmert, no one approved the hiring of the attorney. The bill simply showed up several months later, which raised questions.
Just another day in the NCAA offices.
So what does this mean moving forward for 'Canes head coach Al Golden and this program?
Well, from one perspective, Golden could be delighted that this news is coming out two weeks from National Signing Day. Because we still don't know what type of sanctions the 'Canes will be dealing with moving forward, no news could be considered good news. In essence, no news could combat negative recruiting.
On the other hand, Golden probably would have preferred the Notice of Allegations to come out by now so he knows what the future holds for the program, thus eliminating any and all doubts for prospective recruits.
What may bode really well for Miami moving forward, however, is the fact that Emmert said that any information that was obtained improperly will be thrown out. And one key person in this investigation is former 'Canes equipment-room staffer Sean Allen, who was a part of Shapiro's bankruptcy proceedings. If the NCAA cannot use the information from that particular deposition, the Hurricanes could escape this investigation possibly with just their two self-imposed bowl bans. The U. could, in essence, enjoy a mistrial and walk free. It is possible at this point.
Whatever the fallout is in Coral Gables, Wednesday's news was just another black eye for an NCAA enforcement process that not many people believe in these days. Considering the NCAA fired an investigator working on this case before the summer and it just now is discovering this news does not speak well to how its process works. Perhaps the governing body should consider dismantling its current foundation and build a new penalty structure and enforcement model to avoid such embarassing ordeals in the future.