November 19, 2012 -
Dave Miller
The next steps in conference realignment
With Maryland officially leaving the ACC and heading to the Big Ten and Rutgers likely to jump from the Big East and join Jim Delany's league as well, conference realignment is alive and well again in college athletics.
So what other changes are in store?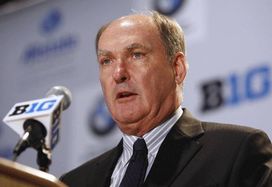 Jim Delany and the Big Ten will have two new members — and possibly more — in the near future.
Well, anything can and will happen based on the moves by the Terrapins and Scarlet Knights. And if you're a fan of the Big Ten, just know that the addition of these two schools was made with the future in mind moreso than anything else. And you can expect other leagues to follow suit.
In the short term, expect Connecticut, which longed to move to the ACC for awhile now, to land in John Swofford's league as the Huskies look for a more stable environment than the Big East. However, just how stable is the ACC as a football conference? Unless Swofford can get Notre Dame to be a full-fledged member, the ACC could lose several schools to various conferences across the country. At the end of the day, the ACC could essentially become a basketball conference because Notre Dame is not and will not be interested in planting its strong brand-name flag in a wobbly league.
It's essential to keep in mind that conference realignment is so far from over. If Maryland and Rutgers can get invites to the Big Ten, can we really expect teams such as Florida State and Clemson not to flirt with the Big 12 after the rumors that swirled this past summer?
The Big 12 is in an interesting spot because the league has maintained that it wanted to stay at ten members. Of course, if the conference was able to land Notre Dame as a pseudo-member it would have been very glad to do so. But the Irish joined forces with the ACC instead. Louisville has been waiting to make a jump to the Big 12 for awhile, but I don't believe that Bob Bowlsby's league would rush to add the Cardinals unless it talks to bigger programs such as Florida State and Clemson. And you can better believe that the Seminoles and Tigers are in play again.
For a league such as the Big East, it's yet another tough blow. Just when Mike Aresco's conference had seemingly landed on its feet after a rough 14 months and being reassured that its champion would have a chance to net a spot in one of the sport's six upper-tier bowls in 2014 and beyond, it now will have to replace Rutgers and UConn with a new television deal on the horizon. Will Aresco and Co. stand pat, or will it look to add Navy and Air Force without getting Army into the mix? The Big East was hoping that adding Boise State and San Diego State would persuade BYU to join, but why would the Cougars join an unstable league?
It is not inconceivable, at the end of all of this realignment — whenever that may be — to see North Carolina, Duke, Georgia Tech and Virginia in the Big Ten. Yes, an 18-team Big Ten. Clemson, Florida State, Pittsburgh and Louisville could end up in the Big 12. And Virginia Tech and N.C. State could be SEC-bound. That is the landscape we are in right now.
The era of Superconferences is closer than we may have anticipated when the major-college playoff was brokered this past summer. Where realignment will end, we will find out sooner rather than later.
Email dave.miller@nationalfootballpost.com or follow me on Twitter at Miller_Dave