January 28, 2011 -
Dave Miller
The Percolator: Fisher's departure from Titans
Here at the Daily Jolt, we prefer our coffee on the stove top and not from the electric drip machine. We're just old-school that way.
Let's take a look at what's happening this Friday morning...
Fisher, Titans part ways
<p> The overwhelming sentiment was shock.
How could Jeff Fisher, who was seemingly deemed irreplaceable in Tennessee, be leaving the Titans — especially after supplanting quarterback Vince Young as the face of the franchise?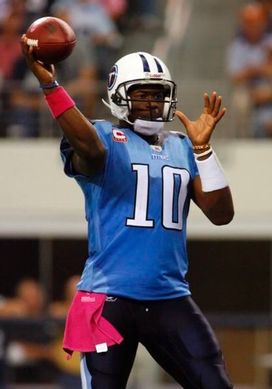 ICONWith Jeff Fisher gone, is there a spot for Vince Young in Tennessee?
Team owner Bud Adams announced shortly after the season that the NFL's longest-tenured head coach would return in 2011. But with just a year remaining on his contract following a couple of subpar seasons, was Fisher worried about entering next season just as John Fox entered 2010 — as a lame duck? Keep in mind that there was still much work to do on his staff, as he had to replace defensive coordinator Chuck Cecil and defensive line coach Jim Washburn. In addition, offensive coordinator Mike Heimerdinger continues to fight his brave battle with cancer.
Was it worth it for Fisher to stick around?
One would think the only way Fisher would get an extension is if the Titans made the playoffs next season. And, taking into account all of the looming questions, how feasible was a postseason berth in 2011?
So what does general manager Mike Reinfeldt do now, both at the head coach position and under center?
With Fisher gone, perhaps Adams will push for Young to remain as the starting quarterback (he's due a $4.25 million roster bonus). But who will replace Fisher? Offensive line coach Mike Munchak? Dave McGinnis? Gregg Williams?
We may learn a little more at the Noon ET press conference on Friday. But certainly there will remain many more questions than answers in the coming days.
Newton under the microscope
The father of Heisman Trophy-winning quarterback Cam Newton is back in the news.
Cecil Newton scheduled an open-to-the-media workout for his son on Feb. 10 in San Diego, a session that will be one of two pre-draft, public performances for Newton.
Quarterback tutor George Whitfield, who is expected to guide Newton during his draft preparation, said the dual-threat signal-caller will also throw on Auburn's Pro Day but not at the NFL Combine.
NFL teams will be interested in the workout specifically to see Newton work from under center, as he will need to transition from Auburn's spread offense to more of a pro-style he'll be a part of in the NFL.
The 6-6, 250-pounder will be one of the most intriguing prospects in this year's draft, and there's differing opinion on whether he will be a top 10 selection.
Before you start your day, check out these reads
Did you see this story about Buffalo News reporter Mike Harrington? After covering a Sabres-New York Islanders game last weekend, he was locked inside of Nassau Coliseum. That was always my worst fear during my internship with the Chicago Blackhawks in 2005-06. However, at least the United Center had bubble hockey machines.
This isn't a read, it's a watch. But I had to include it in case you missed it on Thursday night. Tracy Morgan is certifiably insane.
Video clip of the day
Minnesota Timberwolves forward Kevin Love is pretty good after all. I was wrong about him coming out of UCLA. Here is his All-Star promo.
Question of the Day
So today is the day for Ray Drew, the 6-5, 245-pound defensive end from Thomasville, Ga. He is scheduled to make his college decision known around 10 a.m. ET Friday morning after taking official visits to Georgia, Auburn, Clemson, LSU and Miami. Many expect the choice to come down to in-state Georgia and national champion Auburn. Will he land in Athens and help comprise the Bulldogs' "Dream Team?" If he does, and if head coach Mark Richt is able to land running back Isaiah Crowell, as well, this will be a loaded Class of 2011 for Georgia.
And for your old-school commercial of the day, I bring you a clip featuring the lovely Paula Marshall. Now, I'm sure most of you know Marshall from her roles on Californication and Gary Unmarried. I, however, remember her from her way-too-short stint on Spin City, where she played Michael J. Fox's love interest.
Well, I don't think anyone remembers her from this Secret commercial.
Follow the Daily Jolt on Twitter: Daily_Jolt
The Daily Jolt is a section of the National Football Post that serves as a one-stop shop for all things football, sports, pop culture, everyday life and more.
The section's editor, Dave Miller, also writes the Against the Grain college football column for the NFP. When he isn't putting coaches on the hot seat, he can often be found daydreaming of being the future Mr. Kara DioGuardi. You can follow him on Twitter at Miller_Dave.