January 11, 2011 -
Dave Miller
The SI cover with Auburn as the National Champions
I'm not sure if the win eases the pain of the 2004 season when they went 13-0 but missed playing in the BCS title game. But the Auburn Tigers brought home the 2010 national championship to their loyal fans with a 22-19 win over Oregon on Monday night in Glendale, Ariz.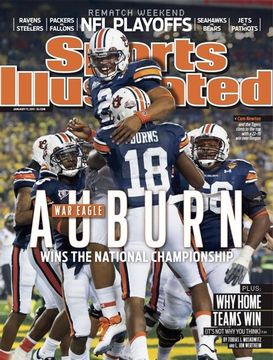 And when you're a champion, you get a lot of perks.
Most notably, you get the Sports Illustrated treatment.
From Olympic medalists to Tiger Woods, Michael Jordan to John Elway, nearly every great champion has graced the cover of the most popular sports magazine on the planet.
And now Cam Newton and the Tigers have joined the party.
Check out the cover of SI's national championship issue on the right.
All they do is win.
No matter what.
Email dave.miller@nationalfootballpost.com or follow me on Twitter at Miller_Dave