May 02, 2012 -
Dave Miller
The Top 32 of 2012
The 2012 NFL Draft is in the books, which means draftniks are already compiling their 2013 mocks.
Here at the College Football Report we care only about what players do on Saturday afternoons (although we sometimes have to report some off-the-field drama during the week as well). But in terms of how these players project to the field on Sundays, I'll leave that to fellow NFP colleagues Wes Bunting and Greg Gabriel.
So today, I offer you my 32 best players (because there are 32 teams in the NFL) in the college game — based on their 2011 production and how I project them to fare in 2012.
1. QB Matt Barkley, USC: He continues to get better with each season and arguably should have been in New York for the Heisman Trophy ceremony last December after recording 39 touchdowns against just seven interceptions with a nearly 70 percent completion rate. The Trojans are no longer on probation, and they could find themselves in the BCS title race all season.
2. QB Tyler Wilson, Arkansas: The most impressive trait of the Arkansas signal-caller is his toughness. He was roughed up against Alabama and Texas A&M last season but never quit, and he's poised for a huge senior season in Fayetteville even without some of his best weapons from last season and a new head coach patrolling the sideline.
3. WR Sammy Watkins, Clemson: The dynamic playmaker made a huge splash on the national scene as a freshman, hauling in 82 passes for over 1,200 yards and scoring 12 touchdowns while being a true threat in the return game. In that Chad Morris offense, his numbers may increase this fall — and that's a scary thought.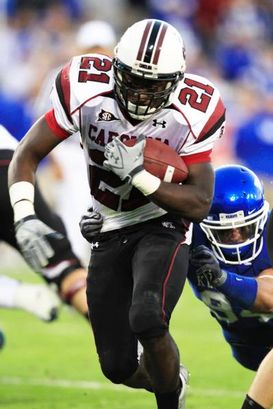 ICONMarcus Lattimore made an early impact on the college scene as a freshman in 2010.
4. RB Marcus Lattimore, South Carolina: Because of his knee injury last season, Lattimore has seemingly gone under the radar in the offseason Heisman Trophy conversation. But if the bruiser returns to full health after ACL surgery, the junior could pick right back up where he left off.
5. WR Marqise Lee, USC: It's amazing that there is a better receiver on the USC roster than Robert Woods, but Lee's debut campaign in 2011 was incredible: 73 catches for 1,143 yards and 11 touchdowns. He's a YAC machine because of his breakaway speed, and he's a nightmare for Pac-12 defensive backs.
6. RB Montee Ball, Wisconsin: He may not have the bright NFL future as some of his peers, but it's awfully difficult to find a more productive running back in the nation after he recorded 40 touchdowns and nearly 2,000 rushing yards in 2011. Whether it's between the tackles or kicking it to the outside with his shiftiness, Ball is just the next in a long line of productive Badger RBs.
7. OLB Jarvis Jones, Georgia: Jones thrived as a sophomore in coordinator Todd Grantham's 3-4 scheme, racking up 13.5 sacks and 19.5 tackles for loss. He can get to the quarterback off the edge and stuff the running back. A real joy to watch.
8. WR Robert Woods, USC: Along with Marqise Lee, Woods gives quarterback Matt Barkley the two best pass-catching options for any quarterback in the nation. The junior recorded 111 catches for nearly 1,300 yards and 15 touchdowns last fall. He is a smooth route runner and makes playing the position look easy.
9. CB Tyrann Mathieu, LSU: Despite his size, the Honey Badger plays like a beast, forcing six fumbles and recording two interceptions last fall. But his biggest contribution may have been game-changing returns against Arkansas and Georgia in the SEC Championship game. He was a Heisman finalist as a sophomore, and it will be interesting to see if he elevates his game in the defensive backfield with Mo Claiborne and Brandon Taylor gone.
10. RB De'Anthony Thomas, Oregon: Chip Kelly struck gold by landing Thomas, who put together an incredible freshman campaign, in his Class of 2011. He recorded 16 touchdowns, including seven on the ground, along with 1,200 total yards. And if you saw him in the Rose Bowl against Wisconsin, he actually managed to make LaMichael James look slow — that's how much speed he possesses. He can line up anywhere on the field but is best in the slot or as a receiver out of the backfield.
11. QB Collin Klein, Kansas State: Klein may have been a bigger name on the national scene last year if not for the spectacular season by Big 12 counterpart Robert Griffin III at Baylor. The senior dual-threat QB notched 40 touchdowns, including a whopping 27 on the ground, and he's improving as a passer.
12. QB Geno Smith, West Virginia: Another year in Dana Holgorsen's offense will make Smith an even more prolific performer — and that's a scary thought for Big 12 defenses. He excelled in 2011 in his first season in the scheme, throwing for nearly 4,400 yards, and he could be primed for a dark horse run at the Heisman.
13. CB David Amerson, N.C. State: As a sophomore, Amerson recorded an incredible 13 interceptions to lead the nation. The 6-3, 190-pounder is sound supporting the run and has the speed to stay with the nation's best receivers.
14. LB Manti Te'o, Notre Dame: The heart and soul of Notre Dame's defense is back for a final season in Bob Diaco's unit. In 2011, he recorded five sacks and 128 tackles — including 13.5 stops for loss. He has really developed in all areas of being a LB, and he'll look to have his finest season yet.
15. DE Sam Montgomery, LSU: The LSU defensive line remains deep and filthy, and there's some who believe Montgomery isn't even the best player among the crop of talent. But the junior brings veteran leadership and a strong, athletic presence off the edge. He recorded nine sacks and 13.5 tackles for loss last fall.
16. QB Denard Robinson, Michigan: The dual-threat quarterback knows that he cannot toss 15 interceptions in 2012 if the Wolverines want to return to a BCS bowl game. Although he often chucks "arm punts" down the field, he remains one of the most electric playmakers in the country after accumulating 36 touchdowns in 2011. The hope is that he can avoid getting banged-up as much as he has in the past.
CONTINUE TO PAGE 2 FOR PLAYERS 17-32