October 11, 2012 -
Dave Miller
The top five coaches on the hot seat
As we near the mid-point of the 2012 college football season, it's time to take a look at the head coaches whose jobs could be in jeopardy.
This list excludes Arkansas head coach John L. Smith because, well, he may be gone mere minutes after the Razorbacks conclude their disappointing 2012 campaign. The Hogs entered the season ranked in the Top 10 and are currently sitting at 2-4 after losing to Louisiana-Monroe and getting smoked by Alabama and Texas A&M. And they still have to navigate a difficult remaining SEC schedule.
But which other coaches could be in trouble?
1. Frank Spaziani, Boston College: The Eagles are in desperate need of some new blood to lead a football program that has hit rock bottom. With a new athletic director now in place — former Miami (OH) AD Brad Bates, who took over for Gene DeFilippo — Spaziani occupies arguably the hottest coaching seat in America. The Eagles are 1-4, have lost three straight, have yet to beat an FBS team this season and blew a lead to an Army team last week that had lost to Stony Brook. They travel to Tallahassee this weekend to face a Florida State team that will be salty following its loss to N.C. State. Bates understands the importance of football to an athletic department, and he knows good football — he played for Bo Schembechler at Michigan. The RedHawks had back-to-back bowl appearances and won two MAC championships when he was there, and Bates will have a chance to put a jolt into the athletic department right away with a new hire. BC will be playing in an expanded ACC next year and the league just signed a new TV deal, so a fresh start is needed in Chestnut Hill for a program that had won 30 games in the three seasons before Spaz took over.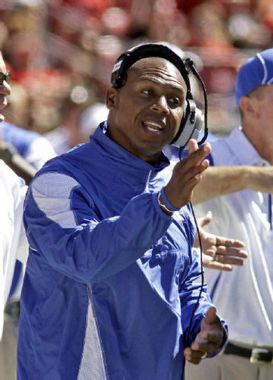 Joker Phillips will have a difficult time getting a fourth season in Lexington.
2. Joker Phillips, Kentucky: While Phillips is fielding one of the youngest teams in the nation, he finds himself doing so in the SEC. And in the best conference in America, a head coach is expected to win almost immediately despite the obvious challenges of being the head coach in Lexington. While injuries have played a major role in the Wildcats' 1-5 start, not being competitive in his third season could spell the end for Phillips in Lexington. Losing to in-state rivals Louisville and Western Kentucky in the same season never helps a cause, and the season ticket base is down by roughly 20 percent. Not good news for Phillips, who failed to take the Kentucky program bowling last year for the first time since 2005. Will athletic director Mitch Barnhart consider making a splash and going after Bobby Petrino? Perhaps the 'Cats would consider staying in-state and offering the job to WKU's Willie Taggart, who was on the Stanford staff with Jim Harbaugh and David Shaw.
3. Bobby Hauck, UNLV: The former Montana head coach led the Grizzlies to seven conference titles in as many seasons, including three national championship game appearances, before arriving at UNLV. However, he is just 5–26 as the face of the Rebels and has not been able to inspire confidence in Las Vegas. Unless the Rebels finish the year strong, it could lead to the dismissal of Hauck, whose players at Montana had a variety of off-the-field issues during his tenure.
4. Robb Akey, Idaho: The sixth season as Vandals head coach didn't start out very well for Akey, whose team fell to FCS squad Eastern Washington in the season opener. After an 8-5 campaign in 2009, the Vandals have not been able to find similar success. He once brought stability to a team that had endured four head-coaching changes in a 37-month span when he was hired, but this team is 3-15 in its last 18 games. It will be tough for this team to record four wins, and it's hard to see Akey survive such a trying season.
5. Derek Dooley, Tennessee: Anyone who has read this column throughout the offseason knows my opinion on Dooley's status at Tennessee. Because of the mess he inherited after Phillip Fulmer and Lane Kiffin left, I think it's a little ridiculous that Dooley would even be considered on the hot seat. But, this is the SEC. And it's Knoxville. Expectations are always sky-high. And the fact that Dooley is 0-19 against ranked opponents as Vols head coach is a problem. Losing to Kentucky last year is a problem. Falling in a showcase game at home against Florida last month is a problem. I believe a bowl game will be enough to save Dooley's job. But Dave Hart, the school's new athletic director, came over from Alabama. Would he make a move and bring in Crimson Tide defensive coordinator Kirby Smart or an established head coach to put his mark on the program?
Other thoughts
David Bailiff's win against Kansas helps the cause of the Rice head coach, and the same goes for Central Michigan's Dan Enos, whose team beat Iowa. The buyout for Cal's Jeff Tedford would be near $10 million, and his win over UCLA last week was huge. But the Golden Bears lost to Nevada, and it's a program that is consistently inconsistent. Tedford's seat is definitely warmish. And all three of these head coaches are on the next tier of the watch list.
Email dave.miller@nationalfootballpost.com or follow me on Twitter at Miller_Dave