September 01, 2011 -
Barry Dorey
The ultimate doomsday BCS national championship scenario?
If you're a frequent reader of my Against the Grain column here at the National Football Post, you're already aware that I'm not a big prediction guy.
During the season, I like to let the games play out, comment and analyze, and then move on and discuss the next week's games. I'll lean one way or the other, but I'll typically only predict contests while doing various radio spots.
But with the season set to kick off Thursday night, I have to at least give my national championship prediction. And, of course, it's a messy projection. But what else is new when it comes to the BCS?
If I had to project the games throughout the entire season, I think Oklahoma runs the table. The Sooners have an explosive offense and their defense will be fine IF they can get by Florida State in Tallahassee without linebacker Travis Lewis. They won't be without defensive end Ronnell Lewis, as he was declared eligible Thursday morning. I just think Bob Stoops' squad gets by FSU and then Oklahoma State in the Bedlam game, giving OU a 12-0 mark. Remember, there is no big 12 title game anymore.
I think Alabama and LSU both finish with one loss. I have the Tigers falling to the Crimson Tide on Nov. 5 while Nick Saban's troops trip up against Mississippi State. Or, if LSU does beat Alabama, the Tigers will slip up once in conference play, perhaps against Arkansas. I have the SEC West champ beating the SEC East champ in the league title game, so either 'Bama or LSU would be 12-1.
I have Oregon running the table after its loss to LSU in the season opener, and I have Boise State going undefeated. The Broncos are too strong for Georgia and Chris Petersen's bunch will take care of TCU at home.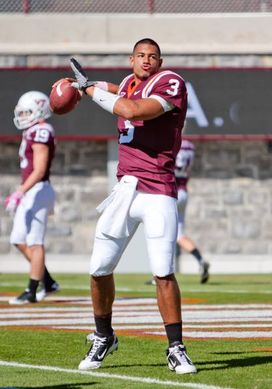 ICONLogan Thomas and the Hokies have a favorable schedule.
But Virginia Tech is the real X-factor here. I don't see a loss on the Hokies' schedule. I love David Wilson and Logan Thomas, and Bud Foster's defense will be stout. Their toughest road games are at Georgia Tech and Virginia, and I just see the Hokies going 12-0 before the ACC title game. Of course, that championship game could be the real killer.
If Florida State wins the Atlantic division, could Virginia Tech outlast the Seminoles with a possible BCS title appearance on the line? I say Frank Beamer's squad gets it done. Meaning...
- Oklahoma, Virginia Tech and Boise State are undefeated
- Oregon, LSU and Alabama have one loss
Thus, Boise gets shut out of the national title game while Oklahoma and Virginia Tech play in New Orleans.
Meanwhile, fans in the SEC will be livid that one of their one-loss squads is shut out despite playing tougher schedules.
How do you see the season playing out?
Email dave.miller@nationalfootballpost.com or follow me on Twitter at Miller_Dave