October 25, 2010 -
Dave Miller
The Undertaker is buried alive!
At WWE Bragging Rights Sunday night at the Target Center in Minneapolis, WWE legend the Undertaker was buried alive by brother and World Heavyweight Champion Kane
In their Buried Alive Match at the pay-per-view, The Devil's Favorite Demon defeated his brother with father Paul Bearer in his corner. With help from The Nexus, Kane sent the Deadman into a six-foot deep abyss.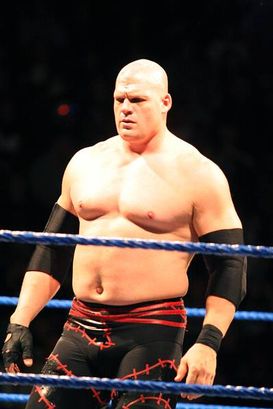 ICONKane retained the World Heavyweight Championship at WWE Bragging Rights.
Kane has thwarted the Undertaker's every attempt for revenge since the Big Red Machine brutally attacked 'Taker in May. As the summer months progressed into fall, the Phenom has been steadily weakened in every encounter. At the Hell in a Cell pay-per-view, 'Taker was even betrayed by Bearer, his longtime manager, falling to Kane for the second time in a row after losing in their No Holds Barred Match at Night of Champions.
The two brothers have had legendary encounters before, but not like Sunday night. For the Undertaker, it was his third and final chance to wrest the gold away from his brother. And it looked like he would be on his way to doing so before members of The Nexus attacked and brutalized him.
At the end of the evening, the Undertaker lay at the bottom of the grave as dirt was poured into the burial ground.
For fans of the Undertaker, the only hope came from a bolt of lightning that shot through the darkened arena. Did that symbolize the immortality of the Deadman? Could the Undertaker rise again and have a chance to exact revenge one more time? And how does this affect the rumored match with Brock Lesnar at WM 27?
Follow the Daily Jolt on Twitter: Daily_Jolt
The Daily Jolt is a section of the National Football Post that serves as a one-stop shop for all things football, sports, pop culture and everyday life.
The section's editor, Dave Miller, also writes the Against the Grain college football column for the NFP. When he isn't putting coaches on the hot seat, he can often be found daydreaming of being the future Mr. Katy Perry. You can follow him on Twitter at Miller_Dave.