August 21, 2012 -
Dave Miller
The WAC prepares for its final season
The Western Athletic Conference is officially on its deathbed.
Conference commissioner Jeff Hurd said Monday morning that the league is determined to find the appropriate number of conference institutions to retain NCAA Division I recognition as a non-football league, according to Irv Moss of the Denver Post.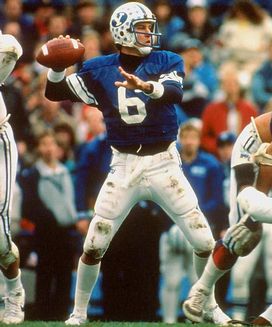 BYU, led by Robbie Bosco, was the last team from a non-AQ league to win a national championship — in 1984.
The WAC has lost Boise State, Nevada, Fresno State and Hawaii already, while San Jose State, Utah State, Louisiana Tech and Texas-San Antonio are leaving after the 2012-13 school year. Idaho, Louisiana Tech, New Mexico State, San Jose State, Texas State, Utah State and Texas-San Antonio will be the seven members competing in the WAC's final football season.
With Idaho recently deciding to become an Independent, New Mexico State is the only team with an uncertain future. So where will the Aggies turn?
They applied to become members of the Mountain West but were denied. Independence is a possibility, as well as entrance into the Sun Belt. What is known, however, is that WAC football will be no longer because of the conference realignment and expansion wave that has hit college football over the past few seasons.
And it's a shame.
A league that once had a record 16 teams (with squads spanning from the states of Hawaii to Oklahoma) in 1996 will cease to exist after this season. The league, which began in 1962 with founding members Arizona, Arizona State, Brigham Young, New Mexico, Utah and Wyoming, was the last non-AQ league to win a national championship — LaVell Edwards led BYU to the title in 1984.
Email dave.miller@nationalfootballpost.com or follow me on Twitter at Miller_Dave