December 20, 2010 -
Dave Miller
These t-shirts may become Delany's biggest nightmare
So Big Ten commissioner Jim Delany has acknowledged that the league may reevaluate the names of the Big Ten's newly formed divisions for 2011.
In an interview recently on WGN Radio in Chicago, Delany said that he has taken notice of the outcry from fans since the names "Legends" and "Leaders" were announced.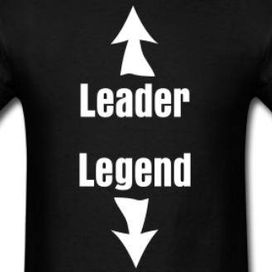 Is the Leader and Legend t-shirt the hot holiday item for your Big Ten-bound student?
"We've had enough experience with names and expansion and development of divisions that we know that you rarely get a 90 percent approval rating," Delany told AM-720. "But to get a 90 percent non-approval rating was really surprising. It showed that we didn't connect with our fans in a way that we wanted to. It's humbling, to say the least, because we're trying to build fan bases, not push them away.
"I've been around this business a long time, and I would say it's one of the more surprising things. There's a sensibility there that we did not connect with, did not read well."
That's all well and good, but there's no question that even if a change is made — and certainly nothing is imminent — there will be a proliferation of the pictured tee-shirts on college campuses across the country.
Certainly, these shirts have a chance to replace the Morehead State hat as the popular go-to item at the local campus bar.
If you have $25 to spare, click here.
Email dave.miller@nationalfootballpost.com or follow me on Twitter at Miller_Dave