June 29, 2012 -
Dave Miller
Time for Georgia to cut ties with Crowell?
Georgia running back Isaiah Crowell has suffered yet another off-the-field issue.
And this one is the most serious to date.
The 2011 SEC freshman of the year was jailed early Friday morning on three weapons charges, including two felonies. He was arrested on charges of carrying a weapon in a school zone and having an altered ID mark, which are both felonies. He was also booked on a misdemeanor charge of possessing a concealed weapon. Crowell consented to a search of the vehicle he was driving after officers smelled marijuana. When cops found a handgun beneath the driver's seat, Crowell denied that it was his or that he knew it was there.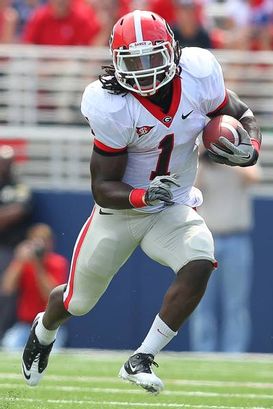 ICONGeorgia RB Isaiah Crowell is dealing with yet another off-the-field issue.
As of 12:30 p.m. ET, Crowell remained in jail with bond set at $9,500.
Four Georgia players were also in the car with Crowell: sophomore Quintavius Harrow and incoming freshmen Sheldon Dawson, Blake Tibbs and Josh Harvey-Clemons. None of the passengers were arrested.
According to the Georgia student-athlete handbook, an immediate suspension from the team for Crowell is imminent. The question now remains how this will affect his status for the 2012 season with practice beginning in early August.
Crowell, who rushed for 850 yards while battling numerous injuries as a freshman last fall, has had numerous incidents since his arrival in Athens, but this is clearly the most serious.
The prize of the 2011 signing class, Crowell was suspended twice last season: once for a quarter for an unspecified team issue and one game for a reported positive marijuana test. While there was hope that he had grown up since last season, that obviously isn't the case based on this latest episode. While the Bulldogs have dealt with several misdemeanor arrests recently, a felony arrest is quite a different story.
It might be time for head coach Mark Richt and his staff to prepare to rely on sophomore Ken Malcome and highly-regarded freshman Keith Marshall and Todd Gurley in the backfield, because Crowell clearly hasn't learned from his past mistakes.
Most every college student makes mistakes. Maybe many mistakes. But a felony weapons charge? That's something that cannot hang over a football program. Especially when it involves someone who has had more than one issue in the past.
Email dave.miller@nationalfootballpost.com or follow me on Twitter at Miller_Dave