September 06, 2010 -
Dave Miller
Time to panic in Gainesville?
Murky water in The Swamp?
We all know that Florida looked dreadful offensively on Saturday. The Gators accumulated just 26 yards of total offense after three quarters against Miami of Ohio — a squad that went 1-11 in '09. And, of course, the loss of Tim Tebow was generally cited as one of the main reasons for the inept offense. However, not much is going to go right when the simple act of snapping the football becomes a chore. "I didn't imagine the offense's incompetence that we experienced today," head coach Urban Meyer said after the game.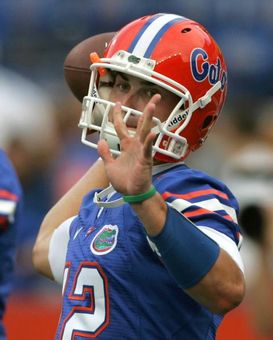 ICONQB John Brantley led a Gators offense that couldn't find any rhythm against Miami of Ohio.
It was difficult to judge new starting quarterback John Brantley, who finished the game 17 of 25 for 113 yards and two touchdowns, due to such poor play from the offensive line. Mike Pouncey, who moved from guard to center this year, airmailed a snap over Brantley's head and delivered two others into the ground. Starting left tackle Xavier Nixon and backup Matt Patchan missed the game due to injuries, and left guard Carl Johnson didn't play for an unspecified reason. The Gators finished with eight fumbles (three lost) and 212 total yards — 187 coming in the final 13 minutes.
Although it was a group effort, the quarterback must always shoulder at least some of the blame because he is the face of the unit. And Brantley did make some poor throws while checking down a whole lot and missing on his deep throws.
Passes were dropped, and save for Jeff Demps' 72-yard scamper, he and running back mate Emmanuel Moody were contained all game long.
Is what we saw at The Swamp major cause for concern?
Not at all, because too many things went wrong to believe that it was anything but a total aberration — the ultimate laying of an egg. Too much talent exists on this offense. Perhaps this embarrassment was just what the Gators needed to refocus and go back to the fundamentals and letting their talent take over.
Red River rivals underwhelm
Texas sleepwalked through a 34-17 victory over Rice, while Oklahoma narrowly escaped with a win over Utah State 31-24. As expected, neither Longhorns head coach Mack Brown nor Sooners head coach Bob Stoops were thrilled.
The positives for the 'Horns? Brown wasn't kidding when he said they would re-establish the running game with Colt McCoy at the next level, as Tre' Newton ran for a career-high three touchdowns and the team ran 46 times for 197 yards. Starter Cody Johnson and Fozzy Whittaker also received their share of carries. Quarterback Garrett Gilbert finished 14 of 23 for 172 yards in his first career start and didn't turn the ball over. The offense may not have run silky smooth at times, but Gilbert showed very good accuracy overall. Without question, seeing him protect the ball should make Longhorns fans happy, especially after his four-interception debut in the BCS national championship game.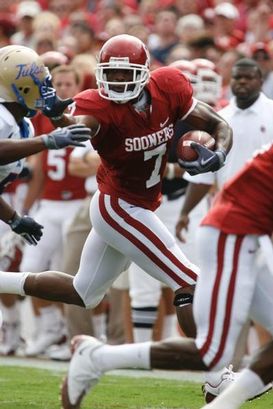 ICONRB DeMarco Murray put the OU offense on his back while QB Landry Jones struggled with his accuracy.
Meanwhile, OU's DeMarco Murray began his Heisman charge with a career-best 218 yards on the ground — including a crucial conversion on fourth down in Sooners territory — to rescue a terrible performance by the OU secondary. Murray rushed 35 times for 218 yards and two scores as Stoops stuck to his word of providing opposing defenses with a healthy dose of his senior tailback. And it was necessary, as quarterback Landry Jones struggled mightily. "For a guy that has played as many games as he did a year ago, he didn't look like was in his comfort zone at all," Stoops said of Jones.
The sophomore signal-caller was off-target all night, finishing with 217 yards on 17-for-36 passing with two interceptions and two touchdown passes to Ryan Broyles. Jones said he didn't trust his protection enough — and who can blame him after the way the line played last year. But the O-Line is expected to be much better this year, as is Jones' play.
If Utah State, a team that lost 54-3 to the Sooners three years ago, could amass 341 yards and two touchdowns against a young OU secondary, what will Christian Ponder and Florida State be able to do next Saturday when the Seminoles visit Norman? For Sooners fans, hopefully it was just a case of looking past the Aggies — or else OU could be in trouble.
More nonconference fun
On Monday night, Boise State and Virginia Tech will conclude the first weekend of the new season in a game considered by many to be the best nonconference matchup of the year. But what awaits us next weekend is the best group of nonconference games of 2010.
How about these matchups?
In addition to the Seminoles and Sooners, we get Miami at Ohio State, Michigan at Notre Dame and Penn State at Alabama.
Next weekend may be the start of the NFL season, but football fans will get a great appetizer with those games on Saturday.
Ole Miss misses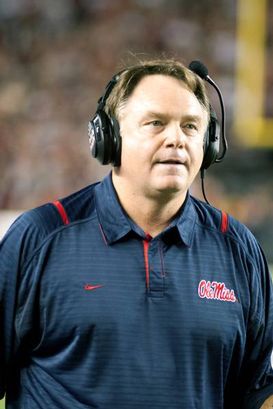 ICONNot the start Ole Miss head coach Houston Nutt envisioned for his Rebels.
There are certainly many non-Rebels fans giddy at the fact that Houston Nutt and Jeremiah Masoli were victims of a stunning overtime upset Saturday afternoon at the hands of Jacksonville State. The Rebels blew a 31-10 lead and had outgained the Gamecocks 323-70 at halftime.
No matter how crazy the offseason was in Oxford with the battle for Masoli's services and eligibility, along with key losses across the offense, this is a loss that can't happen — even taking into consideration that Jacksonville State nearly beat Florida State last season.
Masoli, by the way, completed 7 of 10 passes for 109 yards and one interception but led the Rebels on both of their touchdown drives in overtime. Nathan Stanley, however, tossed three scores and threw for 133 yards on 6-of-10 passing. It looks like the problems for the Rebels won't be under center this season. But perhaps Nutt should have looked to plug some holes on defense.
Gill not very wizardly at Kansas
That certainly wasn't the debut Kansas fans were expecting for new head coach Turner Gill and new offensive coordinator Chuck Long. North Dakota State stole a 6-3 victory — yes, 6-3 — in Lawrence, as the Jayhawks couldn't get anything going Saturday night.
There were some Kansas fans who questioned the Gill hire, as he owned a career coaching mark of 20-30 entering this season. But winning eight games and a MAC title at Buffalo in 2008 was no small feat. And Gill was dealt a roster short on talent — specifically at the skill positions.
You can argue that left tackle Tanner Hawkinson and cornerback Chris Harris are the Jayhawks' best players. Sophomore Kale Pick threw five passes last year and his backup, redshirt freshman Jordan Webb, had never played. It will take time, but Gill and Long will create a winning culture in Lawrence. Still, a loss to an FCS team hurts.
It's not the Big Least again, is it?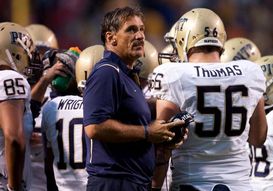 ICONPittsburgh was one of three Big East contenders that lost nonconference road games this past weekend.
It wasn't a great opening weekend for the Big East. Granted, the teams were on the road, but Pittsburgh fell to Utah, Cincinnati lost to Fresno St. and Connecticut never made a game of it against Michigan. Let's hope this trend doesn't continue.
Denard was good, but…
So Denard Robinson impressed in his first game as the established Michigan starting quarterback. He looked very much like former Appalachian State quarterback Armanti Edwards when he stunned the Wolverines' defense in 2007 — the beginning of the end for Lloyd Carr.
But how about the debut of Cameron Newton at Auburn? The junior-college transfer who began his career at Florida ran for 171 yards — a school single-game record for a QB — and two touchdowns and passed for 186 yards and three more scores in Auburn's 52-26 win over Arkansas State on Saturday night. His 71-yard touchdown run reminded Tigers fans of just how effective this offense can be with their talented trio in the backfield and stellar receiving corps. Watch out Alabama, because Gene Chizik's Tigers will be a very tough out this season.
Extra points
• LSU seemed to take the foot off the gas pedal against North Carolina Saturday night, allowing the Tar Heels to stick around and take the game to the last play of the contest. That will cost the Tigers a game in the SEC if it happens again. A big kudos to the North Carolina players who were on the field, however, for a valiant effort given the circumstances.
• Taylor Martinez, who was named the starting quarterback at Nebraska, showed why more head coaches should not be afraid to start a freshman signal-caller. His first rush went for a 46-yard touchdown, and he brings a different dimension to the Cornhuskers' offense.
• Ron Zook's Illinois squad blew a 13-3 halftime lead and fell to a Missouri team that should not be dominating the rivalry series like they have been in recent years. Not a good start for a team that at least must go to a minor bowl to save Zook's job.
Follow me on Twitter at Miller_Dave or send your college football questions to dave.miller@nationalfootballpost.com
Click here to purchase the Total Access Pass / Fantasy Draft Guide from the NFP.