July 28, 2011 -
Barry Dorey
Timing of Davis' firing a slap in the face to UNC's players
So now the North Carolina administration doesn't think Butch Davis fits as head coach of the program.
That's nice.
And what has changed since the NCAA sent out its notice of allegations to the football program after a thorough investigation following the agent and academic scandals that rocked the Chapel Hill campus before and during the 2010 season?
Nothing at all.
And yet, just two days after Davis took the podium at ACC Media Days, he was canned. Done as the face of UNC football.
When the former Tar Heels head coach released a statement in light of the university receiving the official 42-page report from the NCAA, he took responsibility.
"I feel terrible that these allegations occurred under my watch," he said through a statement at the time. "I especially regret that the university has had to endure this scrutiny because of the football program. The responsibility for correcting any problems that put us in this position is mine, and I take that responsibility very seriously.
"I want to thank our fans for the tremendous support we have received. Their loyalty and support has been especially appreciated by our student-athletes. The opportunity I have to serve the University of North Carolina is one that I cherish, and I will continue to focus on improving every aspect of our football program."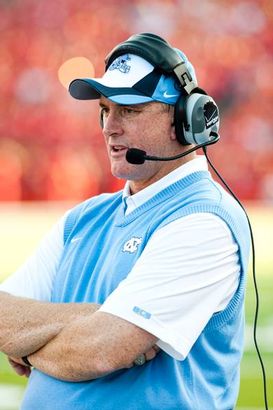 Butch Davis is done at UNC, just a little over a week before fall camp begins.
Davis further took responsibility this week — "fully and completely" — at Media Days for the scandal that has the Tar Heels facing nine major NCAA violations.
"Anything that we can do to make sure that doesn't happen again, that's part of my responsibility," Davis said this week. "I regret greatly that these things have transpired, that these things have happened. And I don't take them lightly.
"This is a very, very serious issue. It's caused a tremendous amount of embarrassment and a tremendous amount of hard times, but we're going to get through this."
However, in the last two days, university chancellor Holden Thorp and athletic director Dick Baddour must have had a change of heart — despite backing their embattled head coach since the investigation launched.
While the NCAA did not implicate Davis in the official notice of allegations, which includes nine major violations levied against the program, many felt that Davis should have been aware of the relationship that then-associate head coach John Blake had with the late agent Gary Wichard. There was also Jennifer Wiley, the tutor who played a role in the academic scandal and who had a relationship with the Davis family. Even a former player, Chris Hawkins, was named for rules violations in dealing with recent players.
But if the Tar Heels felt that Davis played a role in allowing unethical behavior to occur on his watch, why not make a move earlier in the offseason — perhaps before spring practice?
UNC is barely a week away from fall camp and an interim head coach has yet to be named. Yet no matter who is deemed Davis' successor — even on an interim basis — the timing is unfair to every Tar Heels player donning a uniform in fall camp.
Less than a week ago, offensive line coach Sam Pittman was promoted to associate head coach. Is he now the frontrunner for the interim head-coaching job? We may find out when UNC addresses the situation at a news conference Thursday morning.
There's no question that the Tar Heels are one of the most talented teams in the ACC despite losing so much talent to the NFL via the draft this past April. Davis clearly knew how to recruit, and the Coastal division title is within the team's reach.
But how does the administration make this move now — in late July, when the notice of allegations was already sent to the school?
UNC seemed to avoid a lack of institutional control charge because it has maintained that Blake and Wiley acted and covered up on their own — without help from Davis. Since the NCAA could not prove that Davis or oversight officials had knowledge of Blake and Wiley's actions, the damage was going to fall on Blake, Wiley and others who tried to cover up their acts.
Ultimately, the NCAA's Committee on Infractions will hand out its punishment after an October 28 hearing. Unless Davis' personal phone records — which he was planning on turning over to the media — included damning evidence in the eyes of the UNC administration, there was no reason to make this move. Not right now. Not so soon before the start of the season.
You have to feel for the players. The same ones who signed on to play for Davis. The same ones who, following ACC Media Days, had no reason to believe Davis wouldn't be leading their practices in fall camp.
Email dave.miller@nationalfootballpost.com or follow me on Twitter at Miller_Dave