August 16, 2011 -
Barry Dorey
TMP: What we learned in Preseason NFL Week 1
Here at the Daily Jolt, we prefer our coffee on the stove top and not from the electric drip machine. We're just old-school that way.
With that in mind, let's see what's happening today in The Morning Percolator.
The first week of the NFL preseason concluded Monday night with the contest between the New York Jets and Houston Texans, and we are officially in football mode here at the NFP's Daily Jolt section.
We go into this morning's post knowing that we shouldn't put too much stock into exhibition football. However, there were some noteworthy moments worth thinking about as we move into Week 2.
Fans of the Detroit Lions have to be ecstatic that defensive tackle Ndamukong Suh is in regular season form. While his jolt delivered to Cincinnati Bengals rookie quarterback Andy Dalton was not the kindest way to welcome the former TCU star to the NFL, it was a message to the rest of the league: do not sleep on these Lions in 2011. It's just a shame that Jim Schwartz and Co. won't have Mikel Leshoure available to help out an offense that could be ready to put up points consistently this season if quarterback Matthew Stafford is able to stay healthy. Stafford, by the way, went 6-of-7 through the air for 71 yards with a 26-yard touchdown to Calvin Johnson in the team's preseason opener.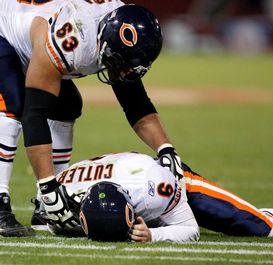 ICONCan the Bears keep Jay Cutler upright this season?
Meanwhile, fans of the Chicago Bears have to feel a sense of frustration that the team's offensive line remains a major question mark once again heading into a season in which they will try to return to the NFC Championship game. And if quarterback Jay Cutler is unable to finish the season because he's injured running for his life — the team's offensive line allowed nine sacks Saturday night against the Buffalo Bills — the great Caleb Hanie may not yet be ready to step in and step up. Hanie lost second-team reps to rookie Nathan Enderle Monday afternoon at practice. Ouch.
If anything, the Carolina Panthers will be an intriguing team to watch in Ron Rivera's first season as head coach. It looks as if Jimmy Clausen will begin the season under center, but he won't be long for the job if he continues to make mistakes like the bad throw on the "Out" route that was parlayed into an interception return for a touchdown by New York Giants linebacker Michael Boley. Cam Newton is the future under center, but his mechanics need lots of work and he is still coming from a spread system at Auburn. Could Derek Anderson really be the solution in Carolina? The answer may be yes. But again, this team is at least intriguing. No matter who is under center, a healthy Steve Smith and tight ends Greg Olsen and Jeremy Shockey at least make this offense tolerable to watch again.
It's a little scary to think how efficient New England's front office runs. Sure, the Patriots haven't been quite as dominant in recent seasons, but the future remains bright for this franchise. Without star quarterback Tom Brady, backups Brian Hoyer and Ryan Mallett led the way in a 47-12 dismantling of Jacksonville. If both remain in the system and continue to develop, one could emerge as Brady's eventual replacement while the other could be shipped off for another high draft pick a la Matt Cassel. It's just how the Pats roll.
Some more thoughts:
Former Texas A&M quarterback Stephen McGee has been solid every time I've seen him play in a Dallas uniform. He could be a name that picks up trade value. But would the Cowboys pull the trigger?
Tennessee's selection of Jake Locker looked less like a major reach after his debut performance. The rookie from Washington went 7-of-10 through the air for 89 yards and a touchdown. I love the idea of Locker learning from starter Matt Hasselbeck. Now the Titans just need to get star running back Chris Johnson into camp.
It may not be pretty, but Tim Tebow gets the job done. With his work ethic and ability to focus on the task at hand against Dallas, can we at least give him another season — even if he wears a visor on the sideline most of the time — before we write him off?
The trio of Roddy White, rookie Julio Jones and Harry Douglas at receiver should make Atlanta Falcons opponents very nervous, especially with Matty Ice standing upright in the pocket ready to unleash.
San Francisco could be in real trouble offensively in Jim Harbaugh's first season as an NFL head coach. Alex Smith isn't the answer, Colin Kaepernick won't be ready to start at any point this season and bringing in Daunte Culpepper at this point is a scary proposition. Relying on its defense will take its toll week in and week out.
After three injury-riddled seasons, could Shawne Merriman be back to his vintage form? It'd be huge for the Buffalo Bills, a team that remains short on talent in too many areas.
Curtis Painter, Dan Orlovsky and Nate Davis? Indianapolis Colts fans better hope that Peyton Manning doesn't need a full preseason to be ready for the season opener.
With Week 1 in the books, I'm ready for more. It's like the lockout never even happened, right?
Inside the squared circle
A lot of wrestling fans may be upset that Kevin Nash is back on WWE TV, but it's only temporary. As for myself, it's always good to see an old-timer back in the ring. Well, not always good (see: any shirtless Jimmy Snuka appearance). The promo between "Big Sexy" and C.M. Punk was good television. And it made me think back to the days when WCW around, providing some great Monday Night wars between the rival feds. Check it out below.
It seems like yesterday I thought John Morrison would be the next Shawn Michaels. Could it be that Morrison was actually the Marty Jannetty of the tag team with The Miz?
And, boy, is it always great to see Stephanie McMahon on my television screen. Check out a classic clip of the chairman's daughter below.
Weekend newspaper highlights
While reading the New York Times on Sunday, I stumbled upon the Gregory Brothers for the first time as well as Kanye West's newest and highly anticipated collaboration with Jay-Z.
Follow Miller_Dave and the Daily_Jolt on Twitter.
The Daily Jolt is a section of the National Football Post that serves as a one-stop shop for all things football, sports, pop culture, everyday life and more.
The section's editor, Dave Miller, also writes the Against the Grain college football column for the NFP. When he isn't putting coaches on the hot seat, he can often be found daydreaming of being the next winner on The X Factor.