July 09, 2014 -
Dave Miller
Top 10 coaching hot seats in 2014
As we get ever so closer to the start of preseason camps and officially kick off the 2014 college football season, it's time to take a look at the head coaches whose jobs could be in jeopardy as they enter potentially make-or-break campaigns.
If this fall doesn't provide a sense of hope for their athletic directors and fan bases, these program-builders could be in trouble.
Here are the ten coaches who remain securely in a pressure-cooker entering the fall.
10. Brady Hoke, Michigan: I believe that Michigan will be able to bounce back from its rough 2013 campaign, but improvement cannot happen unless the offensive line protects the quarterback and opens up bigger lanes for the running backs. It goes without saying that Hoke's personality fits in very well in Ann Arbor, and he's been able to bring in very good talent on the recruiting front. But head coaches at Michigan aren't supposed to oversee disasters (Nebraska) and near-disasters (Akron and UConn) such as the ones Wolverine fans had to witness last season. I'm a huge fan of Doug Nussmeier, who is now running the offense after Al Borges was let go. It would be tough for Hoke to endure another 7-6 campaign, and roadies against Notre Dame, Michigan State and Ohio State loom. But most important for this team is a more consistent and improved identity on offense, and I think the Wolverines will have that this fall.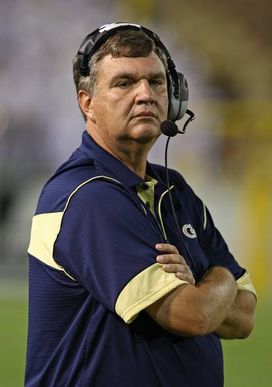 Paul Johnson hasn't had the success in Atlanta as many GT fans had envisioned.
9. Paul Johnson, Georgia Tech: The Yellow Jackets have been trending downward since their Orange Bowl berth in the 2009 season, losing at least six games in three of the last four years. Johnson had great success in Atlanta immediately after leaving Navy, but GT has not seized its opportunity the last few seasons in a mediocre ACC Coastal division. There were whispers that Johnson was not happy with his current situation, but the real question is whether the GT administration will be happy with him following this season. It never helps losing to rival Georgia, but Johnson must be able to compete each year for a division title. Justin Thomas is an intriguing young quarterback, but is there enough material on defense?
8. Kevin Wilson, Indiana: In my post-spring bowl projections, I had the Hoosiers earning a bid to the Pinstripe Bowl in the Bronx to take on Pittsburgh. I believe the Hoosiers have enough offensive talent to get to six wins. And even if IU falls short of a bowl bid, Wilson has taken the program from a 1-11, winless-in-conference debut campaign to four wins in 2012 and a 3-5 mark in league play last year. There is reason for optimism in Bloomington, but Wilson is still just 10-26 overall.
7. Norm Chow, Hawaii: The longtime offensive coordinator and Hawaii native finally received his first head-coaching gig, but it's been ugly thus far on the island. Chow is 4-20 and 1-15 in the Mountain West, and the team actually took a step back last year with just one win. There's no doubt that Chow deserves time to coach up the players he's brought in, but the Rainbow Warriors have seen better days. Fred von Appen went 0-12 in 1998 one year after winning three games at Hawaii. Chow needs a bounceback season or else 'Chow Time' could be coming to an end.
6. Dana Holgorsen, West Virginia: It seems like eons ago that Holgorsen and his Mountaineers put up 70 points against Clemson in the Orange Bowl to conclude a 10-3 debut campaign. Since then, WVU compiled a 7-6 mark the following season after jumping out to a 5-0 start behind Geno Smith and Co., and last year the squad bottomed out at 4-8 — including losses to Kansas and Iowa State. It has been a reality check for the Mountaineers in the Big 12, and athletic director Oliver Luck needs to find out if Holgorsen is the right person moving forward. Tony Gibson is the new defensive coordinator for a unit that was porous in 2013. Adjustments are needed right away, though, because the 'Neers open with Alabama.
5. Kyle Flood, Rutgers: The Scarlet Knights enter the Big Ten with a murky future, as we still don't know exactly how stable Flood can keep this program after initially keeping things sound following Greg Schiano's departure. Flood led Rutgers to a 6-7 mark in the American Athletic last fall, in large part because of an offense that turned the football over too often. But former Maryland head coach Ralph Friedgen is now running the unit, and Joe Rossi is the leader of the defense. The recruiting woes have been alarming, but Flood can ward off the doubters if improvement is evident on the field this fall. The problem is the step up in competition in a division featuring Ohio State and Michigan State as well as Penn State and Michigan.
4. Tim Beckman, Illinois: The embattled Illini leader is just 6-18 in his first two seasons in Champaign, but he did get his long-awaited first Big Ten win against Purdue in November. The best move Beckman has made in his tenure was hiring longtime MAC head coach Bill Cubit to be his offensive coordinator. Now the hope is that former Oklahoma State signal-caller Wes Lunt can pick up where Nathan Scheelhaase left off and run the productive offense. I believe that Beckman can survive a bowl-less season, but improvement must continue to be made and there needs to be a reason to believe in the future.
3. Charlie Weis, Kansas: The former Notre Dame head coach has compiled a 4-20 mark in his two seasons with the Jayhawks. While it's not exactly easy to win in Lawrence, two of his wins were against South Dakota State and South Dakota. Weis limped out of South Bend before a one-year stop as Florida's OC, so the shine is off of his armor. He went the JUCO route with little success in 2013, and quarterback Jake Heaps transferred to Miami (FL) after sophomore Montell Cozart was named the starter. Program-building doesn't seem to be the strength of the longtime NFL coordinator.
2. Mike London, Virginia: The boss of the Hoos is 18-31 in five seasons in Charlottesville, and his lone bowl appearance came in 2011 when he led the team to an 8-5 mark. The Cavaliers bottomed out last year, going winless in the ACC and losing by 21 points at home to Ball State en route to a 2-10 mark. London was still brought back, though, and he was able to still land stud recruits Andrew Brown and Quin Blanding to help out coordinator Jon Tenuta's defense. London has an uphill battle in 2014 even with intriguing young quarterback David Watford because in addition to an improved ACC slate, UVA has to face UCLA and BYU in nonconference play.
1. Will Muschamp, Florida: The addition of offensive coordinator Kurt Roper is going to be huge for an offense that finished last in the SEC in yards per play, and I believe that the Gators will be much-improved this fall. But Muschamp, who is coming off of a 4-8 campaign (which included a loss to FCS foe Georgia Southern en route to the program's first losing record since 1979), knows that he must win this year or else he won't get a fourth year in Gainesville. Ron Zook went 23-14 during his three-year run at The Swamp. Muschamp's mark through three seasons? 22-16. I believe he stays, but he knows he has to win.
Other thoughts
I don't like including any second-year head coaches on such a list, but Doug Martin (New Mexico State) and Ron Turner (Florida International) need to show improvement in their second years on the job.
Dave Miller, the college football editor for the National Football Post, is on Twitter @Miller_Dave.