February 15, 2012 -
Dave Miller
Top 10 defensive players in the Class of 2013
National Signing Day has come and gone, yet receiver/cornerback Davonte Neal still remains uncommitted. Many believe the Arizona prep star is bound for Notre Dame, but we'll find out officially February 21.
No matter where Neal lands, it's time to look ahead to next year's top recruits. So let's take a peek at the top defenders (as of their junior seasons) who help comprise the Class of 2013.
1. DE Robert Nkemdiche: 6-5, 260 pounds, Loganville, GA; Grayson
He may not project to be quite the talent as South Carolina's Class of 2011 star Jadeveon Clowney, but he could have a similar sudden impact. Nkemdiche recorded 19 sacks as both a sophomore and a junior, and he led his team to a state championship in 2011. He visited Georgia over the weekend, though the home-state Bulldogs weren't in his top five schools entering the weekend. Those programs are thought to be Alabama, Oregon, LSU, Florida and Florida State. Meanwhile, older brother Denzel Nkemdiche just completed his freshman season at Ole Miss.
2. LB Reuben Foster: 6-2, 228 pounds, LaGrange, GA; Troup
Foster, an Alabama commit, notched 144 solo tackles, 32 tackles for loss and 14 sacks during his junior season. He's one of the nation's best all-around defenders with good size and speed, and he plays with an unmatched intensity that will have college coaches drooling.
3. DT Montravius Adams: 6-3, 290 pounds, Vienna, GA; Dooly County
Adams notched 45 tackles for loss in 2011 and starred in an all-star game for juniors this past postseason. He has offers from Alabama, Auburn and Georgia, but he currently favors Clemson because the Tigers' coaching staff offered him first.
4. S/LB Su'a Cravens: 6-1, 205 pounds, Murrieta, CA; Vista Murrieta
Cravens notched 100 tackles, 11 sacks and three interceptions in 2011, and he was at USC's junior day over the weekend. Many believe he will become a Trojan, but he has roughly 40 scholarship offers. He's so athletic that he ran for 15 touchdowns and caught four last year, so whoever lands him will be getting an exceptional athlete.
5. CB Kendall Fuller: 6-0, 185 pounds, Olney, MD; Our Lady of Good Counsel
Fuller recorded 26 tackles and three interceptions on defense and caught 26 passes for 527 yards and five touchdowns as a receiver during his junior season. Former teammate Stefon Diggs received a lot of attention before his commitment to Maryland last Friday, but Fuller's recruitment could surpass that hype next February.
6. CB Vernon Hargreaves III: 5-10, 177 pounds, Tampa, FL; Wharton
Hargreaves notched two interceptions and accounted for 11 touchdowns in his junior season. Michigan, Florida, Florida State, Notre Dame, Ohio State and USC are among the major programs to extend an offer.
7. LB Michael Hutchings: 6-2, 210 pounds, Concord, CA; De La Salle
Hutchings recorded 56 tackles and two sacks on a dominant De La Salle defense — one of the school's best in its history. The athletic Hutchings can play both outside linebacker and strong safety, allowing him to cover a slot receiver or tight end effectively.
8. DE Kenny Bigelow: 6-3, 280 pounds, Bear, DE; Red Lion Christian Academy
Bigelow, who is currently committed to USC, finished his junior season with 15 sacks. He can play all over the line but was recruited by Ed Orgeron as a defensive tackle.
9. LB Matthew Thomas: 6-4, 200 pounds, Miami, FL; Booker T. Washington
Thomas made 117 tackles and notched 13 sacks as a junior, and there may not be a more talented defensive player in the state of Florida. He can pay DE, LB or safety, and he plays the pass as well as anyone.
10. DE Joey Bosa: 6-5, 260 pounds, Fort Lauderdale, FL; St. Thomas Aquinas
Bosa recorded 52 tackles, including 18 tackles for loss, and eight sacks in 2011. He's the son of former Miami Dolphins defensive lineman John Bosa.
Five more to watch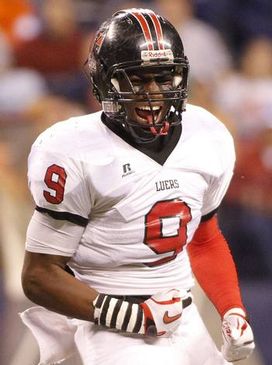 LB Jaylon Smith is one of the best defenders in the Class of 2013.
LB Jaylon Smith: 6-3, 202 pounds, Fort Wayne, IN; Bishop Luers
Smith recorded 8.5 sacks and 19 tackles for loss on defense as a junior. He also rushed for 1,200 yards and 31 total touchdowns in 2011.
LB E.J. Levenberry, Jr.: 6-3, 226 pounds, Woodbridge, VA; C.D. Hylton
Levenberry finished 2011 with 151 tackles, eight forced fumbles, four sacks and three interceptions.
CB Cameron Burrows: 6-1, 195 pounds, Trotwood, OH; Trotwood-Madison
Burrows had 46 tackles, 12 pass breakups and four interceptions for an undefeated squad this past season.
DE Eddie Vanderdoes: 6-4, 285 pounds, Placer, CA; Placer
Vanderdoes recorded 59 tackles and eight sacks as a junior.
DB Mackensie Alexander: 5-11, 175 pounds, Immokalee, FL; Immokalee
Alexander had 42 tackles, three interceptions, two fumble recoveries and six pass deflections last fall.
Email dave.miller@nationalfootballpost.com or follow me on Twitter at Miller_Dave