January 20, 2011 -
Dave Miller
Top 10 moments of 2010
This past college football season, like every year, produced quite a number of magical moments. There were upsets, last-second surprises and top-ranked teams falling and surviving.
Let's take a look back at the year that was across the country.
Note: This list includes neither the Cam Newton investigation (we'll stay on the field) nor the BCS title game (too easy of a choice).
10. Les Miles' magic — or lack thereof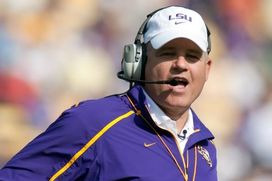 ICONLSU head coach Les Miles always keeps fans on the edge of their seats.
Perhaps the Mad Hatter's new offensive coordinator, Steve Kragthorpe, will help his head coach in situations like the one which occurred in the Tennessee-LSU game early in the season. Another clock-management issue seemed to have cost Les Miles at the end of the game against the Vols, but Derek Dooley's defense was penalized for having 13 men on the field. So the Tigers had another chance to punch it in from the 1-yard line, and running back Stevan Ridley scored the game-winner to punctuate a wild day in Baton Rouge. Twitter Nation was all over Miles during the chaotic ending, and replays of the strange finish were shown throughout the rest of the season. You had to feel for Dooley and his players, as most of them were on the field celebrating when the officials announced the penalty.
9. Yes, a team actually was good enough to win the Big East
It was tough to pick a Big East moment from 2010. I was leaning toward involving Syracuse, as Doug Marrone's Orange had a few memorable instances — winning at South Florida, beating West Virginia in Morgantown, blowing out Cincinnati. Charlie Strong and Louisville also made an impact with the win over the Orange that helped propel the Cardinals to a seven-win season. Pitt's season was also noteworthy — for its disappointment. Ultimately, I went with Connecticut's 52-yard game-winning field goal by Dave Teggart in the waning seconds at South Florida to earn the Huskies a BCS berth for the first time. It's a shame that Randy Edsall won't be around Storrs anymore, as he helped the program earn the landmark win.
8. "Shoelace" storms into South Bend
Okay, so Michigan and Notre Dame didn't exactly end up having dominant seasons. But when the teams met early in the season in South Bend, they were coming off of impressive wins in the season opener and the college football world at least was finally excited again about this matchup of historic programs. We found out that Denard Robinson's effort against Connecticut the previous week was no fluke. Late in the first half, "Shoelace" darted down the field 87 yards for a touchdown, marking the longest run in Notre Dame Stadium history. But he wasn't done. After Notre Dame quarterback Dayne Crist connected with tight end Kyle Rudolph on a 95-yard score to put the Irish ahead with 3:41 left, Robinson led Michigan on a game-winning 12-play, 72-yard drive, capped off by his tally from 2 yards out with 27 seconds left to send Michigan to a 28-24 victory. He finished with a school-record 502 yards of total offense for a signal-caller, including 258 yards rushing on 28 carries and 244 more passing. No wonder why new head coach Brady Hoke had to beg him to stay in Ann Arbor.
Runner-up — The nation's first glimpse of "T-Magic"
When unbeaten Nebraska entered Manhattan for a Thursday night matchup against Kansas State, all eyes were on Wildcats running back Daniel Thomas, who was supposed to be the main attraction and K-State's only hope for a Big 12 upset. Well, Wildcats fans witnessed the best running back on the field that night — but it was Nebraska quarterback Taylor Martinez. "T-Magic" ran for 241 yards and five touchdowns, and he vaulted into the race for the Heisman Trophy as he rushed for 10 scores in the team's first four contests. At one point, a redshirt freshman and a sophomore (Denard Robinson) were leading the race for the hardware eventually claimed by Auburn quarterback Cam Newton. Better yet, Nebraska was considered a national championship contender. However, Martinez injured his ankle against Missouri and aggravated the injury again against Texas A&M, and he went without a rushing touchdown in the season's final nine games.
7. Virginia Tech suffers a Boise hangover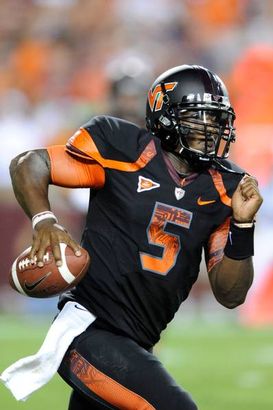 ICONQB Tyrod Taylor led a Virginia Tech resurgence after an 0-2 start.
Not to take anything away from James Madison, but if Virginia Tech had played the FCS squad at any other point in the season, it's very likely the Hokies would have taken care of business. But Frank Beamer's team was playing on a short week of rest following an emotional defeat at the hands of Boise State on Labor Day night. And while there was no excuse for dropping to 0-2, the Hokies were deflated after spending all offseason preparing for the Broncos. The good news is that they hit rock bottom early on, giving the team time to recover. And boy did they ever. Eleven straight wins later, Virginia Tech was ACC champion and on its way to the Orange Bowl. Now the team just needs to forget about that second half against the Cardinal.
Runner-up — Boise is for real
When Kellen Moore led Boise State down the field for the game-winning 13-yard touchdown to receiver Austin Pettis with 1:09 remaining, Boise State began a seasonlong conversation of just how worthy non-AQ teams were in the national title conversation. Despite the loss to Nevada, Boise proved the naysayers wrong.
6. Mr. 400
There was a time early in the 2010 season when many wondered if Penn State head coach Joe Paterno would ever reach 400 wins, as the Nittany Lions were struggling on offense and faced a difficult schedule down the stretch. And it certainly didn't seem possible when Northwestern rolled into Happy Valley and Pat Fitzgerald's team jumped out to a 21-0 lead. But behind backup quarterback Matt McGloin, who threw four touchdowns, and a defense that pitched a second-half shutout, the Nittany Lions rallied to defeat the Wildcats 35-21 — the biggest comeback of the Paterno era — and hand the 83-year-old head coach the milestone victory. Paterno became the first major college coach to hit 400 victories, and he joined John Gagliardi and the late Eddie Robinson as the only coaches in NCAA history with 400 wins.
5. Head Ball Coach topples the defending champs
When Nick Saban's Alabama squad entered Williams-Brice Stadium on Oct. 9, the Crimson Tide were still considered the best team in the nation — no matter how many points Oregon was scoring or how many times Newton carried Auburn on his back. But by the end of the day, Bama's 19-game winning streak had ended and South Carolina had its first victory over a top-ranked team in school history. Quarterback Stephen Garcia did not play like Stephen Garcia, finding receiver Alshon Jeffery for two of his three scores, and freshman running back Marcus Lattimore found the end zone three times in a thorough 35-21 win. The entire campus in Columbia was rocking deep into the early hours of Sunday morning.
Runner-up — Spurrier triumphs once again at The Swamp
This could have been its own category, but it didn't quite make it into the top 10. Steve Spurrier led South Carolina to its first-ever SEC cha mpionship game when the Gamecocks won the East division title against Florida in The Swamp — the home where he coached some of the best teams in the 1990s. Gamecock players hoisted the Head Ball Coach on their shoulders and carried him off the sideline after the clock reached :00.
4. Dialing up "Little Giants"
Michigan State head coach Mark Dantonio certainly had a memorable year. Multiple gutsy calls to prolong an undefeated season, one which came to a screeching halt in a laugher in Iowa City. A heart attack that shelved him for a few weeks. And the worst loss for any team in Capital One Bowl history. But the game against Notre Dame in East Lansing on Sept. 18 could outshine everything else. Dantonio called for a fake field goal in overtime against the Irish rather than play for a tie and another overtime period. Dubbed "Little Giants," holder/punter Aaron Bates tossed the ball to tight end Charlie Gantt, who snuck behind Notre Dame's defense, made the catch and walked in for the game-winning score. It was another heartbreaking loss for first-year Irish head coach Brian Kelly, but it was the first of many memorable moments for Dantonio and the Spartans.
3. The Ducks dodge a bullet
As good as the offense had been all season, Oregon needed its defense to pick up the slack in a crucial late-season SEC showdown. On Nov. 13, the Ducks traveled to Berkeley to take on heavy underdog Cal. But their offense managed a season-low 317 yards and went scoreless in two quarters. Cliff Harris' 64-yard punt return was the team's only touchdown in the first half, and receiver Jeff Maehl caught a 29-yard pass for the team's only offensive touchdown. Oregon caught the huge break it needed early in the fourth quarter when Cal kicker Giorgio Tavecchio erased his 24-yard field goal, which would have put the Golden Bears ahead by one, by taking a stutter step forward before the snap. He was penalized for illegal motion, and the junior then missed a 29-yard try on the next play. Ducks quarterback Darron Thomas then led a final drive that chewed up the rest of the clock — nearly 9