February 16, 2012 -
Dave Miller
Top 10 offensive players in the Class of 2013
On Wednesday at the NFP I looked ahead to next year's top recruits on the defensive side of the ball.
Today, let's take a peek at the top offensive stars (as of their junior seasons) who help comprise the Class of 2013.
1. QB Max Browne: 6-5, 202 pounds, Sammamish, WA; Skyline
Browne, a pro-style quarterback, has thrown for 8,216 yards and 95 touchdowns against just 20 interceptions over the course of his sophomore and junior seasons. He was named the co-state player of the year by the Seattle Times last season, and he was offered by USC on the program's recent junior day. Browne will likely be the Trojans' No. 1 target in the Class of 2013 after they failed to land a quarterback in 2012.
2. OL Laremy Tunsil: 6-6, 275 pounds, Lake City, FL; Columbia
Tunsil is an athletic offensive tackle with a build that is ready to add bulk. He holds early offers from major powers such as Michigan, Alabama, Florida, Florida State, Georgia, Notre Dame and USC, while Texas and LSU are also interested.
3. RB Thomas Tyner: 6-0, 200 pounds, Beaverton, OR; Aloha
Despite missing six games in his junior season because of a concussion and a fractured tibia, Tyner still managed to rush for 1,136 yards and 12 touchdowns. The Oregon commit helped lead his school to its first Class 6A title as a sophomore, and he's primed to become yet another key piece in the Ducks' high-octane attack.
4. QB Shane Morris: 6-3, 183 pounds, Warren, MI; De La Salle
Morris, a pure dropback passer, committed to Michigan in May of his sophomore year of high school. He has good height with a frame ready to add weight, and the lefty has a strong arm. He put on a show at last summer's Gridiron Kings 7-on-7 tournament in Lake Buena Vista, Fla. As a junior, he faced one of the toughest schedules in the state of Michigan, finishing the season with 1,684 passing yards, 19 touchdowns and seven interceptions in an offense that stressed the run.
5. WR Derrick Griffin: 6-6, 215 pounds, Rosenberg, TX; Terry
Griffin, also a top national basketball recruit, caught 36 passes for 509 yards and 12 touchdowns last fall. He committed to Texas A&M and new head coach Kevin Sumlin, and he has a big enough frame that he could grow into a tight end. Considering his size, he has very good speed and nice body control.
6. RB Altee Tenpenny: 5-11, 200 pounds, North Little Rock, AR; North Little Rock
Tenpenny missed his entire junior season with a broken ankle after rushing for 1,121 yards and 15 touchdowns as a sophomore. The Alabama commit is a strong runner who is athletic enough to be a factor in space.
7. TE Adam Breneman: 6-5, 220 pounds, Camp Hill, PA; Cedar Cliff
Breneman recorded 1,120 receiving yards and 12 touchdowns on 72 receptions last fall. He has over 30 offers, including USC, Alabama, Ohio State, Penn State, Florida State, Georgia, Notre Dame, Michigan State, Michigan, Tennessee, Florida, Stanford and Nebraska.
8. RB Ty Isaac: 6-3, 215 pounds, Joliet, IL; Joliet Catholic
Isaac rushed for 516 yards and 6 touchdowns in the Illinois state championship game to cap off a fantastic junior campaign. He's a smooth runner with good change-of-direction skills, and he's an accomplished pass catcher out of the backfield who can play in the slot as well.
9. WR Robert Foster: 6-3, 170 pounds, Monaca, PA; Central Valley
Foster was one of the more impressive performers at the recent U.S. Army All-American Combine. The game-breaking playmaker has been offered by powers Ohio State, Notre Dame, Michigan State and Penn State. As a junior he caught 37 passes for 584 yards and five touchdowns. He also rushed for 419 yards and two scores and is an accomplished punt returner.
10. ATH Derrick Henry: 6-3, 232 pounds, Yulee, FL; Yulee
Henry rushed for 2,610 yards and 33 touchdowns as a junior, and he holds an invite to play in the 2013 Under Armour All-America game. The Georgia commit (yes, the 'Dawgs could be getting yet another elite running back) is a powerful runner with deceptive speed.
Five more to watch
QB Tyrone Swoopes: 6-5, 220 pounds, Whitewright, TX; Whitewright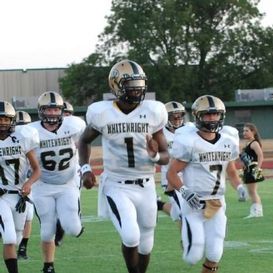 Could Tyrone Swoopes be headed to Tuscaloosa?
Swoopes threw for 1,394 yards and 15 touchdowns while adding 2,267 yards — yes, 2,267 — and 29 scores on the ground last season. Nick Saban and Alabama are hot on his trail after the Crimson Tide missed out on their top quarterback targets in the 2012 class.
WR Ricky Seals-Jones: 6-5, 220 pounds, Sealy, TX; Sealy
Seals-Jones played on both sides of the ball last year. As a receiver, he can out-jump defenders and make plays vertically down the field while also being effective as a possession receiver. Seals-Jones, who recently attended the Junior Day at Texas, would be an ideal weapon on fade routes in the red zone.
OL Steve Elmer: 6-6, 305 pounds, Midland, MI; Midland
Elmer moves well for his size and is best in pass protection. He just needs to find that mean streak in the run game.
WR Ahmad Fulwood: 6-4, 197 pounds, Jacksonville, FL; Bishop Kenny
Fulwood had 46 receptions for 1,141 yards and 22 touchdowns as a junior. He has good size, catches everything and is a playmaker down the field. He just needs to improve his blocking.
RB Greg Bryant: 5-11, 200 pounds, Delray Beach, FL; American Heritage School
The explosive Bryant had 2,180 yards and 25 rushing touchdowns on 224 carries as a junior, and he capped his year off with a fantastic performance in the Class 3A Florida state title game.
Email dave.miller@nationalfootballpost.com or follow me on Twitter at Miller_Dave