December 18, 2012 -
Dave Miller
Top 20 uncommitted prospects in the 2013 class
Recruiting is the lifeblood of a program, so it never takes a back seat in the world of college football.
And while it may seem as if we've had more early commitments this year than ever before, we have also seen plenty of de-commitments as well as top players who remain undecided on their next destination.
With the recruiting "dead period" commencing this past Monday and going through January 3, 2013, let's take a look at the 20 best high school players who have yet to make a verbal commitment to a school.
I have been tracking some of the top prep players throughout the summer and fall, and some have already given a pledge. However, many of the biggest programs in America continue to hotly pursue the top talents who have yet to make up their minds.
Today, let's take a look at a revamped Top 20, with new names added to the list to take the place of those top athletes who have given their verbal. Of course, keep in mind that nothing is official until next February when each prep player sends in his Letter of Intent on National Signing Day.
1. DE Robert Nkemdiche: Grayson High School; Loganville, GA
The 6-5, 265-pounder makes his debut on this list after de-committing from Clemson in November. The nation's best overall player could play end, outside 'backer in a 3-4 scheme or even tackle in a 4-3, but no matter where he lines up he will be explosive. He may visit Ole Miss, Alabama and even LSU in January before making his final decision. The Rebels remain the favorite to land his services because his brother plays in Oxford and his mother wants him to attend the school. It would be a huge coup for Ole Miss head coach Hugh Freeze, who had a standout debut campaign in Oxford and who is poised to bring in a strong class.
2. OT Laremy Tunsil: Columbia High School; Lake City, FL
The 6-6, 295-pounder had the top undeclared spot until Nkemdiche de-committed. Tunsil has great athleticism for an offensive tackle with the body type to add weight without losing effectiveness. Georgia and Alabama are at the top of his list, and some recruiting experts feel that the Bulldogs have the edge. Ole Miss and Florida State also remain in the mix as well, as Tunsil may take official visits.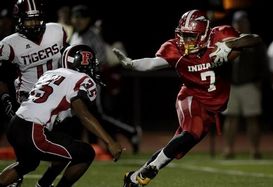 Mackensie Alexander's recruitment is anyone's guess.
3. CB Mackensie Alexander: Immokalee High School; Immokalee, FL
The 5-11, 175-pounder de-committed from Tennessee in March after his stock was rising, and his recruitment is now anyone's guess. He has offers from major powers such as Alabama, LSU and Florida State, but Florida may have the edge. This one is completely unpredictable. Notre Dame could also have an outside chance.
4. DT Montravius Adams: Dooly County High School; Vienna, GA
The 6-3, 281-pounder has taken a lot of visits, but Clemson and Georgia may have the edge. Alabama, Auburn and Florida, meanwhile, still have an outside chance. He has good quickness for his size, and the Bulldogs could be in line to keep Adams in-state.
5. OLB Matthew Thomas: Booker T. Washington High School; Miami, FL
It has been assumed for awhile now that the 6-3, 205-pounder will decide between Miami (FL) and Florida State. He could still visit Georgia and Alabama, but look for him to stay in-state. The 'Noles may have the edge.
6. WR Laquon Treadwell: Crete-Monee High School; Crete, IL
The 6-3, 195-pounder reportedly has Oklahoma, Oklahoma State and Ole Miss as his finalists after a recent visit to Norman. He plans to visit Oklahoma State in January, and he visited Ole Miss in early December. After the trip to Oxford, he declared the Rebels the team to beat. Can Hugh Freeze land the nation's best receiver?
7. LB Reuben Foster: Auburn High School; Auburn, AL
The 6-2, 242-pounder is a former Alabama and Auburn commit. Both schools are still in the race, but Georgia has all of the momentum at this moment. Texas A&M, Miami (FL), South Carolina and Washington are still mentioned, but expect the linebacker/running back to stay close to home.
8. DE Tim Williams: University Laboratory School; Baton Rouge, LA
The 6-4, 230-pounder has been pursued by top programs such as Alabama, LSU, Florida, Florida State and Miami (FL). Those are his favorites, and it's too early to tell on which school he is leaning.
9. WR Robert Foster: Central Valley High School; Monaca, PA
The 6-3, 190-pounder turned heads at the U.S. Army All-American Combine, and Alabama has made Foster its priority at receiver for this cycle. The receiver recently narrowed his choices when he tweeted that he will pick between Alabama and Pittsburgh on December 21. If the Panthers can keep Foster in-state, he will be the gem of Paul Chryst's 2013 class along with Pennsylvania offensive tackle Dorian Johnson.
10. S Leon McQuay III: Armwood High School; Seffner, FL
The 6-2, 183-pounder plans to make his announcement on January 4 at the Under Armour All-America Game, and he plans to enroll in college for the winter term. USC, Michigan, Florida State and South Florida are options, but he has visited Vanderbilt six times and has strong relationships with James Franklin and his staff. McQuay III also can play cornerback.
CONTINUE TO PAGE 2 FOR PROSPECTS NOS. 11-20