October 19, 2012 -
Dave Miller
Top 20 uncommitted prospects in the 2013 class
Recruiting takes a back seat to very little in the world of college football. After all, it's the lifeblood of a program. And it seems as if we've had more early commitments in recent years than ever before.
This past summer, I presented a look at the 20 best high school players who have yet to make a verbal commitment to a school. Since then, some top players have given a pledge, while many of the biggest programs in America continue to hotly pursue the top talents who have yet to make up their minds.
Today, let's take a look at a revamped Top 20, with new names added to the list to take the place of those top athletes who have given their verbal.
Remember, however, that nothing is official until next February when each prep player sends in his national Letter of Intent.
1. OT Laremy Tunsil: Columbia High School; Lake City, FL
The 6-6, 295-pounder took over the top undeclared spot right when Robert Nkemdiche made his pledge to Clemson. However, Nkemdiche's mother still wants her standout son to play with his brother at Ole Miss. For now, though, Tunsil has the top slot. And he has great athleticism for an offensive tackle with the body type to add weight without losing effectiveness. Georgia and Alabama are at the top of Tunsil's list, so local schools Florida and Florida State have their work to do in order to land his services.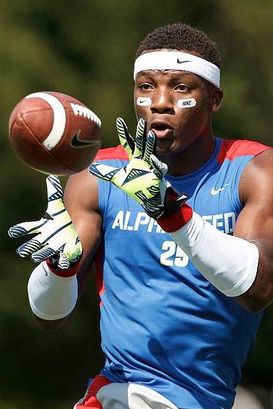 Ricky Seals-Jones is one of the more versatile prospects in the 2013 class.
2. WR Ricky Seals-Jones: Sealy High School; Sealy, TX
The 6-5, 220-pounder was named his district's MVP as a junior while playing quarterback and safety. He could be an effective tight end but will most likely end up being a big receiver and a clutch red-zone option at the next level. His decommitment from Texas has LSU and Baylor fans excited because both of those schools are open to him playing basketball as well. Despite suffering a dislocated kneecap this season, LSU, Baylor, Oregon, Texas and Texas A&M are among his final suitors.
3. CB Mackensie Alexander: Immokalee High School; Immokalee, FL
The 5-11, 175-pounder had 42 tackles, three interceptions, two fumble recoveries and six pass breakups in 2011. He decommitted from Tennessee in March after his stock was rising, and his recruitment is now anyone's guess. He has offers from major powers such as Alabama, LSU and Florida State, and he is scheduled to take an official visit to Nebraska. Clemson, Notre Dame, Michigan State, Miami (FL), Oregon, Mississippi State and Georgia have also been in the mix. This one is completely unpredictable.
4. DT Montravius Adams: Dooly County High School; Vienna, GA
The 6-3, 281-pounder notched 45 tackles for loss and 10 sacks in 2011. The Under Armour All-American has been taking a lot of visits, and Auburn could be the leader right now, with Clemson, Florida, Georgia and LSU still in the mix.
5. OLB Matthew Thomas: Booker T. Washington High School; Miami, FL
The 6-3, 205-pounder logged 117 tackles and 13 sacks as a standout junior. Florida State is considered the frontrunner for the defender's services, but keep an eye on Miami (FL) and Alabama.
6. WR Laquon Treadwell: Crete-Monee High School; Crete, IL
The 6-3, 195-pounder caught 75 passes for 1,400 yards and 18 touchdowns as a junior. His current top five is Michigan, Michigan State, Oklahoma, Oklahoma State and Ole Miss, in no particular order.
7. DE Tim Williams: University Laboratory School; Baton Rouge, LA
The 6-3, 230-pounder recorded 115 tackles, including 45 tackles for loss, and 16 sacks as a junior. His five favorites are Alabama, LSU, Florida, Florida State and Miami (FL). He hopes to take official visits to all five when his high school season concludes.
8. WR Robert Foster: Central Valley High School; Monaca, PA
The 6-3, 190-pounder turned heads at the U.S. Army All-American Combine, and Alabama has made Foster its priority at receiver for this cycle. He is considering the Crimson Tide, Ohio State and Pittsburgh and plans to take official visits to all three schools before he makes a decision.
9. S Leon McQuay III: Armwood High School; Seffner, FL
The 6-2, 183-pounder notched 66 total tackles, nine pass deflections, four interceptions, one forced fumble and a fumble recovery in 2011. He remains undecided but has taken official visits to USC and Vanderbilt, and he has trips to Oregon, Michigan and Florida State scheduled. Some schools are recruiting him as a cornerback.
10. WR Stacy Coley: Northeast High School; Oakland Park, FL
The 6-1, 173-pounder recorded 33 receptions for 556 yards and seven touchdowns as a junior. He has received offers from top schools such as Florida, Miami (FL), Louisville and Tennessee, but his top three choices are Florida State, Marshall and South Florida.
CONTINUE TO PAGE 2 FOR PROSPECTS NOS. 11-20