January 26, 2012 -
Dave Miller
Top 20 uncommitted prospects
Over the last few weeks our attention at the College Football Report has turned to the numerous recruiting battles that are taking place across the country.
We've discussed some of the biggest names in high school football as well as what programs could be the best fits for their Letters of Intent.
With National Signing Day quickly approaching on February 1, let's take a look at the 20 best uncommitted prospects that have yet to make a decision on their future.
1. WR Dorial Green-Beckham: 6-6, 220 pounds, Springfield, MO; Hillcrest High School
The nation's best wide receiver — and perhaps best overall player — has narrowed his list of possible destinations to five schools: Arkansas, Oklahoma, Missouri, Texas and Alabama. Though some reports indicate the Crimson Tide are no longer in the running. Green-Beckham has an unmatched blend of size, speed, hands and explosiveness. In his final high school season, DGB caught 119 passes for 2,233 yards and 24 touchdowns. His 6,353 career receiving yards shattered the national record, and he was named USA Today National Player of the Year, Sporting News National Player of the Year, ESPN All-American, Gatorade All-American and U.S. Army All-American Player of the Year. Because he is close to his family, many believe he won't choose a school too far away from his hometown of Springfield.
Where does he end up? Arkansas, though I wouldn't be shocked if Oklahoma was the selection either. He could have an immediate impact in Bobby Petrino's offense, especially with quarterback Tyler Wilson losing so many top weapons to graduation and the NFL.
2. DE Arik Armstead: 6-7, 280 pounds, Elk Grove, CA; Pleasant Grove High School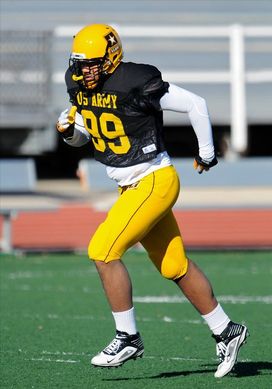 ICONCould Arik Armstead be headed to Auburn?
The top defensive lineman in this class, Armstead is projected by some to be an ideal offensive lineman at the next level. However, the two-sport standout prefers to play defensive end, a position he played during the U.S. Army All-American Bowl. The Elk Grove, Calif., native has narrowed his choice of college programs to Auburn, Cal, Oregon and Notre Dame. The 6-8, 280-pounder had plans to start classes immediately as an early enrollee but his decision has been delayed. He has talked with his brother, Armond, about playing together, but it isn't a stone-cold lock that they end up at the same school. Of course, Armond Armstead played at USC for four years but sat out last season because of a medical issue. He will have one year of eligibility remaining.
Where does he end up? The departure from Cal of defensive line coach and top recruiter Tosh Lupoi crushed the Golden Bears. I could see Auburn as a destination, but I think Notre Dame has a lot of momentum on the recruiting trail after landing former LSU commit Gunner Kiel, the nation's top-rated quarterback.
3. DT Eddie Goldman: 6-4, 310 pounds, Washington, DC; Collegiate Academy
The stud defensive tackle has narrowed his list to Alabama, Auburn, Florida State and Miami, and he has admitted that it will be difficult for his mom if he was to play football far from home in Washington, DC. While Goldman grew up rooting for the Hurricanes, will he be willing to enroll at a school that is still under NCAA investigation?
Where does he end up? Alabama's national title may have tipped the scale in the Crimson Tide's favor, but keep in mind that Sal Sunseri was Goldman's primary recruiter, and he left Alabama to become the defensive coordinator at Tennessee. I think Auburn would be a good landing spot for Goldman because the Tigers have a need at defensive tackle, so he could play early. And I think he'd be a more natural defender in the 4-3 as opposed to 'Bama's 3-4.
4. OT Andrus Peat: 6-7, 300 pounds, Tempe, AZ; Corona Del Sol High School
While Peat is considering Florida State, Stanford and USC, Nebraska seems to be the favorite to land the star offensive tackle. His brother, defensive lineman Todd Peat, Jr., signed with Nebraska roughly a year ago, and high school teammate Avery Moss, a defensive end, will become a Cornhusker as well. Plus, Nebraska has been known to churn out offensive linemen.
Where does he end up? It'd be a complete shock if the choice wasn't Nebraska.
5. WR Stefon Diggs: 6-0, 185 pounds, Olney, MD; Our Lady of Good Counsel High School
While Diggs is considering Cal, USC and Maryland, SEC powers LSU, Auburn and Florida may have the edge because of recent or upcoming planned visits. Getting an in-home visit from the Florida coaching staff, including new offensive coordinator Brent Pease, helped the Gators' cause, and he recently was impressed by the family atmosphere when he travelled to Auburn. Look for him to end up playing receiver despite being listed by some services as an "Athlete."
Where does he end up? Florida needs some playmakers infused into that offense, but I think his visit to Auburn made a lasting impression. Gene Chizik and the Tigers have been known to close strong on Signing Day.
6. ATH Davonte Neal, 5-10, 175 pounds, Chaparral High School; Scottsdale, AZ
Notre Dame visited Neal at his home last week, and the receiver/cornerback will take his last official visit to Arizona on Feb.11 — 10 days after Signing Day — before deciding which college he will attend. He visited Arkansas last weekend and has said the schools he is interested in have told him that they would wait for him with a scholarship even if he signs after February 1. Could Arizona State be a dark horse under new head coach Todd Graham?
Where does he end up? Arizona. I think a visit from new head coach Rich Rodriguez may have done the trick, though he loves Ohio State.
7. OL Joshua Garnett, 6-5, 305 pounds, Puyallup High School; Puyallup, Wash.
Garnett is considering Michigan and Stanford. The guard/tackle is a true student-athlete, as he's very interested in pursuing a degree in bioengineering. Both finalists would be great landing spots, but he may be able to play sooner at Stanford. Head coach David Shaw and his staff originally planned to recruit him as a guard, but he has put on more bulk since the staff last saw him and now could project to be a tackle. He is listed as a tackle by some recruiting services, but he played guard in the Under Armour All-America Game. He has said that he would prefer to play tackle but would play guard if that's the position that is best for his football future.
Where does he end up? Stanford. David Shaw has done well in the post-Jim Harbaugh era.
8. OLB Kwon Alexander, 6-2, 215 pounds, Oxford High School; Oxford, AL
Alexander's senior season was cut short because of a torn ACL, but Alabama, Auburn and LSU remain hot on the outside linebacker. The Tigers are hoping that new defensive coordinator Brian VanGorder will help in his recruitment, and Auburn could have the edge because Chizik and Co. pursued him hard even while he was hurt.
Where does he end up?
Auburn because of its commitment to him even when he was hurt.
9. OLB Josh Harvey-Clemons, 6-4, 210 pounds, Lowndes High School; Valdosta, GA
Harvey-Clemons is arguably the best player in the state of Georgia, and his two frontrunners are the Bulldogs and Florida. However, many feel that a recent visit to Florida State could have really helped the Seminoles. And keep an eye on Miami as well.
Where does he end up? Georgia because he'd be ideal in Todd Grantham's 3-4 defense.
10. OT Kyle Murphy, 6-6, 270 pounds, San Clemente High School; San Clemente, CA
Murphy has all the tools to be a productive tackle at the next level. His strength is pass-blocking but he holds his own against the run as well. He is being heavily recruited by Stanford, USC, Oregon and Florida.
Where does he end up? There's been a lot of smoke that Stanford is the frontrunner.
CONTINUE TO PAGE 2 FOR NOS. 11-20.